Architects: GPP Arkitekter
Location: Vilsundvej, Esbjerg, Denmark
Area: 11,000 sqm
Year: 2013
Photographs: Courtesy of Syd Energi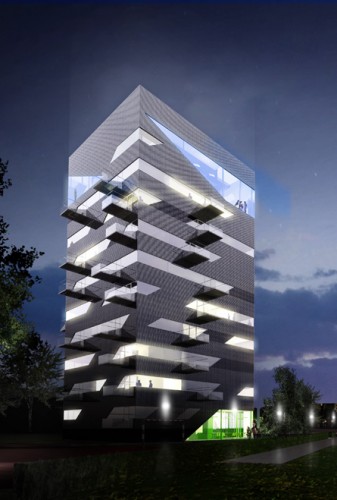 In cooperation with engineers LB Consult, CEBRA recently won the competition for 48 new student housing units in Esbjerg, Denmark's 5th largest city. The eye-catching proposal consists of 26,910 sq. ft. apartments spread across ten floors and outdoor areas with terraces and activity zones such as a street basket field. The project is commissioned by the housing association Ungdomsbo and they expect that the first students can move in in January 2014. More images and architects' description after the break.
GPP Architects were recently awarded 1st prize for the Syd Energi (SE) Headquarter competition. The project is located on a remarkable site in the southwest part of Denmark – where the countryside meets the city, next to the biggest Danish land art monument – "The hill of light". This new building for the employees at the energy company will, beside from being a great work environment, also be ground-breaking in terms of architecture and sustainability.