Amsterdam's Rijksmuseum, which was comprehensively restored and reimagined by Spanish practice Cruz y Ortiz over the course of a decade, has been named as the 2015 European Museum of the Year (EMYA) by the European Museum Forum. Lauded by the jury as "a great museum, at the height of its powers, providing a rich experience to the public, and a socially aware outreach programme for visitors of all ages," its success has also been in the museum's "ambition to 'reach every child in the Netherlands by the age of twelve'" – an aspiration which has been praised as "notable, impressive and achievable." The coveted award has previously gone to Zaha Hadid Architects' Riverside Museum in Glasgow in 2013.
In honor of International Museum Day we've collected twenty compelling museum projects. In this round up you'll find a truly global selection; from Wang Shu's Ningbo Historic Museum in China and Tod Williams + Billie Tsien's Barnes Foundation in Philadelphia to Monoblock's Contemporary Art Museum in Buenos Aires, see all of our editors' favorites after the break!
Cruz y Ortis, who famously spent ten years redesigning and renovating Amsterdam's Rijksmuseum, have recently completed a comprehensive restoration of the adjacent Philips Wing. As an addition to the extensive exhibition spaces of the Dutch national museum, which was brought to completion in 2013, the Philips Wing will be dedicated to showcasing high-profile exhibitions from its own collection and on loan from international and national collections. Cruz y Ortiz's work has consisted of reorienting the entrance, accommodating diverse new functions and preparing the exhibition rooms for the temporary expositions starting next month. Several twentieth century interventions have been set back and corrected, whilst other areas have been appropriated for a new destination.
See drawings and photographs of the new wing, including a description from the architects, after the break.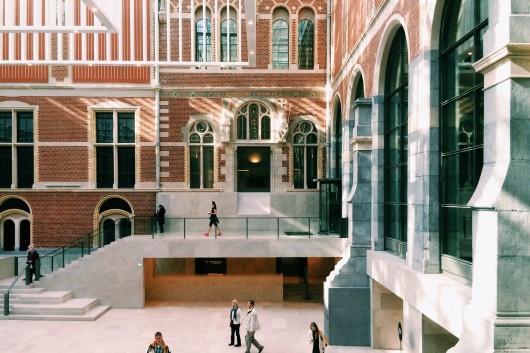 The Rijksmuseum, which reopened last year after a decade of restoration and remodelling, is a museum dedicated to "the Dutchness of Dutchness." Pierre Cuypers, the building's original architect, began designing this neogothic cathedral to Dutch art in 1876; it opened in 1885 and has stood guard over Amsterdam's Museumplein ever since.
Over the centuries, the building suffered a series of poorly executed 'improvements': intricately frescoed walls and ceilings were whitewashed; precious mosaics broken; decorative surfaces plastered over; and false, parasitic ceilings hung from the walls. Speaking in his office overlooking the Rijksmuseum's monumental south west façade, Director of Collections Taco Dibbits noted how the most appalling damage was incurred during the mid-20th century: "everything had been done to hide the original building […but] Cruz y Ortiz [who won the competition to redesign the Rijks in 2003] embraced the existing architecture by going back to the original volumes of the spaces as much as possible." 
For Seville-based Cruz y Ortiz, choosing what to retain and what to restore, what to remodel and what to ignore were, at times, difficult to balance. Cruz y Ortiz found their answer in the mantra: 'Continue with Cuypers'. They threw the original elements of the building into relief but did not act as aesthetes for the 'ruin'. In contrast to David Chipperfield and Julian Harrap's restoration of Berlin's Neues Museum, for instance, Cruz y Ortiz rigorously implemented a clean visual approach that favoured clarity over confusion. What is original, what is restored, and what is new mingle together in a melting pot of solid, understated architectural elements. Sometimes this approach contradicted Cuyper's original intentions; however, more often than not it complements them in a contemporary way.
Architects: Cruz y Ortiz Arquitectos
Location: Museumstraat 1, 1071 Amsterdam, The Netherlands
Principals: Antonio Cruz, Antonio Ortiz
Project Architects: Muriel Huisman, Thomas Offermans
Project Team: Tirma Reventós, Oscar García de la Cámara, Marije Ter Steege, Alicia López, Juan Luis Mayén, Clara Hernández, Ana Vila, Victoria Bernícola, Jan Kolle, Sara Gutiérrez, Marta Pelegrín, Iko Mennenga, Joaquin Pérez, Lourdes Gutierrez, Carlos Arévalo
Area: 30000.0 sqm
Year: 2000
Photographs: Pedro Pegenaute, Myra May, Courtesy of Rijksmuseum, Jannes Linders, Duccio Malagamba
Architects: Cruz y Ortiz Arquitectos
Location: Sevilla, Spain
Client: Universidad de Sevilla
Presupuesto: 22,000,000 €
Superficie construida: 25,420 sqm
Construction dates:  2007-2010
Photographs: Fernando Alda, Pedro Pegenaute
Architects: Cruz y Ortiz Arquitectos 
Location: Sabadell, Barcelona, Spain
Years: 2005-2007
Photographs: Courtesy of Cruz y Ortiz Arquitectos
Architects: Cruz y Ortiz Arquitectos  in collaboration with Giraudi-Wettstein
Location: Basel train station, Centralbahnstrasse 10, 4051 Basel, Switzerland
Completion date: 2003
Collaborators: J. C. Mulero, M. Velasco, L. Gutiérrez. Cruz y Ortiz arquitectos M. Delmenico, T. Radczuweit, P. Vitali. Giraudi-Wettstein, Itten + Brechbühl AG., Technical Surveyors, Passera & Pedretti, Structural Consultant, Rinaldo Passera, Erich Borer, Tadeusz Tzsesiac, Suiselectra Ingenierunternehmungn AG, Services Consultant
Built area: Footbridge: 9.000 sqm
Parking: 14.700 sqm
Client: Passarelle Bahnhof Basel SBB
Photographs: Courtesy of Cruz y Ortiz Arquitectos
Architects: Cruz y Ortiz Arquitectos
Location: Amsterdam, The Netherlands
Client: Rijksmuseum Amsterdam, Department of Culture, Ministry of Public Works
Project Architect: Thomas Offermans
Design Team: Marta Pelegrin, Joaquín Pérez, Tirma Reventos, Iko Mennenga, Juan Carlos Mulero, Miguel Velasco, Luis Gutiérrez, Mónica del Arenal, Rocío Peinado
Local Architects: HMADP-architecten BV Amsterdam, Holland
Built area: 9,100 sqm
Budget: 20,000,000€
Completion date: 2007
Photography: Duccio Malagamba Fotografía de Arquitectura, Luuk Kramer
Architect: Cruz y Ortiz Arquitectos
Location: Calle Joaquín Eguarás s/n, Granada, Spain
Client: Dirección General de Patrimonio. Consejería de Economía y Hacienda. Junta de Andalucía.
Budget: 34.930.267,43 €
Area: 46.893 sqm
Construction date: 2004 – 2010
Photographs: Duccio Malagamba Fotografía de Arquitectura