Skidmore, Owings and Merrill (SOM) has released a conceptual masterplan for Egypt's new capital city following its unveiling at the Egyptian Economic Development Conference. The 700-square-kilometer "Capital Cairo" hopes stimulate Egypt's ailing economy and alleviate Cairo's rising population density, while adhering to the cultural and climatic conditions of its site.
All the details, after the break.
In an effort to combat the economic conditions that have plunged one-fourth of its population into poverty, Egypt's ambitious development plan for a massive new capital city is soon to be underway. Roughly the size of New Cairo, the privately-funded city hopes to become the new administrative center, as well as a bustling metropolis of shopping, housing, and tourist destinations to generate economic activity. Plans were solidified at a foreign investment conference where the official project details were unveiled on March 13 in Sharm el-Sheikh.
Read on after the break for more on the $45 billion plan.
Since Mayor Bloomberg took office in 2001, the fabric of New York City has been in constant flux. In just 12 years, Bloomberg has lead an effort to rezone 37 percent of the city to create opportunities for high-density growth, as well as aided the construction 40,000 new buildings and 450 miles of bike lanes. Putting these efforts in perspective, the New York Times has released the interactive feature "Reshaping New York" that compares statistics with drastic 'before and after' comparisons. Check it out and read our report on Bloomberg's lasting affect on the Empire State here.
A landslide vote (47-1) by the New York City Council has limited the permit for Madison Square Garden to just 10 years. The decision comes after the property owner's – MSG Company - 50 year permit expired earlier this year, sparking a heated debate on whether or not the city should deny the owners request to renew the permit in perpetuity and envision plans for a new Penn Station.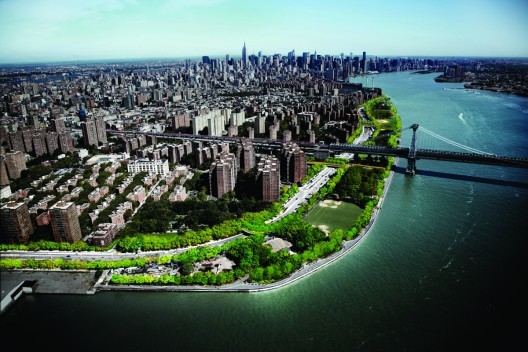 Immediately after Hurricane Sandy hit the North American Eastern seaboard last October, New York City embarked on a debate to find ways in which the city could protect itself from future storms that climate scientists predict will escalate in frequency.  Engineers, architects, scientists from myriad disciplines came up with internationally inspired proposals, including sea walls, floating barrier islands, reefs and wetlands, to apply to this particular application. Diverse in scope, the ideas have gone through the ringer of feasibility and have left many wondering if we should we build to defend or build to adapt.
On Tuesday, NYC Mayor Bloomberg announced a plan that includes $20 billion worth of both:  a proposal of removable flood walls, levees, gates and other defenses that would be implemented with adaptive measures, such as marshes, along with the extensive flood-proofing of homes and hospitals.  
What does this plan entail and what can we imagine for the future of NYC? Find out after the break.
Despite the romantic notion about cities that develop organically have a rich diversity of form and function, we cannot overlook the deadly side effects of negligent city planning. As Christopher Hume of the Toronto Star points out, last month's tragic fertilizer plant explosion in West, Texas is a grim reminder that planning has a time and place and its ultimate utility resides in the initiative to protect residents and make for healthier communities. The tangle of bureaucracy associated with planning, zoning and land use regulations can give any architect or developer a massive headache. In some cases, the laws are so restricting that diverging from bulk regulations becomes very limiting.
As part of its Question and Answer Series, Bettery Magazine joined Peter Eisenman and P-A-T-T-E-R-N-S to discuss the development of cities on an urban scale and the recent diversion of this development into the small scale of individual neighborhoods. What follows is a discussion that essentially describes the urban condition as a constant dialogue between scale and function.
There is an unstoppable element of spontaneous development that is a result of the city's imposing forces as the scale of the individual and the immediate community.  Running concurrently with these developments are municipalities' own agendas that may start off as heavy-handed, but eventually become molded by the will of affected neighborhoods.  This dynamic nature of cities and their functionality is what makes their nature unique and in constant flux.  In response to Eisenman's question: "Is neighborhood planning the new city planning?", P-A-T-T-E-R-N-S addresses the balance of these two scales of development and discusses the four morphological states that city development could take.
Join us after the break for more.
In order to accommodate the expansion of the local tram system, La Fabrique Métropolitaine de la Communauté Urbaine de Bordeaux has commissioned OMA to design a new major urban development in the southern district of Bordeaux, France. Over the next five years, the masterplan will regenerate the neighborhoods of Bègles and Villenave d'Ornon by forging new connections to Bordeaux's central station and unlocking the potential for both city development and public space.
This project is part of the new identity for the "Porte Sud de Bordeaux" (Bordeaux south gate) and continues OMA's intensive recent engagement in Bordeaux, as the office has been working since 2010 on the masterplan for 50,000 new housing units in the city.
More on OMA's Bordeaux masterplan after the break…
In an effort to "unlock people's imaginations" about Penn Station and Madison Square Garden, the Municipal Art Society (MAS) of New York has challenged Santiago Calatrava, Diller Scofidio + Renfro, SHoP Architects and SOM to propose four new visions that exemplify the potential of the highly disregarded area. 
The challenge comes amidst a heated debate on whether or not the city should restrict Madison Square's recently expired special permit to 10 years, rather than in perpetuity as the arena's owners – the Dolan family – has requested. This would allow time for the city to "get it right" and come up with a viable solution for the arena and station that, as NYTimes critic Michael Kimmelman states, would not only "improve the safety and quality of life for millions of people but also benefit the economy". Think Kings Cross in London. With a thoughtful mix of public and private investments, the crime-ridden station was transformed into a thriving cultural destination that benefited all parties. 
More after the break…
Remember spending hours of your fleeting youth in front of the computer screen, building lively and complex towns with vibrant neighborhoods, schools, shopping centers, industry, power plants.. only to have them all destroyed by an unforeseen asteroid or UFO?
That's right - SimCity is back, full force, with its latest version debuting just last Tuesday. Although the game series has been with us since 1989, it's certainly not getting any less exciting or challenging; in fact, it has transitioned from a mere childrens' computer game to an educational simulation that anyone at any age can learn from. The new SimCity is subtly teaching its players the pros and cons of serious, real-life issues such as renewable energy, preservation of natural resources and cooperation between neighboring cities – all within an entertaining virtual interface whose fate rests at your fingertips.
Read more about the new game and what it has to teach us about city planning.
"Let's dump the word "zoning," as in zoning ordinances that govern how land is developed and how buildings often are designed. Land-use regulation is still needed, but zoning increasingly has become a conceptually inappropriate term, an obsolete characterization of how we plan and shape growth." - Roger K. Lewis 
Zoning, a concept just over a century old, is already becoming an outdated system by which the government regulates development and growth.  Exceptions and loopholes within current zoning legislation prove that city planning is pushing a zoning transformation that reflects the current and future goals and needs of city building.  To determine how zoning and land use needs to evolve we must first assess the intentions of future city building.  
Planners, architects, legislators and community activists have already begun establishing guidelines and ordinances that approach the goals of sustainability and livability.  For example, the AIA has established Local Leaders: Healthier Communities through Design and has made a commitment to the Decade of Design: Global Solutions Challenge. New York City has come up with Active Design Guidelines: Promoting Physical Activity and Health in Design and its Zone Green initiative in regards to updating its zoning resolution. In addition, Philadelphia has augmented its zoning to include urban farms and community gardens and it is safe to assume that many other cities will follow this precedent.  
So what is it about current zoning codes that makes it so outdated?  Follow us after the break for more.
Approaching zero-waste is a matter of changing the way our culture thinks about use and reuse.  It's not an impossible task, and San Francisco is leading the march to establish a feasible means of enacting public policy, structuring programs and educating the public on what it means to be "zero-waste".  With a goal set for 2020, the Bay City hopes to keep 100% of its waste out of landfills.  Mayor Ed Lee estimates that the leading waste management company "Recology" is diverting nearly 80% of trash from landfills to be recycled or turned into compost.  This begins with a public policy that sets a standard and gains traction as citizens embrace the goals of the city.  Support programs reinforce these guidelines that eventually become habits and a cultural response to treating our environment.
Read on after the break for more on San Francisco's road to "zero-waste".