The US Patent and Trademark Office have awarded a patent to Apple for the design of their flagship store on Fifth Avenue in New York, reports MacRumors. The patent, applied for by Apple in 2012, applies to the above-ground glass cube, which was originally designed by Bohlin Cywinski Jackson and – after a renovation in 2011 – is made of just 15 glass panels with minimal steel fixings. More on the patent after the break.
This past May, Apple filed plans to close its existing flagship retail store at 1 Stockton Street in San Francisco and move it three blocks north to one of the city's most popular spots: Union Square. This plan was met with enthusiasm from city officials until they realized that Apple, and the store's architects at Foster + Partners, were disregarding a beloved bronze folk art fountain by San Francisco sculptor Ruth Asawa that currently occupies the site. Many have also criticized the store's design for being a characterless box of metal and glass that contributes nothing unique to the local landscape, raising awareness of a commercial architecture defined more by trademark and less by its surroundings.
More on Apple's proposal in San Francisco and the problems of trademarked design after the break.
Apple has successfully been awarded a trademark for the "design and layout" of their retail stores. Since opening their first in Virginia over a decade ago, the stores have been at the heart of the company's branding, with the late Steve Jobs heavily involved in their design. Since, the growing presence of similar stores, including a familiar Microsoft chain launched in 2009, has left Apple feeling the need to protect its own distinctive style.
More after the break.
Thomas Park has compiled a gallery of all 357 of Apple's stores from all over the world.  The images are pulled directly from Apple's own website and include information about where the store falls among the 357, where it is located and when it was opened.  Park's initiative was sparked by the desire to detect the evolution in Apple's strategy of storefront design. Apple's retail architecture shows the success of closely adhering to design principles in the visual branding of products, the products themselves, and the environment in which they are actually sold.  Apple has a simple, crisp and sleak design that comes through in their products and in their stores and give off the same feeling of reliable design.
More after the break.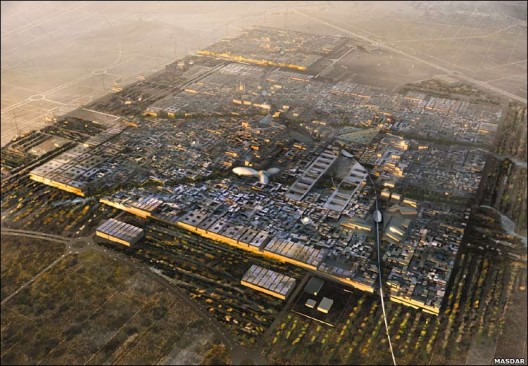 Recently reported in El Economista, Apple has chosen to team up with Norman Foster for its new Apple Campus in Cupertino, California.  Steve Jobs and Norman Foster have been working together for months developing the design for the new campus. The future headquarters will seek to utilize Foster's innovative vision for sustainability, ability to perfect a building for its users down to the finest detail, and ideas to maximize efficiency in the workplace.
Sustainability, is reported to be a large focus of the new campus.   A network of submerged transportation tunnels is in the works and the campus will incorporate some of the Foster's innovations already implemented in Masdar City, designed by Foster + Partners.  Masdar City is considered the first city in the world without cars or carbon emissions (capacity 50,000).  The R & D buildings will be multifunctional and will incorporate cutting-edge technology in materials and equipment as well as renewable energy resources.
Apple and architects Bohlin Cywinski Jackson had previously teamed up to design Apple Stores worldwide.  In August we featured the London Apple Store and in July we featured the Apple Store in Shanghai, China both designed Bohlin Cywinski Jackson.
In true Apple fashion, everything is hush hush, and it is all about the reveal.  We will look forward to seeing the result of the collaboration between Jobs and Foster.  Stay tuned to ArchDaily for the latest developments.
As we reported earlier last week, Bohlin Cywinski Jackson's newest Apple store (and China's first!) opened on July 10.  For the past five years, photographer Roy Zipstein has been documenting the stores, traveling to America, Europe, Asia and even Australia to highlight the artistry of the sleek structures.  Similar to how it takes a certain kind of architect to manifest Apple's aesthetic and technological philosophy in built-form, it takes a certain kind of photographer to capture that essence on film.  Zipstein commented via Bernstein&Andriulli, "The Apple Stores are so beautifully designed, inside and out. It's been very interesting to witness the design process evolve over the last few years, through the use of different materials such as glass, stainless steel and stone, and the evolving interpretation of the interior space. Having the architects present at some of these shoots and being able to exchange thoughts with them has been an added bonus for me."
We're excited to share Zipstein's latest photographs from Shanghai!  And, be sure to see our previous set of images thanks to Flicker user Lesh51.
Similar to their identifiable products, the Apple stores require a sleek, almost instantly recognizable, aesthetic.  As keepers of the latest technology, the buildings' minimalist interiors boast a calm and sophisticated demeanor, complimenting, yet not overshadowing, their prized possessions.  It may come as a surprise that the leading architects behind the stores are Bohlin Cywinski Jackson (BCJ), a firm that had never designed a retail store before Apple and whose principal, Peter Bohlin, winner of the AIA Gold Medal, ironically doesn't use email.
Bohlin has awed us in the past, especially with Apple's second Manhattan retail store located on Fifth Avenue.  Turning a tough retail space into a successful masterpiece, the store's iconic cube, a 32-foot glass structure, marks the store's entrance and beckons customers down to the retail level which is illuminated with natural light.   And now, BCJ has just unveiled their latest Apple store, and the first of its kind in China which seeks to emulate similar design decisions as the Fifth Avenue project.