Archiprix International is an international design competition, displaying the work of the world's best graduates in architecture, urban design, and landscape architecture!
Organized by the Archiprix Foundation, the 2011 host of MIT in conjunction with the Platform for Permanent Modernity, and sponsored by Hunter Douglas, Archiprix International invites schools to nominate their best graduation project of the past year and submit that project for consideration in the competition, as well as participate in a series of workshops and debates revolving around the topics critical to architectural discourse today.
All participating schools must register their best graduation project by August 1st, 2010 at the online registration site. For more information visit the competition's official website.
The Institute for Urban Design will host Rebuilding a Sustainable Haiti, a public symposium on planning strategies that can lead to a more socially, environmentally, and economically sustainable future in Haiti.
The scope of the destruction that followed the January 12th earthquake in Haiti was so great that the rebuilding process must seek to transform the country's built environment, not just replace it. The country's long-term welfare depends on a new and comprehensive approach to planning for the future. The event will identify specific ways in which New York City's planning and design community can work within the framework established by the Haitian government to encourage a truly integrated planning process for the reconstruction.
The event, which is free and open to the public, will be held on June 4th, 2010, in the Rose Auditorium at the Cooper Union, from 1:00pm to 6:00pm. For more information, visit the event's official website.
modeLab will be conducting a Strip Morphologies Workshop in New York between June 19 and June 21. This workshop will introduce participants to the cultural, technological, and tectonic domain of parametric design and digital fabrication in a fast-paced and hands-on learning environment. Over two-plus days, the workshop will investigate the morphology of the 'strip' by cross-linking developable surfaces and joining strategies. We will identify and exploit the constraints inherent in sheet material and High-Force CNC cutting technology to explore and construct highly articulated material assemblies.
As part of a larger online infrastructure, modeLab, this workshop provides participants with continued support and knowledge to draw upon for future learning. Attendance will be limited to provide each participant maximum dedicated time with instructors. For more information on this event, click here.
Completed in 2004, the Greenwich Street Project by Archi-tectonics is a 64,000 square foot multi-unit residential building in New York just a few blocks from where the Hudson River meets the city. With the West Village to its north, SoHo, the heart of style to its West, and TriBeCa, where entrenpreneurship has transformed industry into lofts to its south, the Greenwich Street Project is the meeting point of three of downtown's major cultural districts. Ironically enough, its design also involved the merging of an old renovated warehouse with a completely new structure, combining both to create appropriate live-work spaces that served its context.
More on Archi-tectonics Greenwich Street Project after the break.
Results for the Miami Civic Center 2010 Competition to design the new urban and civic center were announced recently. For complete honorable mentions and participants go to the competition's official website. Winners after the break.
Stretched upon three acres of land in the Hamptons in Long Island, New York, the Long Island Residence by architects Tod Williams and Billie Tsien is a quiet, serene home that blends in with the tranquility of nature that surrounds it. Also known as the Rifkind residence, Williams and Tsien designed the house for clients Robert, a lawyer, and Arleen Rifkind, a pharmacolegy professor, and their children. Due to their busy city lives in Manhatten, the Rifkinds wanted a weekend retreat where they could go with family and friends to relax and embrace the outdoors. Therefore the solution, in the words of Williams and Tsien, was "a house that is marked by quiet serenity, openess to the landscape, and a sense of spaciousness without monumentality."
More on the Long Island Residence after the break.
Architects: Maziar Behrooz Architecture
Location: Amagansett, NY, USA
Project Area: 840 sq ft
Project Year: 2010
Photographs: Dalton Portella & Francine Fleischer
It seems that after Cornell overcame the danger of having both their accreditation and new architecture school eradicated from the campus, there has been smooth sailing in terms of the physical construction of OMA'S Milstein Hall.  The building is right on schedule to be fully completed in the Fall of 2011, as the structural steel, and the exterior structure + roof are being erected.
More images of the steel and more about the current construction phase after the break.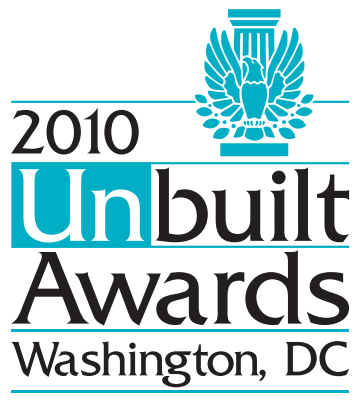 The 2010 Washington UNBUILT Awards Program recognizes excellence in projects that to date remain unbuilt – theoretical, academic, and other unbuilt projects. Projects entered will be displayed and judged as part of the DesignDC conference in August 2010. This competition is conducted by the Washington Chapter/AIA and is conducted independently of other awards programs sponsored by the National American Institute of Architects and other AIA components.
Digital submissions must be registered online at www.aiadc.com and received at the offices of the Washington Chapter/AIA between April 15 and June 30, 2010. Seen at Death by Architecture.
Martin Fenlon's rusted steel canopy was recently constructed in LA.   The canopy was a facade renovation that took the existing building and added a 'tube frieze' in place of typical canopy signage, where a band of undulating stainless steel tubes evoke the surface of the nearby ocean.  The approach provides a textured effect and adds to the industrial character of the area.
More images and more about the facade after the break.
modeLab will be conducting a Scripting Parameters Workshop in New York starting June 8. This workshop will introduce participants to the concepts and applications of parametric and scripted design logics in a fast-paced and hands-on learning environment.
The workshop will investigate iteration, evaluation, and algorithmic strategies in VB.NET within Grasshopper. Over five evening sessions and one weekend work session, participants will develop and prototype scripted design output in coordination with digital fabrication. Participants will gain a core understanding of the techniques and syntax of extending the functionality of Grasshopper through scripting in VB.NET.
As part of a larger online infrastructure, modeLab, this workshop provides participants with continued support and knowledge to draw upon for future learning. Attendance will be limited to provide each participant maximum dedicated time with instructors. For more information on this event, click here.
This open international ideas competition is for the integrated design of an innovative music venue in the East River State Park located in Williamsburg, Brooklyn.
The new park is the site of the 'Jelly Pool Parties' summer concert series which brings 10,000 fans to the site on sunday afternoons to enjoy free performances by progressive independent artists.
SuckerPUNCH challenges designers to develop a network of stages and facilities which can accommodate and enhance these performances through a progressive design strategy. For more information on submission, requirements, jury, awards and schedule, visit the competition's official website.
(remember we told you about "another" competition on this same park a month ago?)
The Storefront Gallery is a nonprofit exhibition and events space in New York City committed to the advancement of innovative positions in architecture, art and design.
This has been reflected trough several initiatives, such as the White House Redux Competition (2008), Pike Loop (Gramazio & Kohler, 2009), the Reef (Urbana + Radical Craft, 2009), the itinerary Spacebuster (Raumlabor, 2009), and editing publications such as "49 Cities" by Work AC and Storefront Newsprints.
The Storefront Gallery has also hosted Postopolis!, a blogging/architecture event that has taken place in NY (2007), Los Angeles (2009), and this year at Mexico DF (June 8th-12th).
We participated in Postopolis! LA and got to know the SFG team, a group of highly motivated people (Cesar, Jose) directed by Joseph Grima (who we interviewed last year), who we saw again at CIP Talks (2009) in Croatia. But as you might already know, Joseph has stepped down from the SFG direction to become the editor for Domus starting next year.
The position will be filled by Eva Franch, Catalan architect, researcher, teacher and founder of OOAA [office of architectural affairs]. She has studies at TU Delft, ETSAB (Barcelona, where she received her Masters degree) and Princeton (Suzanne Kolarik Underwood Prize and her M.Arch II degree).
"To direct Storefront after visionaries like Kyong Park and Shirin Neshat, Sarah Herda and Joseph Grima is both an honor and a challenge I am relishing. I am delighted to join the institution par excellence that understands experimentation and risk as a priori conditions. New York is one of the most intense cities in the world and I am looking forward to working together with the board, the staff and the extensive network of thinkers involved in making Storefront the place that it is and that will be. I see my role within the legacy of Storefront as a stimulating experience and endeavor for the art and architectural communities inside and beyond cultural, geographic or institutional borders. My practice and my deep connection to the academic world has afforded me a global perspective and I look forward to unveiling, unearthing and spotlighting that which is on the "edge" in order to provide the new grounds from where to produce new "vectors of desire"."
- Eva Franch
Eva will assume her position starting August 1st, 2010. We look forward to interview her, and to keep collaborating with the Storefront Gallery.