Presidio Habitats is a site-based art exhibition celebrating the wild Presidio. It began with an invitation to an international group of artists, architects, and designers to submit a proposal for a temporary habitat sculpture serving a Presidio "animal client."
San Francisco Architects Zoe Prillinger and Luke Ogrydziak (Ogrydziak Prillinger Architects), known for their progressive, modern designs that include new media technologies, discuss their creation of the Presidio Habitats Exhibit Pavilion from repurposed shipping containers arranged at 120 degree angles around a central atrium.
The public lecture will be held next Thursday, July 8, 7-8 pm at The Log Cabin, San Francisco Presidio (get directions here). For more on the Log Cabin Lecture Series click here.
Architects: Flansburgh Architects
Location: Kamuela, Hawaii
Partner in Charge: David A. Croteau, AIA
Client: Hawaii Preparatory Academy
Contractor: Quality Builders Inc.
Project Management: Pa'ahana Enterprises LLC
Civil Engineering: Belt Collins Hawaii Ltd.
Structural Engineering: Walter Vorfeld & Associates
Mechanical Engineering: Hakalau Engineering LLC
Electrical Engineering: Wallace T. Oki, PE Inc.
Surveyor: Pattison Land Surveying Inc.
Sustainability Consultants: Buro Happold Consulting Engineers
Completion Date: 2010
Construction Area: 6,100 square feet
Construction Value: $650/sf
Photographs: Matthew Millman
Conceived as a high school science building dedicated to the study of alternative energy, the new Energy Lab at Hawaii Preparatory Academy functions as a zero-net-energy, fully sustainable building. The project's fundamental goal is that of educating the next generation of students in the understanding of environmentally conscious, sustainable living systems. The project targets LEED Platinum and Living Building Challenge certification. Recently completed in January 2010, the Energy Lab today strives as a living laboratory, furthering its educational goals as a functioning example of sustainability.
SUPERFRONT LA is accepting proposals from curators for an exhibit to open September 23rd and show through early November of 2010. Gallery space is approximately 3,000 sq ft in the Pacific Design Center, Suite B208. Gallery hours are 1pm – 5pm Mon – Fri.
Proposals should contribute to SUPERFRONT's mission of supporting and promoting radical contemporary architecture while fostering creative interdisciplinary exchange. Please include list of exhibitors, description of works, select images, and relevant curatorial or exhibition experience.
For more information go to SUPERFRONT LA's official website. Seen at Bustler.
We are sure that SO-IL's PS1 installation, Pole Dance, will be a hit this summer.  On Friday we had a preview by Alan R Tansey and today, we found at Iwan Baan's website another view on the installation.  We hope you'll be able to visit the project in person sometime.
Complete photoset at Iwan's website, some photos after the break:
Two icons of Modernism—the Farnsworth House in Plano, Ill., and Philip Johnson's Glass House in New Canaan, Conn.—will be the beneficiaries of a newly launched funding initiative by the National Trust for Historic Preservation that reflects the dialogue between the two properties. Modern Views: A Project to Benefit Farnsworth House and the Glass House has a funding goal of $1 million, which will go to the restoration of the Brick House at the Glass House and to restoration, maintenance, and operations at Farnsworth House.
The January 2010 addition of Mies van der Rohe's Farnsworth House to the National Trust's portfolio of historic sites allows closer collaborative efforts between the two properties, one of which is the Modern Views initiative.
Unfolding over the next several months, Modern Views will showcase drawings, models, and other works of art created by 100 of the world's most respected and famed architects, designers, and artists, along with statements from each about how their work is inspired by these two historic houses.
Featured architects, artists, and designers include: David Adjaye, Diller Scofidio + Renfro, Jeanne Gang, Leon Krier, Thom Mayne, Richard Meier, Eric Owen Moss, Ron Radziner, Pugh + Scarpa, Annabelle Selldorf, Annie Leibovitz, Julius Shulman (1910-2009) and Juergen Nogai, Karim Rashid, Constantin Boym, and many others. Click here for the complete list.
Two exhibitions of the donated works will be held in Chicago and New York as part of the fundraising program, and each event will include a screening of a new film by Sarah Morris inspired by the two houses. The first exhibition will be held on Sept. 16 in Chicago at The Arts Club; the second will be held Oct. 6 at Sotheby's in New York. An online exhibition hosted by Sotheby's, the project's underwriter, will go live in September at www.sothebys.com/modernviews.
Written by Stephani Miller for Residential Architect.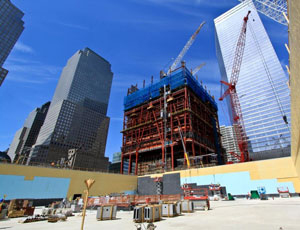 One World Trade Center has reached a construction milestone by rising 260 ft above street level. Upon its completion in 2013, it will become the tallest office building in the United States reaching 104 stories.
Currently standing at the 26th floor level, the 1,776-ft-tall office building is being designed by David Childs of Skidmore, Owings and Merrill (NY office) and developed by the Port Authority of New York and New Jersey and is scheduled to reach a height of 50 stories by the end of 2010. To date, more than 67,000 cubic yards of concrete have been poured for the tower, both above and below ground exceeding the amount of concrete used to build the entire Empire State Building.
One World Trade Center will incorporate design elements based on LEED Gold criteria with energy efficiency running 20% higher than city codes presently require. Seen at GreenSource.
Architects: ALTUS Architecture + Design
Location: Apple Valley, MN, USA
Landscape Design: Travis VanLiere, RLA
Project Area: 3360 sf
Project Year: 2008
Photography: Paul Crosby & ALTUS Architecture + Design
A few weeks ago we introduced you one of the latest built projects by Frank Gehry, the Cleveland Clinic Lou Ruvo Center for Brain Health in Las Vegas. The center is supported by Keep Memory Alive, and it is planned to become a national resource for the most current research and scientific information for the treatment of Alzheimer's, Parkinson's, Huntington 's Diseases, and ALS (Lou Gehrig's Disease) as well as focusing on prevention, early detection and education.
On our previous feature we got a glimpse of the project, which at first sight might look like just another Gehry project. And now, thanks to these new photos by Matthew Carbone, we can get a better look at it.
The center features three main spaces:
Architects: ALTUS Architecture + Design
Location: Minnetonka, MN, USA
Project Area: 3700 sf
Project Year: 2008
Photography: ALTUS Architecture + Design
Architects: Eskew+Dumez+Ripple
Location: New Orleans, LA, USA
Consultants: Canal Construction of Louisiana LLC – General Contractor
Client: U.S. Biennial, Inc.
Project Size: 300 sf
Completion Date: 2008
Photography: Will Crocker Photography, Steve Dumez
Architects: archimania
Location: Memphis, TN, USA
Building area: 11.25 sf
Total cost: $1,554
Completion date: October 2009
Photography: Chad Mellon Photography
The Graduate School of Architecture, Planning and Preservations (GSAPP) at Columbia University have announced its Summer Lecture Series 2010. Here are June events:
June 23 / Urban Design Lunchtime Lecture Series: Shaping the City / Edith Hsu-Chen + Charles McKinney
June 24 / Metropolis Film Series: Michelangelo Antonioni, Blow Up
June 29 / Arguments Lecture Series / Iwan Baan
June 30 / Urban Design Lunchtime Lecture Series: Where and How does Economic Development happen? / Josh Wallack and Vishaan Chakrabarti
For more information go to www.arch.columbia.edu/events.