Architects: Mauricio Pezo, Sofía von Ellrichshausen
Location: Calle Bureo nº 2364, Sector Andalue, San Pedro, Chile
Client: Juan Carlos Heijboer
Plans: Pezo von Ellrichshausen
3D Drawings & Renders: Pezo von Ellrichshausen
Model: Jorge Silva
Project Year: 2005 – 2006
Construction Year: 2006 – 2007
Site Area: 362 sqm
Constructed Area: 136 sqm
Budget: US $520 /sqm
Photographs: Cristóbal Palma
Structure Engineer: Germán Aguilera
Construction Inspection: Pezo von Ellrichshausen
Contractor: Ricardo Ballesta
Services: Juan Carlos Sánchez
Electric instalations: Carlos Martínez
Architect: Doriana e Massimiliano Fuksas
Location: Tokyo, Japan
Programme: Multibrand – GIORGIO ARMANI, EMPORIO ARMANI, ARMANI/RISTORANTE, ARMANI/PRIVE'
Construction year: December 2005 – November 2007
Site: Ginza, CHUO-KU TOKIO
Client: Gruppo Giorgio Armani
Interior and Furniture Design Team: Filippo Bich, Ana Gugic & Maria Lucrezia Rendace
Lighting design: Speirs & Major Associates
Area: 7,370 sqm
Architect: Sebastián Irarrázaval
Associate Architect: Andrea Von Chrismar
Location: La Reserva, Colina, Chile
Constructed Area: 140 m2
Project year: 2005-2006
Photographs: Carlos Eguiguren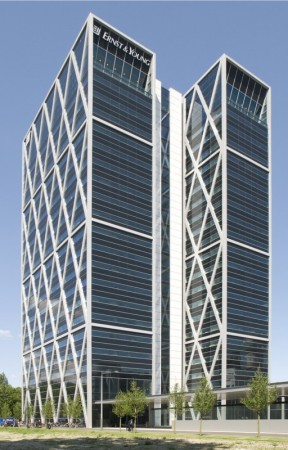 Foster + Partners just finished the first tower in Amsterdam, at the Vivaldi-park area of the new Zuidas district, south of the city.
The 24-storey building is divided into two twelve metre-wide column free towers with open, flexible floor plates. The blocks are staggered in plan to admit as much natural light as possible, helping this tower to be ten per cent more efficient than the target Dutch environmental standards. Plus, it has a very nice looking lobby.
Architect: OFIS arhitekti & Multiplan arhitekti
Location: Maribor, Slovenia
Competition Year: 1998
Construction start: 2006
Construction finish: 2008
Programme: Football Stadium wich includes: Covered tribunes, public programs such as Gyms, Fitness club with swimming pool, shops, restaurants
Materials: Concrete, Steel, Glass
Constructed Area: 3.400 sqm
Photographs: Tomaz Gregoric
Architects: Augusto Fernandez Mas (K+A Diseño)
Location: Cuernavacas, Morelos, Mexico
Project year: 2005
Construction year: 2006
Collaborators: Edurne Turcott Unzueta, David Alba
Landscape: Mario de la Garza & Daniel Aguilar
Woodwork: Fernando Acevedo
Structural Engineer: Enrique Garcia
Constructed Area: 490 sqm
Photographs: Fernando Cordero
Architects: Emilio Marín + Albert Tidy
Collaborators: Nicolas Norero, Rodrigo Valenzuela
Location: Campus Juan Gomez Millas, School of Fines Arts, Universidad de Chile.
Project years: 2004 – 2007
Constructed area: 1.700 m2
Structure Engineer: Sergio Contreras y associates
Contractor: Constructora Habitex Ltda.
Color photography: Cristobal Palma
B/W photography: Nicolas Rupcich
Architect: Sami Rintala
Location: Kirkenes, Barents Region, North East Norway
Client: Pikene på Broen, Via Travels
Planification and execution: August 2005, 10 days
Materials: Wood, Bricks and Steel Wires
Dimensions: 6m (long) x 2,5 m (width) x 5 m (height)
Area: 20sqm
Construction team: Sami Rintala, George Lovett (architecture student, University of Sheffield, UK), Borghild Hulsvik (architecture student, Bergen Architect School), Anne Kathrine Vabø (architecture student, Bergen Architect School)
Sponsors: Nicopan/ windows, Jotun/ paint
Photography: Morten Torgersrud, Sami Rintala, Jan Erik Svendsen.
Architects: Plan B – Felipe Mesa, Alejandro Bernal + JPRCR – Camilo Restrepo, J. Paul Restrepo
Collaborators: Viviana Peña, Catalina Patiño, Carolina Gutiérrez, Lina Gil, Jorge Buitrago
Location: Botanical Garden, Medellín, Colombia
Client: Medellin Botanical Garden
Builder: Ménsula S.A.
Project start: 2005
Completion: 2006
Budget: 523 US$ / m2
Constructed Area: 4.200 sqm
Materials: Wood, Steel
Photographers: Sergio Gómez (SG), Camilo Orozco (CO), Felipe Mesa (FM), Izaskun Chinchilla (IC), Carlos Mario Rodriguez (CMR)
Architects: Snohetta
Location: Bjørvika, Oslo, Norway
Client: Ministry of Church an Cultural Affairs
Area: 38.500sqm
Construction start: 2004
Completion: 2007
Contractors: 55 contracts
Geological Engineer: NGI
Structural Engineer: Reinertsen Engineering ANS
Electrical Engineer: Ingeniør Per Rasmussen AS
Theatre Planning: Theatre Project Consultants
Acoustics: Brekke Strand Akustikk, Arup Acoustic
Artists, integrated artwork: Kristian Blystad, Kalle Grude, Jorunn Sannes, Astrid Løvaas og Kirsten Wagle
Photos: Snohetta, Nina Reistad, Statsbygg, Erik Berg & Nicolas Buisson
Architects: Alison Brooks Architects – Alison Brooks, Michael Woodford
Location: Wandsworth, South London, UK
Client: Alex Wingate
Area: 400sqm per house
Construction start: Junio 2005
Completion: Diciembre 2006
Phase 1 contractor: Unimead Ltd
Phase 2 contractor: Kaymac Construction
Structural Engineer: Price & Myers
Mechanical and Electrical/Health & Safety: Peter Deer & Associates
Quantity Surveryor: Carruth Marshall Partnership
Photos: Cristóbal Palma
Sorry for the lack of posts this last few days, but before leaving to San Francisco my computer died. Now i´m back home with a borrowed computer, and will be posting some buildings i found in SF.
This two rotated cubes are part of the adaptation of the 1907 Jessie Street Power Substation, adjacent to the Yerba Buena Park in San Francisco, into the new Jewish Contemporary Museum by Daniel Libeskind Studio and local architects WRNS Studio. The project houses 63,000 sq feet for exhibitions and programs in visual, performing and media arts, and includes 3,500 square feet of space for education.