Architects: Matra Architects & Rurban Planners
Location: New Delhi, India
Project Year: 2009
Photographs: Courtesy of Matra Architects & Rurban Planners
Architects: Felipe Gonzalez-Pacheco Mejía & Juan Ignacio Muñoz
Location: Bogotá, Colombia
Associate Architect: Alvaro Bohorquez
Collaborators: Camilo Correa, M. Juliana Sorzano.
Client: Universidad de los Andes
Contractor: Total S.A.
Project Area: 6,462 sqm
Project Year: 2009
Photographs: MGP Arquitectura y Urbanismo
Architects: Carreño Sartori Arquitectos – Mario Carreño Zunino, Piera Sartori del Campo
Location: Metropolitan Park, Santiago, Chile
Collaborator: Pamela Jarpa Rosa
Structural Engineer: Eduardo Valenzuela Sabbagh
Contractor: Ingeniería Integral Fray Jorge S.A.
Client: Parque Metropolitano de Santiago
Site Area: 915 sqm
Project Area: 585 sqm
Project Year: 2006-2007
Photographs: Carreño Sartori Arquitectos
Architects: Carreño Sartori Arquitectos – Mario Carreño Zunino, Piera Sartori del Campo
Location: Santiago Metropolitan Park, Chile
Collaborators: Pamela Jarpa, Martin Holmes, Carolina Glade
Client: Parque Metropolitano de Santiago
Contractor: Constructora Arquios Ltda.
Structural Engineering: Ingevsa ltda.
Electrical Engineering: ICG S.A.
Services: Patricio Vega Vásquez
Site Area: 660 sqm
Constructed Area: 468 sqm
Project Year: 2009
Photographs: Marcos Mendizábal
Architects: Guz Architects
Location: Singapore
MSE Engineers: C&S Engineers
M&E Engineers: Herizal Fitri Consultants
Area: 726 sqm
Gross Floor Area: 540 sqm
Project Year: 2009
Photographs: Patrick Bingham Hall
Architects: aft Arquitectos – Atelman – Fourcade – Tapia Arquitectos
Location: Luján de Cuyo, Mendoza, Argentina
Construction Supervision: Arq. Alfredo Tapia, Arq. Antonio Funes
Construction Supervision Team: Ing. Roberto Gerotto, Arq. Sonia Enriz
Project Team: Arq. Julieta Mansilla, Arq. Federico Ferrer, Arq. Vanesa Döning, Arq. Patricio Pon, Arq. German Nieva, Arq. Jorge Casas, Arq. Enzo Binetti, Arq. Barbara Salusso, Arq. Carolina Andretich, Arq. Constanza Pelaez, Arq. Juan Duarte, Arq. Josefina Poroli, Arq. Luciana Borgatello, Arq. Gustavo Sanchez, Arq. Mariano Recalde, Arq. Paola Richardson
Client's Project Manager: Arq. Eduardo Enriz
Contractor: SANTIAGO MONTEVERDI – Construcciones civiles
Site Area: 308.67 sqm
Phase I Area: 10,596 sqm
Phase II Area: 4,500 sqm
Project Year: 2006-2009
Photographs: Claudio Manzoni
Architects: JDS Architects
Location: Oslo, Norway
Partner in Charge: Julien De Smedt
Project Managers: Kamilla Heskje, Morten Sletbak Have
Project Team: Aleksandra Kiszkielis, Alex Dent, Alf Lassen Nielsen, Andrea Weisser, Carlos Cabrera, Derrick Lai, Dries Rodet, Edna Lueddecke, Elina Manninen, Erik Olav Marstein, Felix Luong, Filip Lipinsky, Gunnar Hoess, Ieva Maknickaite, James McBennett, Johanna Kliment, Joue Gillet, Kristoffer Harling, Liz Kelzey, Magda Kusowska, Marco Boella, Michaela Weisskirchner, Pauline Parcollet, Robert Huebser, Tineke Vanduffel, Torkel Njå, Wolfgang Mitterer, Wouter Dons
Competition Team: Babara Costa, Derrick Lai, Mads Knak-Nielsen, Mikkel H. Sørensen, Victoria Diemer Bennetzen
Collaborators: Norconsult, Grindaker, Metallplan, Intra
Budget: 29,000,000 EUR
Project Year: 2008-2010
Photographs: Iwan Baan
Architects: Olson Kundig Architects
Location: Seattle, Washington, USA
Design Principal: Tom Kundig
Managing Principal: Kirsten R. Murray
Project Year: 2008
Photographs: Tim Bies & Francis Zera
Architects: Mario Carreño Zunino, Piera Sartori del Campo
Location: National Zoo, Santiago Metropolitan Park, Chile
Collaborator: Pamela Jarpa Rosa
Contractor: Constructora Arquios Ltda.
Structural Engineering: Ingevsa ltda.
Electrical Engineering: ICG S.A.
Services: Patricio Vega Vásquez
Landscape: Piera Sartori del Campo, Pamela Jarpa Rosa
Zoo Technical Consultant: Equipo Zoológico Nacional
Site Area: 63 sqm
Constructed Area: 115 sqm
Project Year: 2008-2009
Photographs: Marcos Mendizabal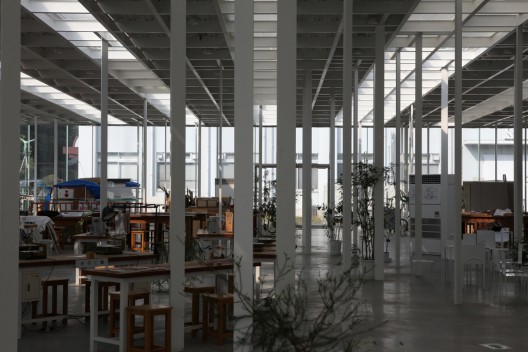 A few days ago, we introduced Junya Ishigami's Kanagawa Institute of Technology Workshop, a lightweight studio space with an interesting interior due to 305 slender columns. Our friend, Brandon Shigeta, shared his photos with us that illustrate Ishigami's technique of using column distribution as a space generator.  Although the slender columns appear randomly distributed, the architects' seemingly scattered order has created defined zones that subdivide the large studio workspace.
More images and more about the columns after the break.
Architects: Unsangdong Architects
Location: 968-3, Daechi-dong, Gangnam, Seoul, Republic of Korea
Site Area: 4,110.9 m2
Building Area: 3,153.58 m2
Gross Floor Area: 7,144.53 m2
Design Period: May 2007 – July 2008
Photography: Unsangdong Architects Cooperation
Architects: Donovan Hill
Location: Brisbane CBD, Australia
Project Team: Brian Donovan, Timothy Hill, Paul Jones, Fedor Medek, Mark Spence, Phil Hindmarsh, Andrew D'Occhio, Michael Moore, Lucas Leo, George Taran, Greg Lamb, Kim Baber, Ron van Sluys, Graham Hobbs , Jonathan Goh, Ceirwen Burton, Yee Chong, Michael Hogg
Client: Nielson Properties
Principal Contractor: Hutchinson Builders
Landscape Architect: Gamble McKinnon Gree
Height: 42 floors including ground and basement levels @ 148m
Total Floor Area: 42,263m² gross
Net Lettable Area: 34,774m²
Design Period: 1 year commencing February 2005
Construction Period: June 2007 – April 2009
Photo Credits: Jon Linkins, Sam Thiess, Shantanu Starick, Donovan Hill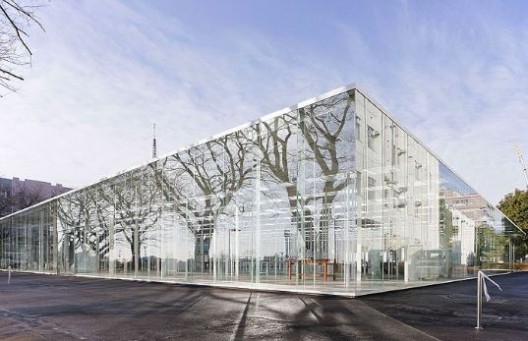 Check out Junya Ishigami and Associates' amazing studio + workspace where students of the Kanagawa Institute of Technology get to spend their days designing.  The studio is about the closest you can get to the feeling of working outside while being indoors.  The floor-to-ceiling glass makes the building appear weightless and elegant, and the open plan preserves the building's sense of transparency as the viewer's eye can shoot directly across the uninterrupted space.  305 columns of various sizes support the stripped roof of skylights, yet their white color keeps the focus on the space and the view, not the structure.    The columns, although seemingly random, as specifically placed to create the sensation of zoned spaces, but their nonrestrictive quality provides a flexible layout to suit the changing needs of students.
Inspiring place to design in, wouldn't you agree?
More photographs by Iwan Baan after the break.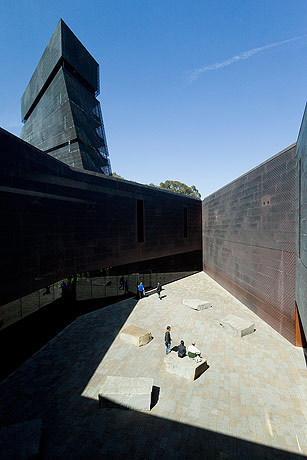 The M.H. de Young Memorial Museum by Herzog & de Meuron is a remarkable revival of a building that no longer exists. The original museum, which opened in 1895, was an outgrowth of a fair modeled on the Chicago World's Columbian Exposition the previous year known as the California Midwinter Internation Exposition of 1894. Located in the sunny San Francisco, California, the museum was formerly named for one of the city's newspapermen M.H. de Young. The old museum was a bulky structure decorated with concrete ornaments, which began falling off the building and became hazardous, leading to their removal in 1949. The building was completely destroyed, however, in 1989 by the Loma Prieta earthquake.
More on the museum after the break.
Architects: Donovan Hill
Location: Not available (images are from Australia, but house is prefab, it can be anywhere!)
Project Team: Brian Donovan, Timothy Hill, Michael Hogg, Kim Baber, Chris Hing Fay, Greg Lamb, Phil Hindmarsh, Christina Cho, Jon Shankey, Dana Hutchinson
Builders: Hutchinson Builders
Total Floor Area: 26-42m²/unit
Design Period: 1 year
Construction Period: 8 weeks plus site works
Photography: Jon Linkins, Donovan Hill