Windowless, sparse, and connected to nature — this is how architecture and urban design firm SeARCH envisions the home of the future. In their new project "Yourtopia," they challenge stereotypical ideas about what a home should be and demonstrate an awareness about our relationship with our environment. This article originally published on Metropolis Magazine investigates the home's minimal design and construction process.
Our homes shield us from distractions so that we may cultivate our own interests and, in the process, sense of selves. Dutch architecture firm SeARCH has taken this idea to the extreme with "Yourtopia", a temporary refuge that radically reconsiders what a home can be.
More on Yourtopia's radical living environment after the break
Architects: SeARCH + AR-TE
Location: Leuven, Belgium
Client: CIP
Area: 75,000 sqm
Year: 2013
Photographs: Hennie Raaymakers
Architects: SeARCH, CEBRA, JDS, Louis Paillard Architects
Location: Mariane Thomsens Gade, 8000 Aarhus C, Denmark
Area: 22000.0 sqm
Year: 2013
Photographs: Mikkel Frost, Soeren Kjaer
SeARCH has won an invited, international competition for the urban renewal of Marievik. Their winning proposal, STA(CK)HOLM plans to transform an area along one of central Stockholm's main access roads, opposite the island of Södermalm and facing a new bridge by Norman Foster, into a futuristic sustainable neighborhood.
We love seeing a project through fruition, and after being introduced to the collaborative vision of the Iceberg for Arhus, Denmark, we were anxiously awaiting its construction.  As we have previously shared, the Iceberg, or "Isbjerget" in Danish, was designed as an iconic waterfront marker to invigorate the harbor front's transformation from a sole industrial entity to a residential and commercial hub.   Construction is swiftly progressing on the four building block, and earlier this week, the team enjoyed the project's "topping out" ceremony.
More about the Iceberg after the break.
Architect: de architectegroep, rijnboutt ruijssenaars hendriks van gamerenmastenbroek bv
Location: National Park Veluwe Zoom, Rheden, The Netherlands
Project Design: Bjarne Mastenbroek [now SeARCH]
Assistants: Geert Vennix, Alexandra Bonazzi, Willmar Groenendijk, Mark Sloof, Pien Linssen, Michael Davis
Client: Vereniging Natuurmonumenten 's-Gravezand
Contractor: BAM utiliteitsbouw, Arnhem
Project Area: 640 sqm
Photographs: Christian Richters
Architects: SeARCH
Location: Amsterdam, The Netherlands
Project Design: Bjarne Mastenbroek & Uda Visser
Assistants: Remco Wieringa, Ton Gilissen, Louis Toebosch, Stefano Tropea, Thomas van Schaick, Wesley Lanckriet, Marie Louise Mejlholm, Laura Álvarez Rodríguez, Pedro Carvalho dos Santos, Alexandra Schmitz
Client: Liberaal Joodse Gemeente Amsterdam
Contractor: Bouwbedrijf M.J. de Nijs & Zn. B.V
Project Area: 3400 sqm
Project Year: 2010
Photographs: Iwan Baan
Architects: SeARCH
Location: Zutphen, The Netherlands
Project Team: Bjarne Mastenbroek, Ad Bogerman
Assistants: Elke Demyttenaere, Remco Wieringa w/ Nienke Bouwhuis, Gert Jan Machiels, Dagmar Niecke, Geert Vennix
Client: Anonymous
Contractor: BAM utiliteitsbouw, Arnhem
Interior Design: Kluster V.O.F., Purmerend, The Netherlands
Completion Date: July 2004
Project Area: 500 sqm
Photographs: Christian Richters
Architects: SeARCH
Location: Enschede, The Netherlands
Project Team: Bjarne Mastenbroek & Uda Visser
Assistants: Remco Wieringa, Ton Gilissen, Thomas van Schaick, Ad Bogerman, Wesley Lanckriet, Guus Peters, Alan Lam, Alexandra Schmitz, Fabian Wallmüller, Mónica Carriço, Nolly Vos w/ Frisly Colop, Michael Drobnik, Noëmi Vos, Bert van Diepen
Client: Gemeente Enschede, DMO
Contractor: Heijmans IBC Van den Belt VOF
Interior Design: Opera Ontwerpers (exhibition design)
Completion Date: 2008
Project Area: 12,000 sqm
Photographs: Christian Richters
We've been covering CEBRA +  JDS + SeARCH + Louis Paillard's geometric harbor project for Arhus, Denmark.  The huge project, which measures over 21,000 sqm, will include mixed dwellings types and commercial space.  CEBRA has shared a few short video clips with us, highlighting the progress of the project.  This featured clip is shot from the bridge connecting the future harbor promenade across the nearby canal. The grey concrete wall shown is the beginning of the southern facade (the actual floor is on top of the wall) and behind the wall is where the parking is situated.
Another video, as well as a few construction photos, after the break.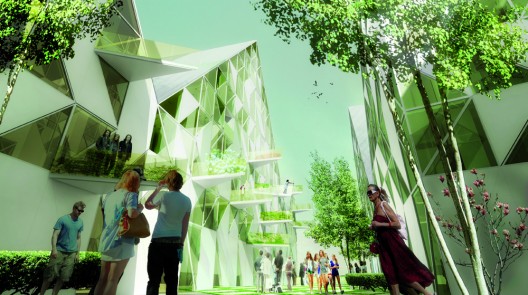 One of our favorites, CEBRA, (and their collaboraters JDS, SeARCH and Louis Paillard) shared their latest winning competition entry.  Situated in Aarhus, Denmark, right in front of the harbor, the 21.500 m2 project features mixed dwellings types and commercial space.   The project receives its jagged heights to allow better views toward the ocean and better daylight conditions, and the tops and bottoms are shifted so that views between the volumes become possible.  This breakdown of the mass creates the potential for an "iconic" building for the harbor area, and one that, due to its form, creates its own skyline within itself.  There's just something about the Danes' approaches, like BIG + Cebra, where they tackle simple realities, such as light and views, and allow their whole building to respond them in an unconventional and dynamic way.
More images, diagrams and more information about the winning design after the break.
Architects: SeARCH & CMA
Location: Vals, Switzerland
Design: Bjarne Mastenbroek & Christian Müller
Interior design cardboard bedroom: Studio JVM, Jeroen van Mechelen
Interior design excluding cardboard bedroom: Bjarne Mastenbroek
Interior advises: Christian Müller, Monica Ketting & Thomas Eyck
Contractor main structure: Kurt Schnyder Bauunternehmung, Vals, CH
Structural engineering: Alex Kilchmann, Schluein, CH
Glass façade engineering and construction: Walch GmbH, Ludesch, AT
Carpenter, interior finishing: A. Gartmann AG, Vals, CH
Cardboard interior: Nedcam shaping technology, Apeldoorn, NL
Cupboards, step chest: van hier tot Tokio', Japanese Antiques
Electrical installations: Comet GmbH, Vals, CH
Plumbing & Water installations: Oscar Caduff, Vals, CH
Mechanical Ventilation & heating regeneration: Lippuner EMT AG, Grabs, CH
Avalanche protection: Geobrugg AG, Romanshorn, CH
Fire places and stoves: Maurus Cathomas, Ilanz, CH
Project Year: 2009
Photographs: Iwan Baan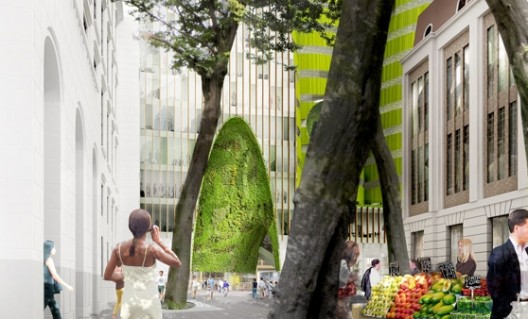 In a previous post I told you about the competition held by the City of Rotterdam for a mixed used building to accommodate public services and a residential program, and  we presented OMA's entry.
After the break, find the entries by the five finalists: Claus en Kaan Architecten, Mecanoo Architecten, Meyer en van Schooten Architecten, OMA and SeARCH.