Five practices have been selected to move on to the second stage of the Sydney Modern Project, a $450 million expansion of the Art Gallery of New South Wales (NSW). Of the twelve firms invited to participate in the competition, the five that will advance are: Kazuyo Sejima + Ryue Nishizawa / SANAA; Kengo Kuma & Associates; Kerry Hill Architects; RMA Architects (Rahul Mehrotra Architects); and Sean Godsell Architects.
On Monday, Sean Godsell unveiled the inaugural MPavilion in Melbourne's Queen Victoria Gardens. Intended as an Australian counterpart to London's wildly successful Serpentine Gallery Pavilion, the Pavilion will be open until February 1st, hosting a series of events throughout its four-month stay including talks, workshops, film screenings and art interventions.
Funded primarily by the recently established Naomi Milgrom Foundation, with assistance and support from the Serpentine Gallery itself, the pavilion is the first step in the Naomi Milgrom Foundation's goal to position Melbourne as "Asia-Pacific's hub of design and architecture." The first instalment by Godsell features a simple frame covered with automated aluminium panels, which open and close in response to the sunlight.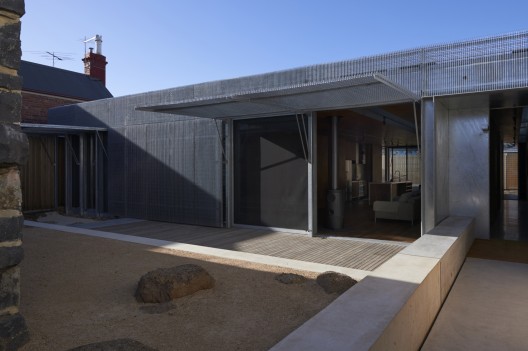 Architects: Sean Godsell
Location: Melbourne, Australia
Design Team: Sean Godsell, Hayley Franklin
Area: 240 sqm
Year: 2011
Photographs: Earl Carter
Architects: Sean Godsell Architects
Location: Mornington Peninsula, Victoria, Australia
Architect In Charge: Sean Godsell
Design Team: Sean Godsell, Hayley Franklin
Area: 285.0 sqm
Year: 2012
Photographs: Earl Carter, Sean Godsell
Architects: Sean Godsell
Location: RMIT University, Melbourne, Australia
Architects In Charge: Sean Godsell, Hayley Franklin
Associated Architects: Peddle Thorp Architects, Chris Godsell, James Hampton, Raf Nespola
Area: 13,000 sqm
Year: 2012
Photographs: Earl Carter