Before you head out for the weekend, check out this awesome new video we found on Gizmodo that visualizes what Antoni Gaudi's Sagrada Familia could look like in the year 2026 (hint: pretty gosh-darned amazing). Happy Friday everyone!
Antoni Gaudí (1852 -1926), the Catalán architect best known for his imaginative style, inspired by the curves and shapes found in nature, and – of course – for his inimitable masterpiece, the unfinished Sagrada Familia, would have turned 161 today.
Remember this unique architect's work by revisiting his works on ArchDaily: Casa Mila, Casa Batlló, Colonia Guell, and Park Guell
Happy Birthday Antoni! Per molts anys Antoni!
Image of Sagrada Familia via alexsalcedo / Shutterstock.com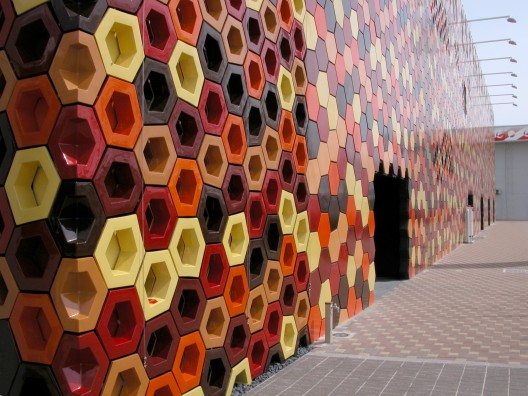 From September 29th to December 8th, the exhibition dedicated to the work of Toni Cumella will be open. His works in ceramic have been utilised by architects such as Enric Miralles, Alejandro Zaera-Polo, or Jean Nouvel. These collaborations made his material became part of the image of Barcelona, being part of the construction of La Sagrada Familia, and the restoration of Casa Batlló and Parc Güell.
Focusing on the 4 main fabrication processes in use at Ceramica Cumella – extruding, casting, pressing and revolving – Shaping Ideas presents the work of Toni Cumella and the application of his ceramics in some of contemporary architecture's most significant projects.
A huge creative and technical challenge was recently undertaken by Moment Factory. They were invited by the City of Barcelona and the City of Montreal to create the first sound and light spectacle to be projected on the complex façade of the Sagrada Familia in Barcelona. This 15 minute-long multimedia show, using video mapping techniques and their X-Agora playback system, was presented within La Mercè Festival in Barcelona this weekend. The inspiration: to realize Antonio Gaudi's dream. The architect wished for the façade to be full of colors.
Antoni Gaudí (1852 -1926), the Catalán architect best known for his whimsical style and his inimitable masterpiece, the still unfinished Sagrada Familia, would have turned a ripe 160 years old today.
The Huffington Post today commemorated his memory, saying: "As an architect, Gaudi possessed a distinct vision that incorporated nature, religion and Catalan culture to create beautiful organic monuments that remain hallmarks of Spanish architecture. Attention to detail was a marked trait of his colossal churches and palaces, culminating in swirling terraces and bulging balconies that lent a whimsical touch to familiar neo-gothic and orientalist styles."
Take a moment to remember this unique architect's work and rediscover one of his classics, Casa Batlló.
Happy Birthday Antoni! Per molts anys Antoni!
This week, with the help of our readers, our Architecture City Guide is headed to Barcelona. We recently featured an engaging video where Wiel Arets half jokingly said Barcelona is fantastic but boring. He continued to say as soon as Sagrada Família is finished Barcelona is done; there is nothing left to do there (10:50). Arets can say what he wants about Barcelona supposedly being boring, but our city guide doesn't reflect this. Barcelona is filled with fantastically expressive architecture that springs from its proud Catalan culture. It was impossible to feature all our readers suggestions in the first go around, and we did not even come close to including some of the most iconic building such as Casa Milà. Thus we are looking to add to our list of 24 in the near future. Further more there are so many fabulous buildings on the drawing board or under construction, i.e. the projects in the @22 district, we'll most likely be updating this city guide for quite awhile, regardless of Sagrada Família's completion.
Take a look at our list with the knowledge it is far complete and add to it in the comment section below.
The Architecture City Guide: Barcelona list and corresponding map after the break.
Our newest addition to the site, our AD Classics, highlight impressive and innovative buildings spanning the course of history. While we are continually fascinated by Kahn's National Assembly Building of Bangladesh (1982) or SOM's Beinecke Rare Book and Manuscript Library (1963), what about works that date even farther back….before Corbusier's Unite d' Habitation (1952) and Mies' Farnsworth House (1951); before the Eames House (1945) and Wright's Unity Temple (1905).  Dating back to the 1880s, Antoni Gaudí devoted over a decade of his life to one of Barcelona's, and the architecture world's, most prized structures, la Sagrada Família.  The cathedral has remained under construction for hundreds of years as debates concerning whether or not its current state is too far from the original vision continually spark controversy.  Yet, this Sunday, as the NY Times reported, Pope Benedict XVI visited the cathedral to consecrate the Temple Expiatori de la Sagrada Família. The visit spurred hundreds of workers to prepare the church in an effort to highlight the newest " latest architectural and artistic features".
More after the break.