Fernando Schapochnik's 1 minute series – a set of four videos of iconic buildings in Europe – aims to create a sensory interaction with the spaces. Filmed using only a cellphone, the videos rely on textures, sounds, rhythms and varying speeds to narrate the viewer's relationship with the spaces, letting the senses guide the experience. Journey through Le Corbusier's Ronchamp, Antoni Gaudí's Park Guell, SANAA's Rolex Learning Center and OMA's Kunsthal after the break.
Ever since its unprecedented skyward growth in the late 19th and early 20th centuries, Manhattan has been an icon of construction all over the world, with recent estimates concluding that the island contains some 47,000 buildings. However, as with all construction, completed projects are just the tip of the architectural iceberg; Manhattan is also the home of many thousands of unloved, incomplete, and downright impossible proposals that never made it big in the Big Apple.
Of course, the challenges of New York are indiscriminate, and even world-renowned architects often have difficulties building in the city. After the break, we take a look at just three of these proposals, by Antoni Gaudí, Frank Lloyd Wright and Frank Gehry, courtesy of 6sqft.
Following our top 40 Architecture Docs to Watch in 2014 and our favourite 30 Architecture Docs to Watch in 2013, 2015 is no exception! Our latest round up continues to feature a fantastic range of films and documentaries telling the tales of unsung architectural heroes and unheard urban narratives from around the world. This entirely fresh selection looks past the panoply of stars to bring you more of the best architectural documentaries which will provoke, intrigue and beguile.
From a film which explores one man's dream to build a cathedral (#4) and a simultaneous history of and vision of Rotterdam's future (#7), to a tour of the world's last surviving squatter town in Copenhagen (#14) and A Short History of Abandoned Sets in Morocco (#16), we present – in no particular order – thirty freshly picked documentaries for you to watch in 2015.
Chile may soon be home to the only Antoni Gaudí-designed building located outside of Spain. At a recent press conference, Chilean President Michelle Bachelet confirmed government funding for the construction of the Gaudí Cultural and Spiritual Center in the city of Rancagua, which will include a chapel designed by the Catalán architect.
The project originated in 1922 through a series of letters exchanged between Gaudí and Chilean Franciscan Friar Angélico Aranda, who asked Gaudí to design a chapel for Chile. "I wish to implement an original work, very original, and I thought of you," wrote Aranda to Gaudí, who by then was immersed in constructing his masterpiece, La Sagrada Familia.  Since 1996, Chile's Corporación Gaudí de Triana has been working to make the design resulting from this conversation a reality.
Learn more about this project after the break. 
A team of students from Eindhoven University are set to build a forty metre high model of Antoni Gaudí's Sagrada Familia out of 'ice'. The project, which follows their completion of the world's biggest ice dome last year, will be constructed from pykrete and reinforced with wood fibres. The fifty-strong team will head to Finland on the 28th December 2014 to begin construction of the impressive 1:5 scale model, which will be built in only four weeks in order to officially open in the last week of January 2015.
Read about their unique construction method and see photos of the preparatory work after the break.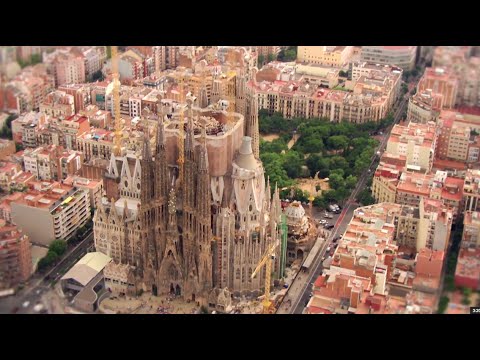 The Basilica of the Sagrada Família in Barcelona have laid out their planned milestones for the forthcoming year, visualising it in a short film that begins to piece together Antoni Gaudí's incredible vision. The Sacristy and Raking Cornice will be constructed between this year and next, while new stained glass windows will be installed flooding the interior spaces with evermore coloured light.
Scotland have voted against independence.
Arguably there are only two architects in history that have become almost completely synonymous with one particular city – Charles Rennie Mackintosh for Glasgow and Antoní Gaudi for Barcelona. Indeed, a Catalonian architect, Enric Miralles, designed the Scottish Parliament Building in Holyrood, Edinburgh. The fact that both of these cities are part of large enclaves who are seeking, or have sought, independence is perhaps just a coincidence. Architecture, often used as a symbol for the identity of nationhood, will certainly be part of a wider dialogue about the Union of the United Kingdom following yesterday's referendum.
Although already an icon in architectural circles, "birthday boy" Antoni Gaudí may soon be receiving a new accolade: sainthood. Due to his renowned, unique style and tireless efforts on La Sagrada Família, Gaudi, potentially our first Patron Saint of Architects, will be beatified by Pope Francis within the next year.
Although beatification is only the third of four steps towards full-fledged canonization (which will require proof that Gaudí performed at least one miracle), it still seems a good moment to celebrate Gaudí and explore some of his most astounding works scattered throughout the city of Barcelona (seven of which are UNESCO World Heritage Sites). Discover some of our favourites after the break.
Antoni Gaudí (1852 – 1926), the Catalán architect known for his distinctive, fantastical style, and – of course – for his magnum opus, the unfinished Sagrada Família, would have turned 162 today. Heavily influenced by religion and the forms, patterns, and colors found in nature, his work was a precursor to building technology development in the 20th century.
In the Sagrada Família, Gaudí eliminated the need for flying buttresses by developing an ingenious system of angled columns and hyperboloidal vaults. The use of hyperboloids and other complex shapes with ruled surfaces allowed not only for a structure far more delicate than its contemporaries, but also for enhanced acoustic and light quality.
In honor of Gaudí's birthday, check out some of his other iconic contributions to architecture below.
A team of students from Eindhoven University are to build a forty metre high model of Antonio Gaudí's Sagrada Familia. The project, which follows the completion of the world's biggest ice dome last year, will be constructed from pykrete and reinforced with wood fibres. Impressively, the 1:4 scale model will be built in only three weeks. Thin layers of water and snow will be sprayed onto large, inflated molds. The pykrete (water mixed with sawdust) will be immediately absorbed by the snow before freezing. According to the organisers, "the wood fiber content makes the material three times as strong as normal ice, and it's also a lot tougher." Find out more about the project here.
Before you head out for the weekend, check out this awesome new video we found on Gizmodo that visualizes what Antoni Gaudi's Sagrada Familia could look like in the year 2026 (hint: pretty gosh-darned amazing). Happy Friday everyone!
Antoni Gaudí (1852 -1926), the Catalán architect best known for his imaginative style, inspired by the curves and shapes found in nature, and – of course – for his inimitable masterpiece, the unfinished Sagrada Familia, would have turned 161 today.
Remember this unique architect's work by revisiting his works on ArchDaily: Casa Mila, Casa Batlló, Colonia Guell, and Park Guell
Happy Birthday Antoni! Per molts anys Antoni!
Image of Sagrada Familia via alexsalcedo / Shutterstock.com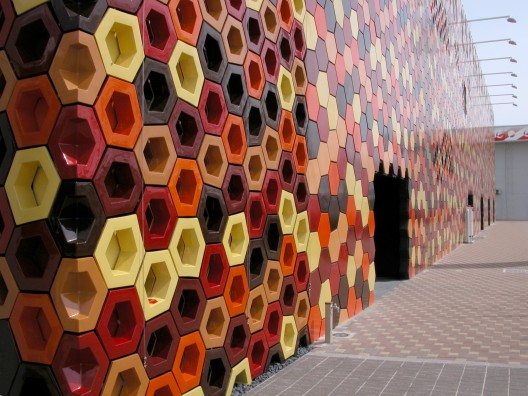 From September 29th to December 8th, the exhibition dedicated to the work of Toni Cumella will be open. His works in ceramic have been utilised by architects such as Enric Miralles, Alejandro Zaera-Polo, or Jean Nouvel. These collaborations made his material became part of the image of Barcelona, being part of the construction of La Sagrada Familia, and the restoration of Casa Batlló and Parc Güell.
Focusing on the 4 main fabrication processes in use at Ceramica Cumella – extruding, casting, pressing and revolving – Shaping Ideas presents the work of Toni Cumella and the application of his ceramics in some of contemporary architecture's most significant projects.