After months of design refinement and engineering, Synthesis Design + Architecture (SDA), winners of the "Switch to Pure Volvo" architecture competition, have launched a free-standing mobile pavilion capable of harnessing solar energy to power the new Volvo V60, the world's first diesel plug-in hybrid car. The 'Pure Tension' Pavilion was birthed by SDA's extensive research on dynamic mesh relaxation, utilizing bendable, lightweight aluminum structures with flexible fabrics that can be stored in the trunk of the car and easily mounted within one hour, similar to a tent.
Each December, Design Miami/ commissions early-career architects to build a designed environment for the fair's entrance as part of its biannual Design Commissions program. This year's winning proposal, dubbed "Tent Pile," was designed by the New York-based architectural practice formlessfinder. Its design harnesses the properties of sand and aluminum to create shade, seating, cool air and a space to play for Miami's public.
The Yale 'Assembly One' pavilion is the younger, smaller, more carefree sister to Yale's building project – a 40-year old tradition in which first-year students design and building a house. It is the product of a seminar and design studio in which students focused on alternative ways in which contemporary buildings can come together and the potential architectural effects computational and material techniques can offer. The 'Assembly One' pavilion is designed to act as an information center for New Haven's summer International Festival of Arts and Ideas and therefore was developed with the following characteristics in mind: dynamism, visual transparency and visual density.
Continue after the break for more!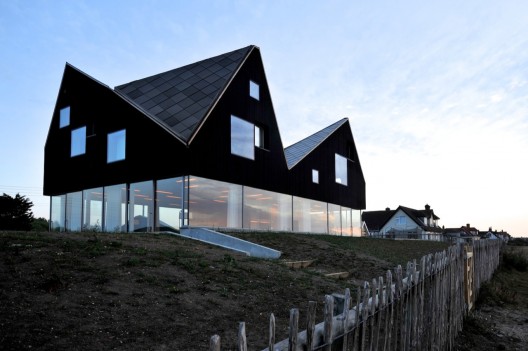 Architects: Jarmund / Vigsnæs AS Arkitekter MNAL / Einar Jarmund, Håkon Vigsnæs, Alessandra Kosberg, Anders Granli
Location: Thorpeness, Suffolk, England
Client: Living Architecture
Collaborating Architect: Mole Architects Ltd.
Project Year: 2010
Project Area: 250 sqm
Photographs: Nils Petter Dale
Architects: Hubert & Roy Architectes
Location: Le Bourget, France
Project Year: 2011
Project Area: 2800 sqm
Photographs: Hérvé Habbadie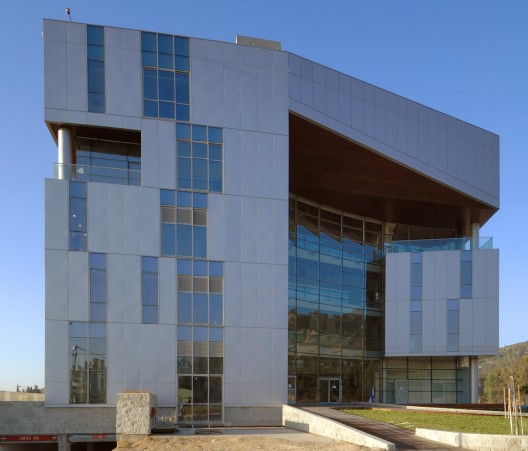 Architects: Schwartz Besnosoff Architects
Location: Yoqneam, Israel
Client: CPC Israel
Project Team: Gaby Schwartz, Julia Grinkrug, Abraham Rotal, Gilad Ulman
Project Year: 2009
Photographs: Courtesy of Schwartz Besnosoff Architects
Architect: Goettsch Partners
Location: Shanghai, China
Project Year: 2005-2009
Photographs: 1st Image
The China Diamond Exchange Center is a 535,500 square foot office complex designed by Goettsch Partners of Chicago, Illinois.  Located within Shanghai's sea of massive and often overstated high-rises, this modest-by-comparison structure is brilliantly detailed, appropriately scaled, and aesthetically beautiful.  The complex was completed in 2009 with the help of associate architects Zhong-fu Architects.  The Diamond Exchange Center is sited within Shanghai's Pudong district, an international financial and commercial hub and houses both the Exchange and additional relative tenants.
Architects: Aflalo and Gasperini Architects
Location: São Paulo, Brazil
Project Area: 228,104 sqm
Photographs: Nelson Kon and Daniel Ducci
Architects: Unit Arkitektur AB
Location: Alingsås, Sweden
Client: Anna-Karin and Alf
Design Principal: Mikael Frej + Klas Moberg
Project Architects: Frans Magnusson
Project Area: 65 sqm
Project year: 2008-2010
Photographs: Krister Engström
Architect: Thomas Phifer
Location: Raleigh, North Carolina, USA
Partner in Charge: Thomas Phifer AIA
Project Partner: Greg Reaves AIA LEED AP
Project Architect: Gabriel Smith AIA LEED AP
Project Team: Adam Ruffin, Katie Bennett, Jonathan Benner, Eric Richey, Daniel Taft, Kerim Demirkan, Len Lopate, ChristophTimm, Joseph Sevene
Local Architects: Pierce Brinkley Cease + Lee, Raleigh, NC
Structural Engineer: Skidmore, Owings & Merrill LLP, Chicago, IL
Mechanical Engineer: AltieriSeborWieber LLC, Norwalk, CT
Landscape Architect: Lappas + Havener, PA, Durham, N.C.
Lighting Design: Fisher Marantz Stone, New York, NY
General Contractor: Barnhill, Raleigh NC
Project Area: 136,000 sf
Project Year: 2010
Photographs: Scott Frances
Architects: c. Colomès + f. Nomdedeu architectes
Location: Troyes, France
Cost: € 1,000,000
Project Date: 2007
Project Area: 500 m2
Photography: Courtesy of Colomès + Nomdedeu Architectes
When Massachusetts Institute of Technology commissioned Steven Holl in 1999 to design a new a dormitory for the school they had one goal in sight: that the spaces around and within the building would stir up interaction among students. While MIT focused on the building's use and function, Holl aimed to create a memorable building. With MIT's vision in mind along with Holl's artistic architectural ideas, the ten-story undergraduate dormitory became a small city in itself with balancing opposing architectural elements, such as solids and voids and opaqueness and transparency.
More on Simmons Hall after the break.