The Green Building in Louisville, Kentucky incorporates a variety of green energy sources to achieve the city's first LEED Platinum rating. Designed by (fer) studio, the building has geothermal, ice storage, solar panels, and a energy recovery ventilator. Watch the video to find out more.
Our full feature on The Green Building, including photographs and drawings, can be found here.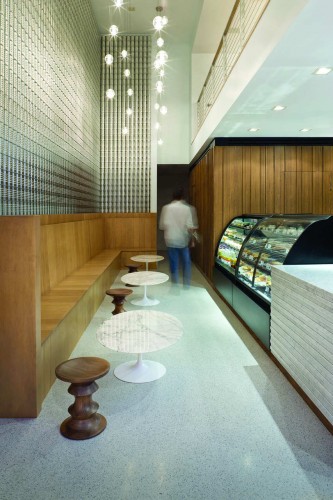 Architects: NC-office
Location: Miami, Florida, USA
Client: Rowland Coffee Roasters / Gansevoort Hotel South
Collaborators: Peter Nedev, Elizabeth Cardona, Cristina Canton, Nikolay Nedev, Mauricio Gonzalez
Consultants: Popov Engineers, Inc. (MEP), Don Shakelford (Structural)
Contractor: RCC Construction
Project year: 2008
Photographs: Michael Stavaridis
Architects: Una Arquitetos - Cristiane Muniz, Fábio Valentim, Fernanda Barbara e Fernando Viégas
Location: Sao Paulo, Brazil
Collaborators: Ana Paula de Castro, Carolina Klocker, Eduardo Martorelli, Gabriela Gurgel, Miguel Muralha e Roberto Galvão
Structure: Trianon Engenharia de Projetos
Installations: K2P Projetos
Construction: Souza Lima
Frames: Dinaflex
Project Lightning: Ricardo Heder
Visual Merchandising: Vimer Experience Merchadising
Interior Design: Mateus Ribeiro
Curators Artworks: Alberto Tassinari
Photographs: Leonardo Finotti
The new Langara Student Union is designed as a focal point and center of the main quad at Langara College. It flows out from between two existing buildings bringing students from the 49th Street entrance into the heart of the campus and public square – drawing life into the outdoor space.
Architects: Teeple Architects Inc in association with IBI/HB Architects
Location: Vancouver, Canada
Principal in Charge: Stephen Teeple (OAA, FRAIC )
Project Team: Myles Craig, Luc Bouliane, William Elsworthy, Rob Cheung, Jeff Christiansen, Billy Quan, Martin Bruckner
Structural: WSB
Mechanical: IMEC Mechanical
Electrical: Genivar
Geo-Tech: Geo Pacific
LEED: Enermodal Engineers
Landscape: Francesco Martire – Teeple Architects Inc
Envelope: Morrison Hershfield
Food Service & Waste: Teeple Architects Inc
Cost: Bird Construction Company
Code: LMDG
Construction Manager: Bird Construction Company
Owner: Langara College
Project Area: 17,900 sqf
Project Year: 2009
Photographs: Shai Gil Photography
Architects: Manuel Graça Dias + Egas José Vieira (Contemporânea), & Gonçalo Afonso Dias
Location: Almada, Portugal
Collaborators: José Silvestre, Ricardo Gama, Nuno Moita, Rui Cunha, Susana Alvarez, Carmo Pulpo Correia, Filomena Vicente, Lourenço Vicente, Duarte Correia, Vasco Teodoro, Pedro Coelho, Sara Baptista, Sofia Sanches
Models: José António Aires Pereira and Nuno Jacinto
Structure: Talprojecto – Tiago Abecassis, Francisco Cima Gomes, Rui Nunes da Silva and Paulo Freire
Construction: A. M. Mesquita e Filhos S.A.
Video: Vitor Gabriel
"Architecture is too insular." How many times have I heard this? Too many times to count. I've heard it from architects and non-architects, alike. It is not necessarily insular in the strict sense. It is more the case that it appears insular because it is self-referencing and self-validating. OK, so on second thought maybe it is just insular no matter how you define it. But my definition has more to do with the inward gaze of the profession that makes it a world unto itself. Like all worlds it has a need for celebrities.
More after the break.
The Ansel Adams Gallery at The Wilderness Society is the centerpiece of a renovation of the existing headquarters in Washington, DC. The renovation included and update and reconfiguration of the office space, energy savings enhancements, new finishes, and the creation of a special gallery for the society's treasured collection of Ansel Adams photographs.
Project description, images, and drawings after the break.
Architect: Group Goetz Architects
Location: Washington DC, USA
Project Team: Lewis J. Goetz, FAIA, FIDA (Principal-in-Charge), Aleksandar Jocic, Derick Williamson
Consultant: HBW Group
Structural Engineer: Brandes & Cassagnol Engineers, PC
Mechanical/Electrical/Plumbing Engineer: CS Consulting Engineers, Inc.
Lighting Design: Coventry Lighting
Art Consultant (Exhibition Design) and Graphics: Cynthia Reed, LTD.
Project Area: 3,600 sqf
Project Year: 2010
Photographs: Courtesy of Group Goetz Architects
Dutch duo, Benjamin Feenstra and Jelmer Frank Wijnia, were successful in the eVolo 2011 Skyscraper Competition where they were awarded an honorable mention for their entry, On Demand Experience.  The two designers, who recently graduated with a Bachelor's degree, are the second Dutch team in the history of the prestigious competition to receive such an honor. The award seeks to discover young talent, whose ideas will change the way we understand architecture and its relationship with the natural and built environments. More images and architects' description after the break.
Architects: COEN! – Coen van Ham
Location: Woerden, the Netherlands
Client: Besturenraad / BKO, Woerden
Project area: 2,200 sqm
Project year: 2010 – 2011
Photographs: COEN!
The Luzern Stadtarchive is conceived as a marker in the landscape. XTEN Architecture's entry for a library competition in Switzerland the design was driven by orienting the public areas to the landscape, the site topography and adjacent mountains.
Architects: XTEN Architecture
Location: Luzern, Switzerland
Principals: Monika Haefelfinger & Austin Kelly
Project Team: Scott Utterstrom, Jae Rodriguez, Tina Rothermund, Annie Ritz, Qichen Cao
Project Area: 4,750 sqm
Renderings: Courtesy of XTEN Architecture
Architects: Van der Jeugd Architecten
Location: Enschede, the Netherlands
Project area: 247 sqm
Project year: 2009 – 2010
Photographs: Ruud van der Koelen
AllesWirdGut wins architectural competition for Embelgasse vocational training school for administration with a project that makes learning a part of public life again. More images and architect's description after the break.
Milos Vlastic, Vuk Djordjevic, Ana Lazovic, and Milica Stankovic shared with us their proposal for the eVolo 2011 Skyscraper Competition which was awarded an honorable mention. The Hydra-Tesla research facility is a skyscraper that investigates the possibility of creating a power plant that uses hydrogen as source of energy. More images and architects' description after the break.
Architects: Paritzki Liani Architects – Itai Paritzki & Paola Liani
Location: Neve Tzedek, Tel Aviv, Israel
Project area: 347 sqm
Project year: 2008
Photographs: Amit Geron
The new Native Child and Family Services of Toronto (NCFST) consolidates social and culture-based services for aboriginal children and families within a 30,000 square foot office building in the heart of downtown Toronto. The challenge for this project was to create a place that would reconnect urban aboriginals with nature in the heart of the city and project a bold visual presence for the First Nations community – which was difficult to conceive for a community that is comprised of distinctive bands with their own identities and customs.
Architecture: Levitt Goodman Architects Ltd.
Location: Toronto, Canada
Environmental Graphics: Adams + Associates Design Consultants Inc. with 7th Generation Image Makers
Landscape Architecture: Scott Torrance Landscape Architecture Inc.
Project Area: 30,000 sqf
Photographs: Ben Rahn / A-Frame Inc and Jesse Colin Jackson