Originally published in Metropolis Magazine as "Inside the Homes and Workspaces of 8 Great Architects", this article shows the spaces occupied by some of the best-known architects in the world. Documented for an exhibition that will be featured at the Milan Design Week 2014, the images give a glimpse inside the private worlds of some of our favorite designers.
It's a cliche that architects have messy workspaces. From chaos comes creation, so the phrase goes. But an upcoming exhibition at this year's Salone del Mobile intends to dispel the myth. Where Architects Live will present glimpses into the personal spaces of eight significant architects: Shigeru Ban, Mario Bellini, David Chipperfield, Massimiliano and Doriana Fuksas, Zaha Hadid, Marcio Kogan, Daniel Libeskind and Bijoy Jain of Studio Mumbai.
Curator Francesca Molteni interviewed each of the designers in their private homes and came away with one finding: architects are actually quite tidy. The studios are all pristinely ordered; books are neatly stowed away, figurines and objets astutely displayed, and table tops swept clean. The photographs below are part of the exhibition materials, produced with the help of scenographer Davide Pizzigoni, which faithfully document the physical environments in images, video, and audio. These will be used to recreate the architects' "rooms" at Salone del Mobile in April.
Where Architects Live is not limited to satisfying our curiosity about what these architects' homes look like. Richard Rogers' affirmation that "a room is the beginning of a city" resonates with the project's aim in trying to articulate its subjects' personal tastes and obsessions, and how those are reflected in their architectural work.
Read on to see more images of the inside of architects' homes and studios
From the Publisher. This book shows the development of Jain's personal mind-process as well as the collective dialogue through which each project evolves. Dialogues unfolded through study sketches made by both Bijoy Jain and the carpenters, as well photographs taken during journeys used as study and inspiration, showcasing a critical part of their design process. Studio Mumbai consists on a group of Indian architects and craftsmen, all resident artisans of Studio Mumbai, headed by Bijoy Jain, one of India's foremost architects.
Studio Mumbai's awards and honours include the Global Award for Sustainable Architecture from the Institute Français d'Architecture (2008), a Special Mention at the 12th Architecture Biennale (2010), the BSI Swiss Architectural Award (2012).
During the launch of the META Project in Chile, we had the chance to interview Bijoy Jain, founder of Studio Mumbai.
Studio Mumbai is a "human infrastructure of skilled craftsmen and architects who design and build the work directly." Together, the colleagues immerse themselves within an ever-changing environment formed by an "iterative process" where they experiment and explore their ideas through the production of large-scale mock-ups, models, materials studies, sketches and drawings.
Studio Mumbai carefully develops projects through a process that draws from traditional skills, local building techniques, materials and an ingenuity that arises from limited resources. The essence of their work lies in the relationship between land and architecture. Studio Mumbai describes themselves as being "inspired by real life conditions" as they understand complex relationships through the power of observation.
"The endeavor is to show the genuine possibility in creating buildings that emerge through a process of collective dialog, a face-to-face sharing of knowledge through imagination, intimacy, and modesty."
Projects from Studio Mumbai in ArchDaily:
Architects: Studio Mumbai
Location: Satirje, Maharashtra, India
Principal Architect: Bijoy Jain
Project Team: Roy Katz, Jeevaram Suthar, Pandurang Malekar, Mangesh Mhatre
Structural Engineer: Dwijen Bhatt
Photographs: Courtesy of Studio Mumbai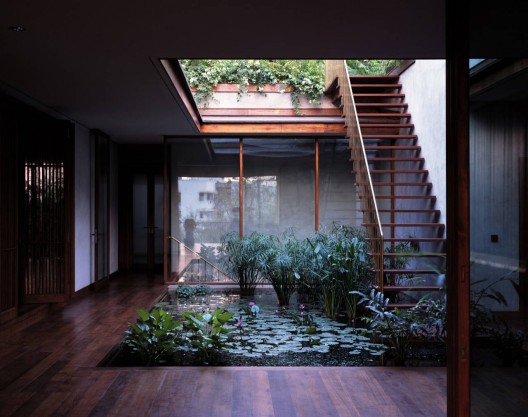 Architects: Studio Mumbai
Location: Bandra, Maharashtra, India
Principal Architect: Bijoy Jain
Project Team: Samuel Barclay, Jeevaram Suthar, Omprakash Suthar
Structural Engineer: Dwijen Bhatt
Photographs: Helene Binet, Studio Mumbai 
Architects: Studio Mumbai
Location: Chondi, Maharashtra, India
Principal Architect: Bijoy Jain
Project Team: Jeevaram Suthar, Punamchand Suthar, Pandurang Malekar
Structural Engineer: Dwijen Bhatt
Photographs: Courtesy of Studio Mumbai
Architects: Studio Mumbai
Location: Belavali, Maharashtra, India
Principal Architect: Bijoy Jain
Project Team: Jeevaram Suthar, Punamchand Suthar, Bhasker Raut
Structural Engineer: Shishir Kulkarni
Photographers: Helene Binet, Studio Mumbai
Architects: Studio Mumbai
Location: Leti, Uttaranchal, India
Principal Architect: Bijoy Jain
Project Team: Geoffrey Johnston, Roy Katz
Completed: 2007
Photographs: Courtesy of Studio Mumbai
Architects: Studio Mumbai
Location: Kashid, Maharashtra, India
Principal Architect: Bijoy Jain
Project Year: 2005
Photographs: Helene Binet & Studio Mumbai
Architects: Studio Mumbai
Location: Nandgaon, Maharashtra, India
Principal Architect: Bijoy Jain
Project Team: Jeevaram Sutar, Roy Katz, Mangesh Mhatre, Samuel Barclay
Project Year: 2007
Photographs: Helene Binet