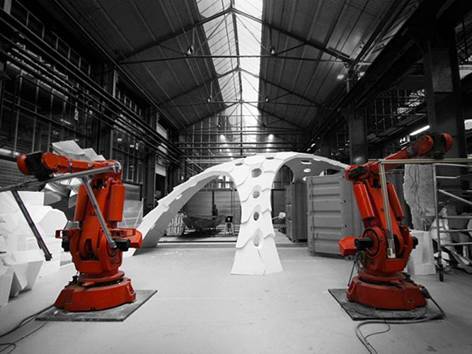 Architecture is quickly adopting the popular technology of robots. Although it is slightly hard to define what "robot" really means, for architecture, it tends to refer to anything from robot arms to CNC mills to 3D printers. Basically, they are programmable, mechanical, and automated instruments that assist in processes of digital fabrication.
So, what might robots mean for architecture? A more precise architecture which could contribute to a more sustainable building life cycle? More innovative design derived from algorithmic processes? A more efficient prefabrication process that could reduce the time and cost of construction?
Probably a mix of all three. But more importantly, what might robots mean for humans? Robotic replacement for the construction worker? Loss of local craftsmanship and construction knowledge? Maybe. But I might reformulate the question. Asking what robots mean for humans implies passivity.
What I ask, then, is what can robots do for humans?
Robots fascinate us. Their ability to move and act autonomously is visually and intellectually seductive. We write about them, put them in movies, and watch them elevate menial tasks like turning a doorknob into an act of technological genius. For years, they have been employed by industrial manufacturers, but until recently, never quite considered seriously by architects. Sure, some architects might have let their imaginations wander, like Archigram did for their "Walking City", but not many thought to actually make architecture with robots. Now, in our age of digitalization, virtualization, and automation, the relationship between architects and robots seems to be blooming…check it out.
Keep reading to see five new robots making architecture.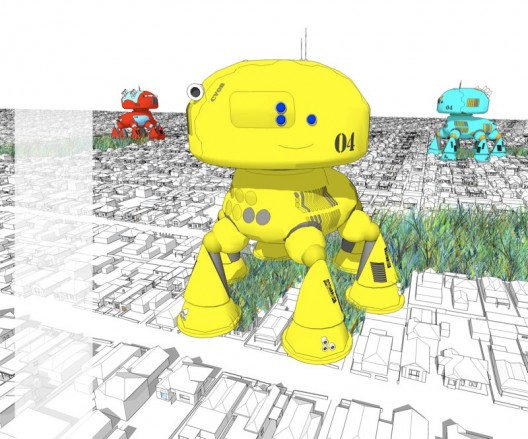 Peak oil is approaching. In the next future, most of the oil-dependent suburbs in which we live now will be abandoned and decay, turning into ruins, inhabited only by the few ones who where too fat and too car-dependent to escape back to the city. Little by little, nature will take over suburbs, but this process will be extremely slowly.
In order to give Mother Nature a hand, Andrew Maynard Architects have designed CV08, the suburb-eating robot.