Sketch to Structure unfolds the architectural design process to show how buildings take shape. With sketches, plans, blueprints, renderings, and models from the Heinz Architectural Center collection, this exhibition reveals that architectural design, from initial concept to client presentation, isn't straightforward.
Though Modernism is sometimes criticized for imposing universal rules on different people and areas, but it was Richard J. Neutra's (April 8, 1892 – April 16, 1970) intense client focus that won him acclaim. His personalized and flexible version of modernism created a series of private homes that were and are highly sought after, and make him one of the United States' most significant mid century modernists. His architecture of simple geometry and airy steel and glass became the subject of the iconic photographs of Julius Schulman, and came to stand for an entire era of American design.
In this 2000 Berlage Institute lecture, titled "Neutra's Architecture and Modernism in California," American architectural photographer Julius Shulman outlines a twofold mission: to introduce his two new books, Modernism Rediscovered, and Neutra: Complete Works, and to speak to architectural students and educators who are responsible for the future of the field. Highly jovial and personable, Shulman starts off on a playful tone, inviting audience members to sit on the floor next to him and insisting on the informality of his lecture; he begins by describing how he met Richard Neutra, purely by chance, and made history with the iconic photograph of the Kaufman House, solely through a rebellious desire to pursue a beautiful sunset.
Shulman speaks of Neutra both affectionately and critically. He advises, "Those of you who hope to be architects, please be human about how people live in your house. Don't wipe it clean and empty the way Neutra used to do it, because he was more interested in the image of a house – pure architecture, without furniture." The lecture introduces Shulman's photographs of Modernist homes in California, including Frank Gehry's first house, Shulman's own house and studio by Raphael Soriano, and works by Frank Lloyd Wright and Buckminster Fuller, before moving on to briefly introduce projects from his vast archives. Pierluigi Serraino joins him halfway through the lecture to discuss the process of writing their publication, Modernism Rediscovered, and the responsibilities of an architectural photographer.
The lecture demonstrates the incredible breadth of Shulman's portfolio, his fascinating thought process, and an indefatigable spirit. When describing the moment when he broke away from Neutra's admonishment in order to photograph the exquisite sky above the Kaufman House, the iconic photographer enthuses,"Don't ever hesitate. If you want to do something, whether it's to design a house or kiss a beautiful woman, or whatever you want to do, do it! No one's going to stop you."
Though modernism was developed in the 1920s, and was popular among many architects by the time the 1930s arrived, in many places it took years for the style to gain favor among clients. In the USA, people often point to the 1922 Chicago Tribune Tower Competition as a turning point, the winning entry was actually a neo-gothic design. In this article, which originally appeared on Curbed, Marni Epstein looks at another potential turning point: three high-profile competitions in the late 1930s where modernist designs were (sometimes controversially) successful.
The Great Depression of the 1930s hit everyone, and hard—even architects and draftsmen found themselves out of work as development and construction dried up amid vanishing capital. They found a partial solution in the Historic American Buildings Survey and Historic American Engineering Record, two programs of Franklin D. Roosevelt's Works Progress Administration that involved surveying and cataloging the country's existing infrastructure. These programs, however, were a long way from the prestige, creativity, and financial rewards that came with new architectural commissions. The work available was limited, and what work existed was focused on the architecture of the past, not designs for the future.
If you don't have access to an architecture library (and even if you do), sifting through shelves can take hours. Buying books can be even more painful — for your wallet, at least. Instead, why not browse this list of 25 books that are all free and easily accessible online? Some are well-known classics of architecture literature, but we hope you find a few surprises as well.
In this interesting article for the Financial Times, Edwin Heathcote dissects two Hollywood homes that are infamous as the homes of slick movie bad guys. The Lovell Health House designed by Richard Neutra appeared in LA Confidential as the home of pornographer and pimp Pierce Patchett; the Sheats Goldstein Residence appeared in The Big Lebowski – again as the home of a pornographer – and was designed by none other than "Hollywood's favourite architect" John Lautner. Heathcote probes the two architects' design influences and ideas, and of course offers an explanation as to why ""bad guys always seem to get the best houses". You can read the full article here.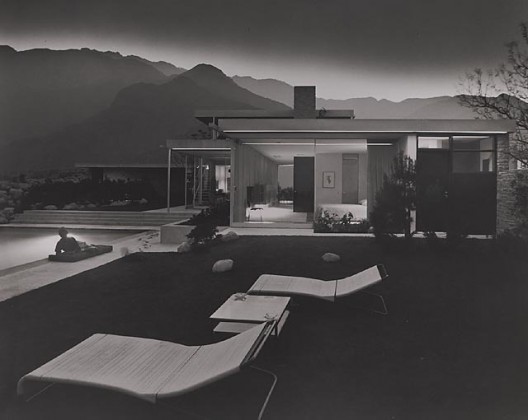 The mid-century modern master, Richard Neutra was well known for his cutting edge modernism. Since Julius Shulman immortalized his houses in his iconic photographs, Neutra's bright, airy homes have widely been seen as the pinnacle of modernism and desirability. One problem though, they're in high demand and it's not exactly like they're making any more Neutra buildings; in fact, quite the opposite is true and as a result they have become a pretty expensive commodity.
Read more about how to get your very own Neutra home after the break…
After a intensive, 14-year preservation battle, the fate of Richard Neutra's mid-century Cyclorama Center in Pennsylvania's Gettysburg National Military Park has been sealed. Yesterday, the National Park Service confirmed their plans to demolish the modernist structure and restore the site to its original 1863 appearance just in time for the 150th anniversary commemoration of the battle. It is a victory for Civil War purists and a loss for 20th century architecture advocates.
As we announced last September, the U.S. District Court for the District of Columbia directed the park service to conduct an environmental analysis on the demolition and to consider "non-demolition alternatives" such as moving the structure or leaving part of it intact. Following the release of a 200-page analysis, the park confirmed that the service had "no need for the continued use of the building" and that it "conflicted with the overall goals of the park."
More after the break…
The battle over Pennsylvania's mid-century Cyclorama Center is nearing an end. Located in the heart of the Gettysburg National Military Park, the concrete and glass cylindrical drum was designed by modernist architect Richard Neutra and completed in 1962 under the ambitious Mission 66 initiative aimed to improve visitor services at national parks.
Controversy surrounding the building's fate started in 1999, when the National Park Service first announced plans to demolish it. This sparked a raging battle between 20th century architecture supporters and Civil War purists, ultimately leading to the federal court.
However, despite these relentless efforts, the structures fate appears to be dismal.
Richard Neutra's Embassy Building in Karachi, Pakistan is a relic of the Cold War – an effort by the United States to express its authority and wealth in other countries.  The building is in the modernist style, designed in 1959, by an architect whose work is still admired today.  Until 2011, the Embassy was occupied by the U.S. General Consulate and was a symbol of modernity in Karachi.  The Neutra Institute for Survival through Design has begun a petition to help save this building from demolition.  It proclaims that this modernist icon is "the only surviving Neutra Structure in the region".
More after the break.
A place belongs forever to whoever claims it hardest, remembers it most obsessively, wrenches it from itself, shapes it, renders it, loves it so radically that he remakes it in his own image.

Joan Didion
Community pressure has swayed the owners of Richard Neutra's Kronish House to postpone plans for demolition, and has also prompted the city of Beverly Hills to draft legislation to preserve its architectural history. The house been spared until at least October 10 in order to give community activists time to devise a plan for its restoration. In a related, ground-breaking action the Beverly Hills City Council has asked the city's Planning Commission to enact a first-ever historic-preservation ordinance.
The Architecture City Guide series heads to the West Coast this week.  Los Angeles area is huge and it was nearly impossible to narrow down 12 buildings for this weeks list.  Here's what we suggest visiting if you are in LA, but we want to know what additional buildings you think we should add to our list!  Visit the comment section and provide your can't miss buildings in LA.
The Architecture City Guide: Los Angeles list and corresponding map after the break!