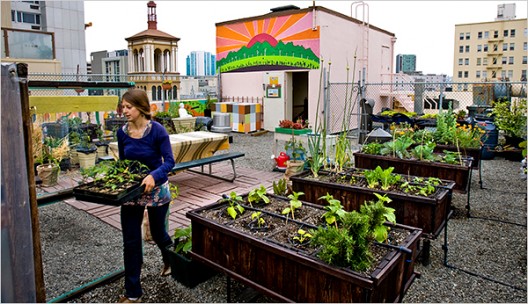 "The typical Urban Dweller today has no understanding of where or how food is produced/distributed. We have become dependent on huge, powerful, profit-minded corporations to bring huge quantities of food from industrial farms into our supermarkets – but the entire process is hidden, massively complex, and, ultimately, unsustainable." [1]
In Part I of this Series, I made the case that Urban Agriculture has incredible potential; unfortunately, however, in America, it has a long way to go. Our economy, our government, our technology, even our perception of what "food" is relies upon the Food System we currently have in place. Urban Agriculture could very well be the answer, but, frankly, not yet. 
So where does that leave us today?
All over the world, citizens are taking the Food Revolution into their own hands, becoming urban bee-keepers, guerilla planters, rooftop gardeners, foodie activists. While community engagement and political lobbying are vital to these grassroots movements, so too could be design. 
By designing our cities – our public and civic spaces, our hospitals and schools – with food in mind, we can facilitate this Revolution by making food a visible part of urban life, thus allowing us to take that crucial first step: eliminating the physical/conceptual distance between us and our food.
What does it look like to design with food in mind? More after the break…