New York City have released images of fourteen tower proposals as part of a controversial scheme to bring affordable housing to the 85 acre Brooklyn Bridge Park, originally designed by Michael van Valkenburgh and realised in 2004. The schemes, designed to be located on "two coveted development sites" on Pier 6, have been actively met with strong opposition from local community members. The park and surrounding area has seen a number of interesting recent regeneration proposals, from an 11,000ft² beach beneath the Brooklyn Bridge to a triangular pier proposed by BIG. Read on to see the proposals in detail, including those by Asymptote, Pelli Clarke Pelli, Davis Brody Bond, and Bjarke Ingels Group (BIG).
New York City's notoriously space-hungry real estate market is converting the cantilever – perhaps made most famous in Frank Lloyd Wright's floating Fallingwater residence of 1935 – from a mere move of architectural acrobatics to a profit-generating design feature. Driven by a "more is more" mantra, developers and architects are using cantilevers to extend the reach of a building, creating unique vistas and extended floor space in a market in which both are priced at sky-high premiums.
FXFOWLE and CO Architects (CO|FXFOWLE) have teamed up to design a seven-story School of Nursing building for the Columbia University Medical Center campus in upper Manhattan. The result of an invited design competition, the design will provide 65% more space than the school's current location and will be designed to achieve LEED Silver certification.
Los Angeles-based CO Architects and New York City-based FXFOWLE have announced the formation of a joint venture firm known as CO/FXFOWLE. Formed in late December, the two firms will embark in a "genuine collaboration" with all their project services. While each firm will still maintain their individual identity and operations, they will pursue new projects together, allowing them to expand their geographic and expertise reach.
This LEED Gold building is now the headquarters for the Wildlife Conservation Society. Designed by FXFOWLE, the Global Conservation Center sits in the middle of the Bronx Zoo. The building harmonizes so well with the site that the wild animals hardly give notice to its presence; they treat it much like they treat a natural rock outcropping in the landscape. This makes for interesting employee lunches where they spend their time observing wild turkeys, swooping Inca terns and many other creatures. The design capitalizes on this wonderful opportunity by drawing staff outside with generous terraces and a patio the size of the staff dinning room. From more information check out the video and read Laura Raskin's article at Architectural Record's website.
Source: ArchRecord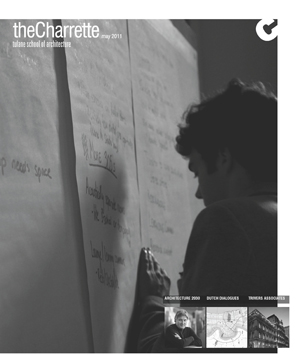 The Tulane School of Architecture, theCharrette presents its May 2011 Issue. The culmination of a year with a new image for the publication, theCharette has included in this issue key architectural topics at Tulane and adjacent realms including the Richardson Memorial Hall renovations with FXFOWLE and el dorado.
Included in this issue is the latest update from Byron Mouton and students who have completed URBANbuild build 06 house at 1821 Toledano. Also don't miss the articles featuring Dutch Dialogues and Architecture 2030.
This years architectural events in New York are bound to have a meaningful effect on the years to come; the decision by NYU to add another tower complementing I.M Pei's existing Silver Towers complex (rather than their initial plan to demolish them), the opening of the first section of Brooklyn Bridge Park coupled with the completion of the High Line has re-established New York City as a key model to reference when it comes to designing urban public space, and finally construction began on Franklin Delano Roosevelt Memorial, by Louis Kahn, to name a few.
From transportation, urban planning, exhibitions, residential and office buildings follow the break to see the New Yorkers list of some of the most influential decisions surrounding architecture over the past year in New York.
Construction is complete on Hypar Pavilion at Lincoln Center for the Performing Arts, situated on the edge of Hearst Plaza and 65th Street, the new free standing structure is the home of a new public lawn and restaurant.
The dual requirements of a destination restaurant and a public green space located within the confines of the Plaza are satisfied with a single architectural gesture sited between the reflecting pool and the plaza's north edge. Elizabeth Diller comments, "Hypar Pavilion's moment of invention came when we discovered how to design a destination restaurant without consuming public space on the Lincoln Center campus. The roof became a new kind of interface between public and private, with an occupiable twisting grass canopy over a glass pavilion restaurant."
Follow the break for more photographs of the new Hypar Pavilion.
Architects: Diller Scofidio + Renfro with FXFOWLE
Location: New York City, New York, USA
Design Team Principals: Elizabeth Diller, Ricardo Scofidio and Charles Renfro
Design Senior Associate: Kevin Rice
Architecture Team: Zoe Small, Haruka Saito, Ann-Rachel Schiffman, Stefan Roeschert, Michael Hundsnurcher, Roman Loretan, Dan Sakai, Chris Andreacola, Anthony Saby, Mateo Antonio de Cardenas, Toshikatsu Kiuchi, Felipe Ferrer, Hallie Terzopolos
Core and Shell Design: Diller Scofidio + Renfro with FXFOWLE
Kitchen Design: Yui Design
Lighting: Tillotson Design Associates
SMEP: Ove Arup & Partners
Acoustical: Jaffe Holden
Telephone and Data Consulting: Shen Milsom & Wilke
Construction: Turner Construction
Project Year: 2010
Photographs: Iwan Baan
While doing some research for a real estate project I found the MIPIM awards, a competition established 9 years ago to promote good design, related to MIPIM a market for international property trade that takes place in Cannes every year. As this event is aimed to real estate and property professionals, the award gives visibility to what we usually see on architectural magazines to another -very important- audience. In previous years it has recognized works such as the Meydan Umraniye Mall by F-O-A or the Mountain Dwellings by BIG, two programs in which market dictates, but where good design can give added value.
Today 8 projects have received the 2010 award in different categories: Offices, Regeneration & Masterplanning, Residential, Tall Buildings, Sustainability, Big Urban projects, Mixed Use and Retail & Leisure. Also, 16 projects received a "Highly Recommended" mention on those categories.
And the overall award went to One New Change, a massive mixed use project in the City of London by Jean Nouvel and Sidell Gibson Architects. The project includes over 35,000 sqm commercial and 25,000 sqm retail space, and it was a challenge in terms of design and planning, due to its proximity with St Pauls Cathedral.
The Judges applauded the new landmark for transforming the whole image of this part of the financial centre, providing a new focal point for visitors and city users alike. They also observed that One New Change provides a refreshing contrast to the surrounding retro-architecture, providing a successful combination of ancient and modern, praising both the developer and the planning authority for showing "great independence of mind" against pressure to submit a more historicist approach.
Full list of awarded projects after the break:
This seems to be a very good year for Diller Scofidio + Renfro: The opening of The Highline (a project in collaboration with Field Operations), the competition for the Audio and Image Museum in Brazil, the Creative Arts Center at Brown, the Alice Tully Hall at the Lincoln Center in New York…
And now, thanks to architectural photographer Iwan Baan, we present you the recently completed Juilliard School, part of the major redevelopment plan for the Lincoln Center, project on which DS+R has been working with FXFOWLE.
The details on this project are stunning, specially the stairs.
More photos after the break. You can see our previous coverage of DS+R projects here.
Dutch photographer Iwan Baan shared with us this great photographs he took for Domus Magazine's June edition. This building is a part of the Lincoln Center for the Performing Arts in NYC and it was created thanks to the donoations of Alice Tully, a chamber music benefactor and patron of the arts. This is the first major renovation since the Juilliard School building, designed by Pietro Belluschi, opened in 1969.
More images after the break, and you can check the complete photoset over here.