New York City have released images of fourteen tower proposals as part of a controversial scheme to bring affordable housing to the 85 acre Brooklyn Bridge Park, originally designed by Michael van Valkenburgh and realised in 2004. The schemes, designed to be located on "two coveted development sites" on Pier 6, have been actively met with strong opposition from local community members. The park and surrounding area has seen a number of interesting recent regeneration proposals, from an 11,000ft² beach beneath the Brooklyn Bridge to a triangular pier proposed by BIG. Read on to see the proposals in detail, including those by Asymptote, Pelli Clarke Pelli, Davis Brody Bond, and Bjarke Ingels Group (BIG).
Following the news that Studio V Architecture has been commissioned to convert the 19th century Empire Stores, next to Brooklyn Bridge, into 380,000 square-feet of office, restaurant and commercial space, Bjarke Ingels Group (BIG) has unveiled designs for "a flowering meadow with seasonal grasses, a sprawling field and a triangular wooden viewing platform" close by.
After fifty years of neglect the Empire Stores, located next to the Brooklyn Bridge, are now the most coveted waterfront property in New York. Midtown Equity has partnered with Studio V Architecture to adaptively reuse the 19th-century coffee warehouse into 380,000 square-feet of office, restaurant and commercial space, highlighted by a Brooklyn-centric cultural museum. "After the Brooklyn Bridge," says Joe Cayre, Chairman of Midtown Equities, "the Civil War era Empire Stores are the most iconic structures on the Brooklyn waterfront. As a Brooklyn native who raised my family in the borough, it is an honor for my firm to be chosen for the redevelopment of the Empire Stores."
Learn more after the break…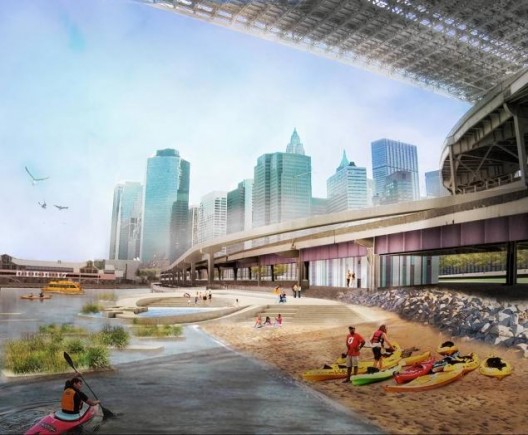 NYDaily News reports that the New York City Council has allocated $7 million to redevelop a 11,000 square foot swath of forgotten land into a beautiful, sandy beach beneath the Brooklyn Bridge. Originally conceived as part of New York's "Blueway" plan, the waterfront project will grant access to terraced seating, wading pools and fishing areas, along with a kayak launch and concession stand via tree-lined walkways. See what else the "Blueway" entails, here on ArchDaily.
Since it's opening on September 16th, the Jean Nouvel acrylic encasement and historic Jane's Carousel has become a landmark in the heart of Brooklyn Bridge Park for New York families. The welcoming public pavilion offers spectacular views of the East River, the Manhattan and Brooklyn Bridges, and the Manhattan skyline.
Continue reading for more detailed information and images.
With this stifling heat wave New Yorkers are trying to brave,  it is hard to take refuge in the city filled with skyscrapers and traffic.   This summer, we are flocking to parks along the edge of the Island to relax amidst a sea of greenery, catching some breezes off the water while enjoying the amazing views of the skyline and different bridges.   This step marks an important part in our history, as prior to this, as Nathan Ward in an Op-Ed for the New York Times put it, we have shied away from "claiming our waterfront."   In Ward's article, he outlines the history of the waterfront, explaining that as the ports' economy slowed down toward the end of the 1900s, the abandoned piers became "a ghost town between landlubbers and the water" where no one wanted to be, let alone live.   Within the past few years, we are beginning to discover the potential the waterfront has to offer.  And, areas that have been rundown and vacant for years are now getting green makeovers and contributing more and more feet of parkscape for New Yorkers to enjoy.
Whether you are closest to Governors Island, the West Side or perhaps Brooklyn, here's the scoop on three fairly recent park developments we hope all can enjoy.