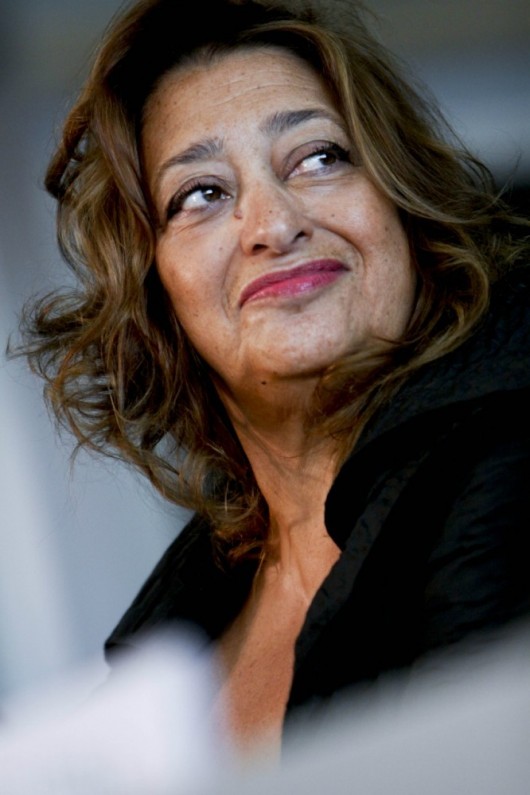 Zaha Hadid  turns 63 today, and the Dame has a lot to celebrate.
Since winning the Pritzker Prize in 2004, the first woman and Muslim to do so, Hadid's career has been on an exponential trajectory. Before the prize, Hadid was better known for her extraordinary sketch-paintings of unbuilt works; particularly, her competition-winning entries for "The Peak" in 1982 and the Cardiff Bay Opera House in 1994. Zaha's "flying" forms were so revolutionary, that some questioned if they could even be made reality – hence why the Opera House was ultimately rejected, for supposed "uncertainties." Indeed, before 1994, the only built project she could boast was the complex, deconstructivist Vitra Fire Station.
Of course, it's Zaha that's getting the last laugh. Her back-to-back Stirling Prizes for the MAXXI Museum in 2010 and the Evelyn Grace Academy in 2011 are only the tip of the iceberg. In the last four years, she's churned out a bevy of critically-acclaimed projects, including: 2010′s Guangzhou Opera House (a direct descendent of the Cardiff Bay design, according to The Guardian's Jonathan Glancey); 2011′s London Aquatics Centre, easily the star of the 2012 Summer Olympics, and the Riverside Museum, winner of the European Museum Academy Micheletti Award 2012; 2012′s Galaxy Soho in Beijing, shortlisted for RIBA's Lubetkin Prize; and, in 2013 alone, her firm's first built tower, it's second project on North American soil, and a somewhat controversial annex to The Serpentine Sackler Gallery.
And there's much more in the works. In the next decade or so, we'll be seeing high-profile works by Hadid across the globe: including the 2022 FIFA World Cup Stadium in Qatar; the 2020 Olympic Stadium in Tokyo, Japan; an apartment block along New York City's High Line; as well as projects in Italy, Saudi Arabia, China, and Dubai.