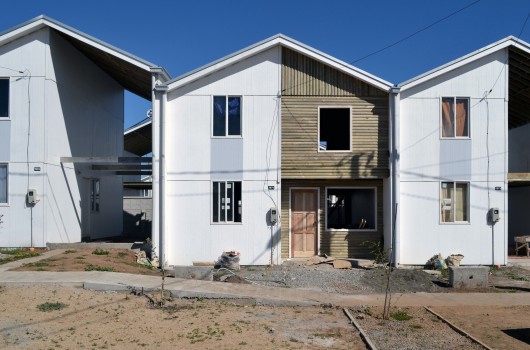 Since they first developed the typology for their Quinta Monroy project in Iquique, Chile, the "half-finished home" has become something of a signature for ELEMENTAL: they have used the technique in multiple cities in Chile, as well as their Monterrey Housing project in Mexico. The typology began life as a way of dealing with extremely low budgets, allowing governments to provide housing to citizens at incredibly low prices, but nevertheless creating homes that would provide for the needs of residents and even gain value over time. Now, they have applied the theory to their Villa Verde Housing project, published just last week on ArchDaily.
Read more about the typology, and how it has been applied at Villa Verde, after the break…
The winners of the 2013 World Habitat Awards, a competition focused on addressing housing needs and issues across the globe, have just been announced. Picked from a pool of over 200 applicants, the two winning entries represent the most innovative and resilient proposals with potential for global use, taking on the rampant homelessness problem in the US (The 100,000 Homes Campaign) and exploring revitalisation opportunities for the Old City in Hebron (Hebron Old City Rehabilitation Programme). The winners will be honoured at a ceremony in Medellin, Colombia on October 17, 2014. To learn more about the competition and it's winners, click here. 
Global architecture underwent a seismic shift in the 20th Century. Governments, keen to mitigate the impoverishing effects of rapid urbanization and two world wars embarked on ambitious social housing programs, pairing with modernists who promised that design could be the solution to social inequality and poverty. Today, the problems inherent in these mid-century tower blocks are well documented and well known, and these modernist solutions to poverty are often seen as ill-conceived failures.
If the 20th century was all about designing to solve social problems, then the 21st century has been about the exact opposite – not designing to solve social problems. These days, it is much more common to see architects praising the social order and even aesthetic of illegal slums, which in many cases provide their residents with a stronger community and higher quality of life than did many formal social housing projects of the past. The task of architects (both today's and tomorrow's) is to develop this construction logic: to use design and, rather counter-intuitively, non-design to lift these urban residents out of their impoverished conditions.
More on the social potential of non-design after the break…
The Balfron Tower by architect Erno Goldfinger is an iconic Brutalist residential high rise located in London's eastside Poplar borough. Designed in 1963 for the London County Council and completed in 1967 by the Greater London Council, this social housing estate broke the traditions of typical residential architecture. Conceived as a solution to sprawling suburbia, Goldfinger embraced verticality as the cure. More details after the break.
Aerial collage: the new archipelago of incremented kaccha houses rising from a context of well built permanent homes in a typical slum.
The problem with social housing has been how to give the most with less money. We have very good examples in Europe, but the constrains are way different than the ones in developing countries. In these countries, almost all the constructions are done by anyone but architects. Clearly, in these countries architects can do something way better than just designing or constructing, developing strategies together with communities to achieve housing solutions that not only address today´s necessities, but that can also be extended over time as families grow, once again by themselves and without architects.
A good example on this is Elemental, lead by Alejandro Aravena, which has been changing not only design aspects of social housing, but also public policy. Currently, they have built and on going projects in Chile, Mexico and more countries.
But also, there´s the work that Filipe Balestra and Sara Göransson have been doing in India, invited by  Sheela Patel and Jockin Arputham from SPARC to develop an Incremental Housing Strategy that could be implemented anywhere.
Architects: Emmanuel Combarel Dominique Marrec
Location: Paris, France
Project Manager: Dario Oeschli
Project year: 2004-2006
Client: RIVP (Régie Immobilière de la Ville de Paris)
Engineering: BETIBA
General Contractor: LES MAÇONS PARISIENS
Site Area: 550 sqm
Constructed Area: 1,537 sqm
Photographs: Benoit Fougeirol
Architects: Emmanuel Combarel Dominique Marrec
Location: Paris, France
Project Manager: Louis-Antoine  Grego – Matthieu Roggwiller
Project year: 2005-2008
Client: PARIS HABITAT
Engineering: BETOM – TECSOL
Economy: Michel Larsonneur
Structural Engineering: Eng.Lopes de Oliveira
Site Area: 2,026 sqm
Constructed Area: 9,183 sqm
Photographs: Benoit Fougeirol – Philippe Ruault
Architects: Elemental – Alejandro Aravena, Alfonso Montero, Tomás Cortese, Emilio de la Cerda
Location: Iquique, Chile.
Client: Gobierno regional de Tarapacá / Programa Chile-Barrio del Gobierno de Chile.
Engineering: Juan Carlos de la Llera & José Gajardo.
Contractor and Services: Proingel, Abraham Guerra, Constructora Loga S.A.
Budget: US $204 /sqm
Project Year: 2003
Construction Year: 2004
Execution time: 9 months
Materials: Concrete & Cement bricks
Site Area: 5000 sqm
Constructed Area: 3500 sqm
Photographs: Elemental – Cristóbal Palma – Tadeuz Jalocha
Architects: ADD+ Arquitectura – Manuel Bailo Esteve, Rosa Rull Bertran
Location: Granollers, Spain
Collaborators: A.Brito, A. Estevez, N.Font, M.Hita, P.Jenni, A. Mañosa, J. Maroto, J.Palà, A. Rovira, M.Rull, L.Troost
Contractor: DENTELL S.L.
Client: GRANOLLERS PROMOCIONS S.A.
Structure: Martí Cabestany
Services: Victor Barnés
Project year: 2004
Photographs: José Hevia