For most schools, receiving an M.Arch requires 2 to 3 years, and, according to NCARB, IDP towards licensure takes an average of slightly over 5 years, excluding the time to take the exams themselves.
The University of Minnesota School of Architecture is offering two degrees that will significantly reduce IDP requirements—pending approval by NCARB— and thus reduce the time it takes to attain one's architecture license. Two M.S. programs, an M.S. in Architecture Research Practices and an M.S. in Architecture Metropolitan Design are designed as additional year-long degrees attained while students pursue their M.Arch's. Even better, both are structured to not only help students attain up to 930 IDP hours toward completing the degree, but to defray tuition while doing it.
Architects: Alchemy Architects
Location: Minnesota, USA
Architect In Charge: Geoffrey Warner, AIA
Area: 336 sqm
Year: 2003
Photographs: Courtesy of Alchemy Architects, Doug Fogelson
The Urban Land Institute (ULI) has selected the finalist teams in the eleventh annual ULI Gerald D. Hines Student Urban Design Competition. Graduate-level student teams representing Harvard University, Yale University, a joint team from Ball State University and Purdue University, as well as another join team from Kansas State University, the University of Missouri-Kansas City, and the University of Kansas are all advancing to the final round of competition, scheduled to take place in March and April. This year's finalists were charged with proposing a long-term development plan for downtown Minneapolis that creates value for property owners, city residents, and the greater Twin Cities region.
A $50,000 prize will be awarded to the winning team; and each of the remaining three finalist teams will receive $10,000. This year, applications were submitted from 158 teams representing 70 universities in the United States and Canada, with 790 students participating in total.
The thirteenth annual Structures for Inclusion conference (SFI-13) will be held March 23-24 at the University of Minnesota's Minneapolis Campus. The conference is preceded by the Public Interest Design Institute, a training program sponsored by the American Institute of Architects, that will be held at the same location on March 21-22. These are two major events that help compose the inaugural Public Interest Design Week, March 19-24.
Serving as the foremost resting place for Minnesota's distinguished citizens, the Lakewood Garden Mausoleum, designed by HGA, is a treasured landmark and community asset in the city's neighborhood. The video above captures its pastoral quality and embraces the landscape while offering a contemplative interior experience. It also highlights the design's relationship between natural light and nature, which strengthens the connection between the spiritual and the earth-bound.
Video Credits: Peter VonDeLinde, Christian M Korab, Marc Ofsthun, Pete Sieger, Tom Dolan, Rob McIntosh
Peter VonDeLinde, Marc Ofsthun, and Christian Korab, an architectural film studio team based out of Minneapolis, recently created an amazing short film on Frank Gehry's newly expanded Weisman Art Museum. Gehry's 11,000 sq.ft. expansion showcases his sculptural talent featuring its stainless steel facade curving out from the entrance. This video was produced in conjunction with the Weisman featured in the January/February 2012 issue of Architecture Minnesota magazine.
EE&K, a Perkins Eastman Company, and Knutson Construction were recently selected by Hennepin County for their design for 'The Interchange' in Downtown Minneapolis. The design-build contract for the $79.3 million transportation hub, which is expected to be completed by 2014, will connect transit with culture. Led by architect Peter Cavaluzzi FAIA, the multidisciplinary team envisions a state-of-the-art transit station with complementary mixed-used development and year-round activated public space. More images and architects' description after the break.
Architect: Ahti Westphal
Location: Grindstone Island, Rainy Lake, Minnesota, USA
Client: Private
Project year: 2005
Contractor: Burkham Built LLC
Steel Fabrication: Rudy Imhoff
Suppliers: Albany International, Paper Machine Clothing and Engineered Fabrics
Area: 240 sqt
Photograph: Courtesy of Ahti Westphal
Architect: Ross-Barney Architects
Location: Duluth, Minnesota, USA
Project Lead Designer: Carol Ross Barney, FAIA
Project Team: Michael Ross, AIA (principal in-charge); Monica Chadha (project manager); Jonathan Graves (project architect); Kimberley Patten, AIA (sustainable design and interiors); Marc Anderson; Ricardo Nabholz
Architect of Record: SJA Architects
Project Area: 35,300 sqf
Photographs: Kate Joyce Studios
Historically, rivers have served as the ecological and commercial backbones of the communities that boarder them. With the deindustrialization of American cities, these lifelines have been unclaimed for civic use. They lay cluttered; remnants of their past serve as barriers to their potential re-use. This proposal by StossLU seeks to claim the Mississippi River and envision its transformation into park space as a spectacle in its own right within the city of Minneapolis.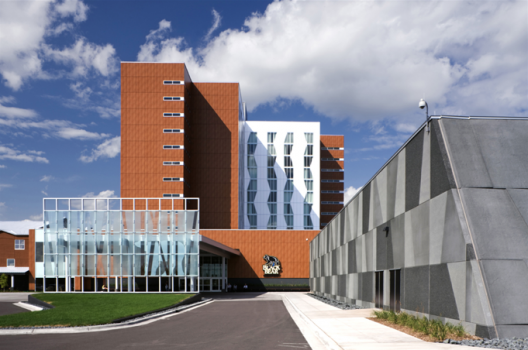 Architects: Walsh Bishop
Location: Black Bear, Minnesota, USA
Head of Entertainment and Hospitality: Keith O'Brien
Project Team: Ian Scott, Dennis Walsh, Roger Santelman, Joe Wagner, David Serrano, Ed Wilms AIA, Ryan Radamacher, Suzanne Illten, Ann Farniock, Meghan Thorpe, Ross Anderson, Buck Gronberg, Gene Weringa, Dave Collins, Byron Kermeen , Jaime Brunotte
Photographs: Albert Vecerka, Esto Photographics, Walsh Bishop
This week our Architecture City Guide is headed to the city stars fall on. With a few notable exceptions, one can hardly be called a starchitect if s/he hasn't designed something in Minneapolis. Since 2005 the starchitects that have fallen on this "City of Lakes" include Jean Nouvel, Herzog & de Mueron, César Pelli, Michael Graves, Steven Holl, and Frank Gehry. This is a surprising number for a city just north of 380,000 people. Few cities of this size could boast as much. What's more our list of 12 is far from complete. There are many wonderful historic and contemporary buildings mixed in with the explosion of starchitecture. Please leave comments of buildings one should not miss when visiting Minneapolis.
Architecture City Guide: Minneapolis list and corresponding map after the break!
The renovation of a neglected 1960's food distribution center on the edge of downtown Minneapolis into a gleaming new headquarters for the creative innovators at KNOCK Inc. is both a fresh and welcomed presence on the underrated stretch of Glenwood Avenue just west of International Market Square.  The project's inventiveness lies in the sustainable transformation of a potential "tear down" structure into a high performance building.
Architects: Julie Snow Architects, Inc.
Location: Minneapolis, Minnesota, USA
Design Principal: Matthew Kreilich, AIA, LEED AP
Project Manager/Designer: Pauv Thouk
Project Team: Tamara Wibowo
Client: KNOCK Inc.
Project Area: 10,000 sqf
Project Year: 2010
Photographs: Paul Crosby
An inspiration to all, the College of Architecture and Landscape Architecture at the University of Minnesota stands as an intriguing building that glows during the late-night working hours of its inhabitants. Completed by Steven Holl Architects in 2002, the building has received much recognition for it's enlightening and unifying qualities, an example being the Progressive Architecture Award in 1990.
More on the College of Architecture and Landscape Architecture and Steven Holl Architects after the break.
Designed by Julie Snow Architects, the U.S. Land Port of Entry is recipient of a 2011 National Institute Honor Award for Architecture. Located in Warroad, Minnesota the facility supports the mission-driven demands of US Customs and Border Protection (CBP), the federal agency responsible for securing the nation's borders and promoting legal trade and travel. Conceived as a specific response to the vast open landscape along the Minnesota-Canadian border, its form reiterates the dominant horizon of the landscape while making reference to the East-West border. Inflected building forms facilitate intuitive use by visitors, the officers' ability to survey the entire site, and vehicle access to secondary and commercial inspection areas.
Architects: Julie Snow Architects, Inc.
Location: Warroad, Minnesota, USA
Principal: Julie Snow, FAIA
Project Lead Designer: Matthew Kreilich, AIA, LEED AP
Project Manager: Connie Lindor, Tyson Mcelvain, AIA, LEED AP
Project Architects: Tyson Mcelvain, AIA
Project Team: Jim Larson, Dan Winden, Pauv Thouk
Interior Designer: Julie Snow Architects, Inc.
Mechanical Engineer: Sebesta Blomberg
Structural Engineer: Meyer, Borgman, Johnson
Electrical Engineer: Sebesta Blomberg
Civil engineer: Jacobs Engineering
Geotechnical engineer: Key Engineering
Construction Manager: Kraus Anderson Construction
General Contractor: Kraus Anderson Construction
Landscape Architect: coen + partners
Client/Owner: U.S. General Services Administration
Lighting designer: Sebesta Blomberg
Project Area: 40,108 sqf
Project Year: 2010
Photographs: Paul Crosby