The relationship between social dynamics and architecture has always been intimate.  It is a constant dialogue between social norms and politics, stylistic trends and aesthetic choices, individual preferences and the collective good.  The Modernist Period was a time when architecture took on the challenge of many social problems.  In all the arts –  architecture, design, music and film – the period was highly politicized and the choices often gave way to a utilitarian ideal that was a hybrid of efficiency, simplicity and comfort.  Jake Gorst's new film Modern Tide: Midcentury Architecture on Long Island, supported by Design Onscreen, is a message of preservation that takes us through the history of the modernist housing boom that took place on Long Island, NY in the period between the Great Depression and the 1970s.
On August 14th, Cook+Fox Architects hosted a private film screening at their office on 641 Ave of the Americas, presenting the treasures along the island's shore that have fallen between the cracks of history.  The film looks at works from Albert Frey, Wallace Harrison, Frank Lloyd Wright, Marcel Breuer, Philip Johnson, Charles Gwathmey, Barbara and Julian Neski and many others.
Follow us after the break to catch up on the history of the development of these houses on Long Island.
ArchDaily previously ran an article about the Manufacturers Trust Company Bank Branch at 510 Fifth Avenue in Manhattan designed by Gordon Bunshaft of Skidmore, Owings & Merrill and interior designer Eleanor H. Le Maire, a building designated as protected under the Landmarks Preservation Commission with first the exterior in 1997 and later the interior in early 2011.  But as recently as October 2011, the building was already listed under the 2012 World Monuments Fund  in the 2012 World Monuments Watch as the current owners, Vornado Realty Trust, began compromising the landmarked conditions of the interior of the building as it was being adapted for reuse.  With preservationists in an uproar, support for the protection of the building was enough to bring Vornado Realty Trust to New York State Supreme Court where a settlement was reached.
Read on for more details on the settlement and continuing efforts to protect endangered monuments.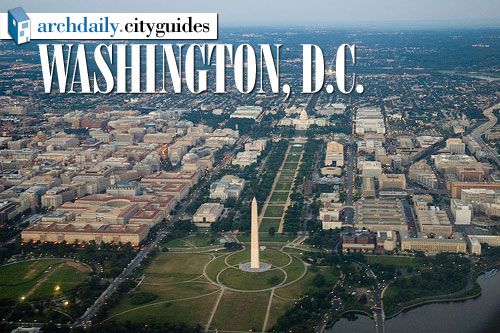 Welcome to the Architecture City Guide series.  Here at ArchDaily we thought this series could especially be put to use during the upcoming holiday season.  Many will be traveling to see family, having family visit, or taking a New Year's vacation to a new city.  Here is a small City Guide list, starting with Washington D.C.
We want to hear from you, share with us your City Guide list for buildings in Washington D.C.  More cities to come, so be sure to check back.
Follow the break for our Washington D.C. list and a corresponding map!