Zaha Hadid, Fernando Romero, and Ben Van Berkel are making headlines alongside two renowned artists for their 3D printed reinventions of the high heel. A collaborative vision spearheaded by United Nude and 3D Systems, the highly anticipated project was unveiled yesterday at the "Re-Inventing Shoes" exhibition at Milan Design Week.
Each sculptural heel was 3D printed using SelectiveLaser Sintering in a hard Nylon and all-new soft Rubber material, making a "fully functioning" shoe. Only up to 50 pairs of each will be sold. See them all, after the break.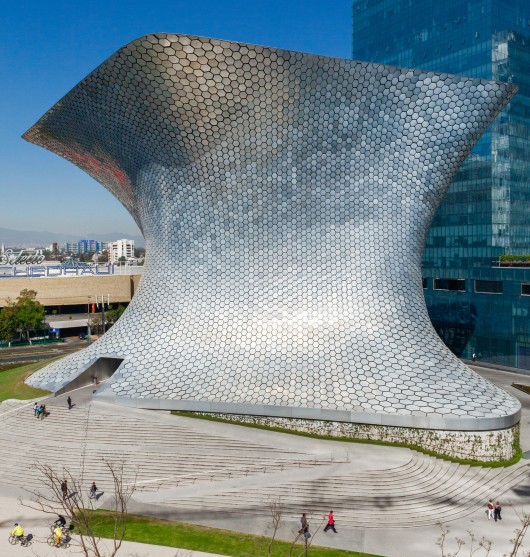 On a recent trip abroad, architect and urban planner José Castillo was struck by a conversation with Mexico's tourism attaché in Asia. Mexican tourism, the attaché remarked, has changed; it was the ancient pyramids and sandy beaches of the country that once drew visitors to it. Today however, architecture and design—and food—prevail.
The issue of food may be of little wonder. Mexican cuisine has indeed become more popular than ever in both the high and low ends of the culinary spectrum, and food in general is not only what one eats for dinner but also a hobby and an obsessive conversation topic. Yet for local design to come to the same level of acclaim and reputation is, at any rate, quite astonishing. It may be, though, that food and architecture are not so far apart. These are both highly creative and productive professions, as well as ones with a rich history, a theory, and many layers of tradition.
Fernando Romero  is part of the new generation of young Mexican architects that have reshaped the profession in a country with a longstanding tradition.
Fernando studied at the Universidad Iberoamericana, and shortly after graduating went to Europe, ending up working at OMA where he became a project leader of the Porto House of Music (1996-1999). In 2000, he went back to Mexico where he established his own firm FR-EE   which as of today has built more than ten million square feet, with offices in New York and Mexico City, and many on-going projects.
The practice has a strong focus on research, and the process of each building is the result of an integrated workflow  with a multidisciplinary team. These processes are documented on a series of publications by the firm, including You Are the Context , launched at the Guggenheim  a few months ago.
Some of his recent works include the G20 International Convention Center, the iconic Soumaya Museum and the Jumex Tower.
In this interview, Fernando shares with us his views on architecture, the role of the architect, and how he has setup this particular type of practice.
Mexican architect Fernando Romero will be speaking tomorrow evening, January 16, at NewSchool of Architecture and Design in San Diego on the topic of "You are the Context" as part of the school's lecture series. Free and open to the public, the event focuses on how we must reconsider the definition of context as it pertains to architecture as the global reach of projects increases through digital communication. Named to Fast Company's Co.Design "Designers Shaping the Future" 2012, his recent Soumaya Museum in Mexico City is described by CNN's Great Buildings series as "jaw-dropping." For more information, please visit here.