The evening of October 6th marks the grand opening of UNStudio's new exhibit, Motion Matters 4.0 at the Architektur Galerie in Munich. The opening ceremonies will coincide with the first day of the Expo Real International Trade Fair for Property and Investment and include a welcome speech by the Dutch Consul General Peter Vermeij, followed by an introductory talk about the exhibit from UNStudio co-founder and principal Ben van Berkel.
Aiming to encourage the use of public transportation as a valid alternative to private transportation, Qatar Rail has appointed UNStudio to design the stations for the first phase of the Greater Doha Metro Network, part of the Qatar Integrated Railway Project (QIRP). With the first phase consisting of 30 stations on 4 metro lines, UNStudio has created an "Architectural Branding Manual," a set of design guidelines, architectural details and material outlines which will be used by the design & build firms on each station to ensure the design quality and coherence of the network as a whole.
Consider a social-networking experience that combines real-time amusement with an awareness of your surroundings. Dutch architecture firm, UNStudio, together with Ferris Wheel Investment of Japan, have laid out a colossal vision that expects to attract millions of visitors to a mixed-use retail, food and beverage center anchored by an architecturally-iconic observation wheel, Nippon Moon. The concept utilizes a user's smart phone or tablet, extending the rider's experience far beyond the moment they physically enter one of the 32 single or double-decker capsules.
Our friends from UNStudio shared their latest completed residential project, a villa nestled on the outskirts of Stuttgart that offers amazing vistas over country vineyards which are juxtaposed with cityscape panoramas.   The sinuous curves of Haus am Weinberg are governed by the idea of creating a "twist" which organizes the programmatic flow of the residence. Ben van Berkel explained, "The Haus am Weinberg adopts a stereovisual spatial effect, acting almost as an optical instrument, whereby not a parallax view, but a parallax experience is created. Moments of parity with the surrounding landscape from inside the house form a constant experiential connection and awareness of its immediate context."
More after the break, including a great photography set by Iwan Baan.
Earlier this week, we shared a great clip of a comparison video betwen Lady Gaga and SANAA's new Museum – if the comparison has you scratching your head, be sure to check out the video!  Great Spaces has also made a short video of UNStudio's Amsterdam Pavilion.  Upon its opening back in the summer of 2009, we had the opportunity to interview van Berkel about his inspiration for the design.   Since then, the landscape and hardscape around the pavilion have been completed, giving it a stronger presence in front of the Staten Island Ferry terminal as it seems more integrated into the swirls of the bike and pedestrian paths.  Thanks to Delaine Isaac for sharing the clip.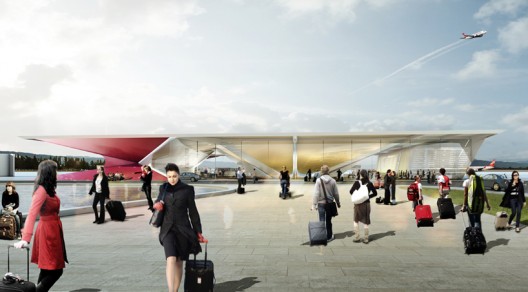 We are continually impressed by the variety of projects from UNStudio's office.  The firm just unveiled a new vertical city highrise for Singapore previously featured on AD, and recently, the Dutch studio's international air terminal and traffic control tower for Kutaisi was officially presented by Mikheil Saakashvili, President of Georgia.  The country is growing quickly and changing rapidly, with new tourist and economic activity, plus different political developments.  As such, the design for the new airport seeks to showcase Georgia new identity by providing a contemporary gateway to the country.
More about the airport after the break.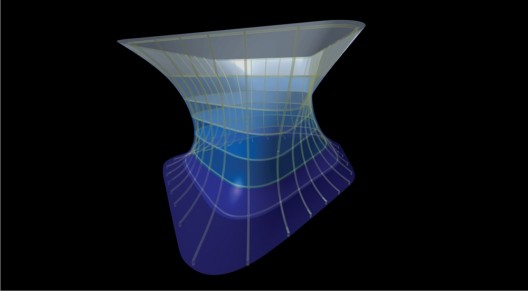 Update: The AIA has expressed their support for Gehry Technologies' strategic alliance (reported last night on ArchDaily).  "We applaud this enterprise by Gehry Technologies and the Board who are comprised of many AIA members because it is estimated that as much as 30% to as much as 50% of all time, money, materials and resources that go into a construction project do not add value to the final product," said AIA President, Clark Manus, FAIA. "The AIA has long been advocating for tools such as Business Information Modeling and methodologies like Integrated Project Delivery that can help reduce the inefficiencies in construction projects. We are anxious to see the progress though this effort that will be beneficial for both the industry and clients."
Today Frank Gehry, co-founder and chairman of Gehry Technologies (GT), announced plans to further his vision to 'transform the building industry and the practice of design'.  In an effort to redirect the profession back to solving both clients' and communities' problems Gehry has gathered together some of the world's most prominent designers: David Childs, Massimo Colomban, Zaha Hadid, Greg Lynn, Laurie Olin, Wolf D. Prix, David Rockwell, Moshe Safdie, Matthias Schuler, Patrik Schumacher, Ben van Berkel, and Richard Saul Wurman to serve on Gehry Technologies' board of advisors.
"I am dedicated to giving architects better control of the process so they can deliver the fruits of their imagination, which is what our clients expect. I have gathered a group of my friends together who believe in this mission as much as I do and who can help me find the solutions that will ultimately lead to better buildings throughout the world," stated Gehry.
Last summer, we had the opportunity to discuss Ben van Berkel's design ideas behind his New Amsterdam Pavilion for New York (see our past coverage here).  At that time, while the pavilion's sleek sculptural form was complete, the interior the pavilion was still under construction.   Now, with the interior and landscape complete, the pavilion has opened for public use.  Situated outside the South Ferry terminal in Peter Minuit Plaza, the pavilion will serve as a new cultural hub in the middle of an intersection crossed by more than 150,000 residents each day.    Conceived as a contemporary "outdoor living room", the project will provide visitor information, locally grown gourmet food, and a space for spontaneous and schedule activities.  Plus, at 12:00, the pavilion will glow with an array of colors in tribute to Peter Minuit whose name translates to 'midnight.'
More about the pavilion after the break.
This weekend on April 2nd, Ben van Berkel of UNStudio will be presenting a lecture during the Smart Geometries 2011 Copenhagen – an event that focuses on the role of digital parametrics in architectural experimentation and design strategies.  van Berkel, an avid believer in computational design, will focus on his firm's projects, such as the Mercedes-Benz Museum in Stuttgart, the Raffles City mixed use development in Hangzhou and the Star Place Luxury Shopping Plaza in Kaohsiung, to illustrate their application of smart geometries.  ""Parametric design is in itself not so interesting. It needs meaning. We need to combine the possibilities of the virtual with how we discipline the real in a new way," explains van Berkel.   With digital modeling allowing for greater innovation, creativity and experimentation, van Berkel explains how such technologies improve communication on projects to such an extent that design and construction can be much more compact, accelerated and efficient.  "In the 90s we were fascinated with the potential of these emerging techniques and their ability to control geometry. However our interest was never solely focussed on the geometry, nor on the computational techniques themselves. Our interest lay largely in the possibility to carry out spatial experiments and to see how the resulting structures could actually be constructed," states van Berkel.  For more information about the lecture, check out the Smart Geometries website.
With concerns rising about the future of Design for London, a lengthy list of high profile architects have assembled themselves submitting an open letter to the Mayor of London. "As architects from many countries, we want to encourage the Mayor to secure the survival of this remarkable team. We hope that he is aware of how widely admired the efforts are of this small group of talented designers. London should consider itself lucky to have a skilled, knowledgeable and creative organisation supporting efforts to make it a better city."
A projected growth by around one million people over the next twenty years, confirms that Design for London's survival is crucial as it is an influential player in steering designs and new developments towards an environmentally responsible city. The protection of London's existing green spaces, character, heritage, and established unique neighborhoods will be essential as the city builds to accommodate its expected growth, and Design for London's collaborative efforts, on behalf of the Mayor of London, verify that projects are focused on these factors.
Full public letter to the Mayor of London following the break.