"As Autumn Leaves" (AAL) is a spatial installation designed and built by students of the Laboratory for Computational Design (LCD) for Beijing's 2013 Design Week. Located in a historic hutong district in Beijing, AAL highlights the existing entrance to Dashilar Factory where emerging creatives exhibit their design.   The concept is based on ephermerality of nature. As temperatures change, autumn turns to winter, and trees shed their leaves, AAL recalls the passage of time through changing seasons.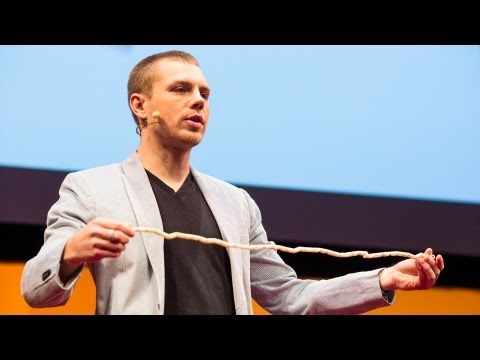 While most of us are grappling with the idea of 3D printing, Skylar Tibbits – computational architect and lecturer at MIT – is spearheading projects towards a fourth dimension. Transformation, Tibbit claims, is an uncharted capability that enables objects – straight off the printing bed – to assemble themselves, changing from one form to another. "Think: robots with no wires or motors." Tibbits exhibits how a single strand – embedded with predetermined properties – can fold from a line to a three dimensional structure. "I invite you to join us in reinventing how things come together."
SCI-Arc's introduction of the Robot House (spring 2011) – a multifunctional robotics lab that enables the exploration of advanced fabrication techniques, manipulation of high tech materials, and numerous  methods for simulation – has brought about a new and intriguing component to the school. Designed by faculty members Peter Testa and Devyn Weiser, its primary goal is the advancement of next generation platforms for the experimentation and future speculation of architecture.
The state-of-the-art Staübli robotic systems are housed within a 1,000 sqf double height research room between studio spaces and the shop.  Given the nature of work that is being produced at SCI-Arc, it will be interesting to see the new projects that take full advantage of the Robot House and the adjacent Robotics & Simulation Lab.