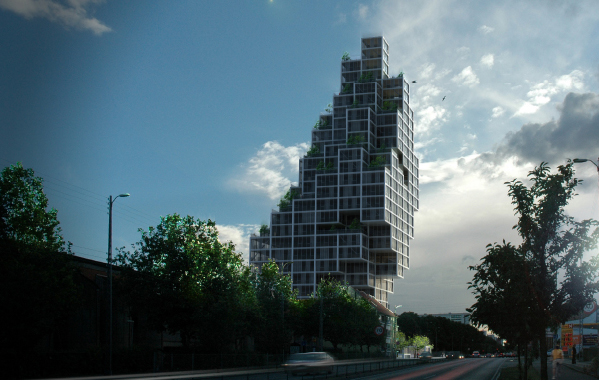 Some time ago we featured a mid rise building by OMA in New York, a cantilevered volume that brings a new concept for tall buildings. A similar approach can be found at a recent competition for the Rødovre Skyscraper won by MVRDV in association with ADEPT: A 116m tall mixed use tower, based on a 60sqm module arranged around the central core of the building.
It´s interesting to see the structural approach for this new typology, as you can see on another render below: the inner core -actually 3 cores to access the different program segments- is made out of concrete, with the units wrapping it around on a steel structure.
Something interesting in times like this, is that the building allows for different configurations responding to unstable markets, flexibility achieved by re-designating these 60sqm units.