Architects: Rafael de La-Hoz
Location: Córdoba, Spain
Project Team: Hugo Berenguer, Belén Rivera, Fernando de la Fuente, Zaloa Mayor, Álvaro Rivero, Susanne Forner, Monika Kussewska, Laura Díaz, Silvia Villamor, Ángel Rolán
Area: 5,448 sqm
Year: 2014
Photographs: Javier Callejas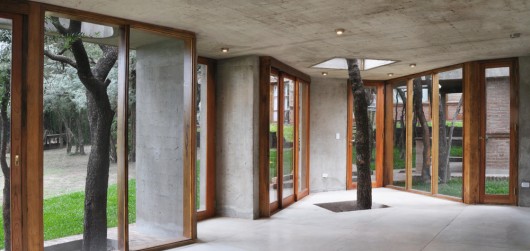 Architects: Santiago Viale + Daniella Beviglia
Location: Córdoba, Córdoba Province, Argentina
Collaborators: Marcelo Beviglia, Edgar Ermoli, Margarita Cornejo, Clara Delfino. Damian Durando y Cecilia Gaisan
Project Area: 95 sqm
Project Year: 2007
Photographs: Lescano + Beviglia
Architects: Lucio Morini + GGMPU Arquitectos
Location: Córdoba, Córdoba Province, Argentina
Design Team: GGMPU Arquitectos – Gramática/Morini/Pisani/Urtubey + Lucio Morini
Project Area: 4,400 sqm
Project Year: 2008
Photographs: Courtesy of GGMPU Arquitectos
Architects: Taller de Arquitectura Rico+Roa
Location: Córdoba, Spain
Construction Supervision: José Carlos Rico Córdoba, Jorge Roa Fernández y Antonio J. Robles Ramírez
Area: 2827.0 m2
Year: 2012
Photography: Fernando Alda
Architects: Nieto Sobejano Arquitectos
Location: Córdoba, Spain
Architect In Charge: Fuensanta Nieto, Enrique Sobejano
Project Architect: Miguel Ubarrechena
Year: 2009
Photographs: Fernando Alda, Roland Halbe
Architects: Nieto Sobejano Arquitectos
Location: Córdoba, Spain
Partners In Charge: Fuensanta Nieto – Enrique Sobejano
Communicative Lighting Façade: Nieto Sobejano Arquitectos, in cooperation with realities:united
Project Architect: Vanesa Manrique
Collaborators: Sebastián Sasse, Beat Steuri, Carlos Ballesteros, Mauro Herrero, Bart de Beer, Alexandra Sobral, Juan Carlos Redondo, Rocío Domínguez, Nik Wenzke, Gilta Koch, Jesús Gijón
Year: 2013
Photographs: Roland Halbe, Fernando Alda
Architects: Faraci Kustich Barrionuevo Arquitectos
Location: Jacobo Joule 5434, Córdoba, Córdoba Province, Argentina
Design Team: Mariano Faraci, Ivan Kustich, Juan Barrionuevo
Plot: 1,014 sqm
Area: 450.0 sqm
Year: 2012
Photography: Gonzalo Viramonte, Cortesia de FKB Arquitectos
Architects: Lucio Morini + GGMPU Arquitectos
Location: Córdoba, Argentina
Architect In Charge: Guillermo Pozzobón
Collaborators: Julia Garayoa, Adrián Castagno, Verónica Gordillo, Diego Andres Gómez, Mariana Pelliza, Guadalupe Daher, Cecilia Villareal, Luciana Antonucci, Agustín Elies, Gonzalo Manzanares
Client: Government of the Province – Córdoba
Area: 24,781.60 sqm
Year: 2012
Photographs: Claudio Manzoni, Leonardo Finotti, Courtesy of Lucio Morini + GGMPU Arquitectos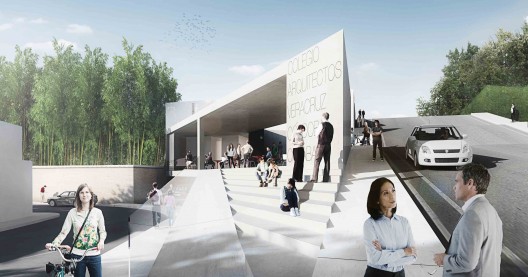 Located in Cordoda's downtown area, the second prize winning design for the Veracruz Architects Association's new headquarters takes advantage of the existing topography. Designed by lab07 + JMV Architects, one of the main features of the project is to break the scheme of close institutional buildings to its immediate context, to become a built space that opens to the city, creating public space between the building and the urban grid. More images and architects' description after the break.
Architects: Lucio Morini + GGMPU
Location: Córdoba, Argentina
Client: Government of the Province Cordoba
Collaborators: Julia Garayoa, Adrián Castagno, Verónica Gordillo, Diego Andres Gómez, Mariana Pelliza, Guadalupe Daher, Cecilia Villareal, Luciana Antonucci, Agustín Elies
Project Year: 2011
Project Area: 21,380 sqm
Photographs: Courtesy of Lucio Morini Studio
This parish center is located on a corner plot in a residential area between Historiador Dozy and Francisco Azorín streets. The extended side is situated in front of a green zone and the lateral side faces residential buildings. The rest of the surroundings are still undeveloped. To the north and west of the plot the structure is set back four meters off the boundaries. On the north side, the entire surface which coincides with the length of the structure is occupied by an English style garden at the height of the basement, to allow light and ventilation and give a courtyard that can be accessible by the public.
Architect: Vicens + Ramos
Location: Cordoba, Spain
Lead Architect: Ignacio Vicens and Hualde, José Antonio Ramos Abengózar
Collaborators: Fernando Gil, Pablo Gutierrez, Joaquin Esperon, Desirée González, Romina Barbieri, Raul Rodriguez, Tibor Martin, Patricia Elena
Project Year: 2011
Photographs: Courtesy of Vicens + Ramos
Of a total of 410 projects, five have been selected for the 2010 Aga Khan Award for Architecture at the Museum of Islamic Art in Doha.  The five projects, selected by a Master Jury are:
Wadi Hanifa Wetlands, Riyadh, Saudi Arabia
Revitalisation of the Hypercentre of Tunis, Tunisia
Madinat Al-Zahra Museum, Cordoba, Spain
Ipekyol Textile Factory, Edirne, Turkey
Bridge School, Xiashi, Fujian, China
For more information on the winners and images read on after the break.
Greek architects Point Supreme shared their urban plan + architecture foundation building competition proposal for Cordoba, Spain with us.  The proposal seeks to connect the San Pablo block with the more central part of the city by capitalizing on the site's diversity of entry points.  The building, an architecture institution, is designed to frame the void that resides next to and under the structure.
More about the proposal after the break.