Although construction was never completed, "El Helicoide" ("The Helix") in Caracas is one of the most important relics of the Modern movement in Venezuela. The 73,000 square meter project – designed in 1955 by Jorge Romero Gutiérrez, Peter Neuberger and Dirk Bornhorst – takes the form of a double spiral topped by a large geodesic dome designed by Buckminster Fuller. It was characterized by a series of ascending and descending ramps meant to carry visitors to its variety of programmatic spaces - including 320 shops, a 5 star hotel, offices, a playground, a television studio and a space for events and conventions.
Today, Proyecto Helicoide (Project Helix) seeks to rescue the urban history and memory of the building through a series of exhibitions, publications and educational activities. More details on the initiative, after the break.
Happy 118th birthday Buckminster Fuller!
Today, July 12th is Buckminister Fuller's birthday (1895-1983). Known as the father of sustainability, Fuller was driven by his intention "to make the world work for 100% of humanity, in the shortest possible time, through spontaneous cooperation without ecological offense or disadvantage of anyone."
Check out more Bucky, including a video of him singing his own original ode to a dome (really), after the break…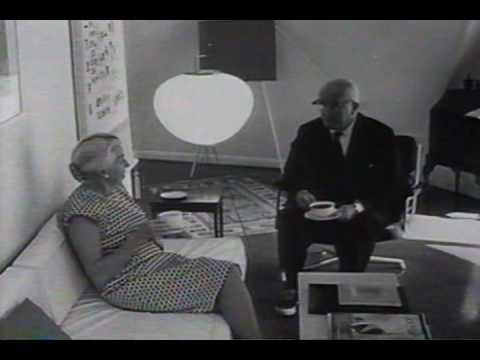 On April 19, Southern Illinois University will begin to restore the world's first geodesic dome home, built by Buckminster Fuller. Originally assembled in just seven hours from 60 wooden triangle panels, the dome was occupied by Fuller and his wife, Lady Anne, in the 1960s during his residency at SIU. After Fuller's death, the dome was used as student housing before falling into disrepair. In 2001, the home was donated to a non-profit that had it listed on the National Register of Historic Places in 2006. It will now be restored and preserved as a museum in Carbondale. 
Metropolis Magazine has unveiled its 4th annual Game Changers – including architects Eric Owen Moss and Alistair Parvin, the co-founder of WikiHouse, an open-sourced platform for architecture. In the following article, Jonathan Glancey profiles Parvin and asks: is WikiHouse a threat to architects? Or "a glimpse into our digital design future"?
I first met WikiHouse cofounder Alastair Parvin—not in the flesh, of course, much less in print—courtesy of YouTube. You can do the same by watching his lecture, "Architecture for the People by the People." In the video, Parvin explains the WikiHouse concept to the 2013 annual TED conference in Long Beach, California. Looking young and trim in a white shirt and blue jeans, Parvin's voice is chipper and confident as he delivers his provocative idea to the world.
Given that the 1,600 TED lectures that are currently available online have been viewed more than a billion times, you may have already heard a little about the WikiHouse by now. In case you haven't, it's "an open- source construction set," according to the WikiHouse online collaborative. "The aim is to allow anyone to design, download, and 'print' CNC-milled houses and components, which can be assembled with minimal skill or training."
Noted architectural historian and preservationist Robert Rubin has purchased the largest of Buckmister Fuller's "Fly's Eye" domes and plans to reopen it to the public this summer for the first time in 30 years.
More on Fuller's dome and its new owner after the break…
In January of 1975, Buckminster Fuller sat down to deliver twelve lectures that made up the 42-hour series Everything I Know. The entire event was captured on video, with the most advanced, bluescreen technology of the time. Fuller discusses an array of topics, from "architecture, design, philosophy, education, mathematics, geometry, cartography, economics, history, structure, industry, housing and engineering", to all his major inventions and discoveries, along with "his own personal history in the context of the history of science and industrialization".
The embedded video above is recompiled and edited version of the series. You may download the entire 42-hours (for free!) from the Internet Archive. The Buckminster Fuller archive has also made transcripts of Everything I Know - "minimally edited and maximally Fuller" – freely available.
Continue after the break for links to the remaining lectures.
If you are in the Bay Area this weekend, we recommend you stop in at the San Francisco Museum of Modern Art (SFMOMA) and check out their current exhibit The Utopian Impulse: Buckminster Fuller and the Bay Area. This exhibition is the first of its kind, featuring Buckminster Fuller's most iconic projects as well a focus on his local design legacy in the Bay Area. Though he was never a resident, Fuller's ideas inspired many local experiments in the realms of technology, engineering and sustainability. Continue reading for more information.
Created by Reiser + Umemoto for the Hong Kong & Shenzhen Bi-City Biennale, "Manhattan Memorious" explores what Manhattan could have been. The film visualizes several unrealized projects from Manhattan, including Buckminster Fuller's dome over Midtown, Rem Koolhaas' City of the Captive Globe, RUR's East River Corridor, Paul Rudolph's Eastside Redevelopment Corridor, Morphosis' West Side Yard and others.
Jesse Reiser, Principal of Reiser + Umemoto, explains; "Before a city becomes a thing of steel, concrete and glass it is a theater of visions in conflict. As a city ages, the visions do not die but come up against the physical and ideological resistance of the place and its people. The city we see today is the direct result of radical visions, gradually changing the way the future is realized. This is an account of a Manhattan that could have been – might have been. A phantasmagorical Manhattan where the visionary meets the everyday – the absurd and the sublime. The island as we know it is but a pale reflection of a city designed by visionaries – a city of mad, incongruous utopias."
The ASM International World Headquarters, originally constructed in 1959, is an architectural composition by two influential designers during the mid-twentieth century: John Terence Kelly, who studied under Bauhaus-founder Walter Gropius, and R. Buckminster Fuller, well known for his geodesic domes, environmentally-conscious designs and the dymaxion car.  The complex includes the building, dome and garden on the 45-acre site known as Materials Park.  The renovation, led by The Chesler Group and Dimit Architects, brings new life to Kelly's building.  According to Architectural Record, (Snapshot, Laura Raskin), Michael Chesler of The Chesler Group, campaigned to salvage the architectural marvel, giving it a place in the National Register of Historic Places and using tax credits to fund the renovation.
Pictures and details of the renovation after the break.
Goetz Composites, fabricators of some of the most successful race boats in the world including three of today's most high profile yachts as well as ten America's Cup racing yachts completed a historic restoration of one of Buckminster Fuller's most iconic structures, the 24 foot Fly's Eye Dome.
Patented in 1965, Fuller created two prototypes of this structure; a 24 foot and 50 foot dome. Fuller writes in his seminal book, Critical Path that "the Fly's Eye domes are designed as part of a 'livingry' service. The basic hardware components will produce a beautiful, fully equipped air-deliverable house that weighs and costs about as much as a good automobile. Not only will it be highly efficient in its use of energy and materials, it also will be capable of harvesting incoming light and wind energies."
More images and information after the break.
"I was privileged to collaborate with Bucky for the last 12 years of his life and this had a profound influence on my own work and thinking. Inevitably, I also gained an insight into his philosophy and achievements," shared Lord Norman Foster.
Recreating the legendary futuristic Dymaxion Car, Foster's No. 4 version was a lengthy and expensive two year project, but was obviously a labor of love. Buckminster Fuller's futuristic three wheeled car was brief, with a mere three actually built. Incredibly efficient the streamlined body with long tail-fin averaged 35 miles to the gallon and could achieve 120 mph. The Zeppelin inspired design with a V8 Ford engine was intended to fly as well, Fuller's vision of revolutionizing how people traveled.
More following the break.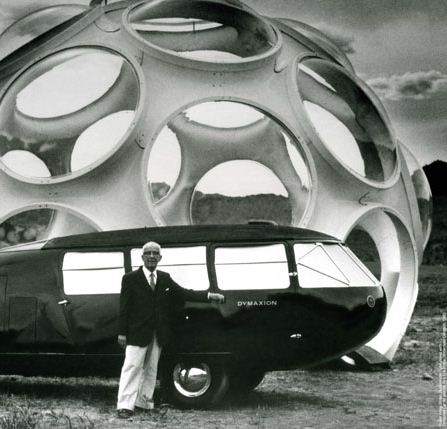 What: Ivorypress Art + Books is to stage an exhibition of the work of Buckminster Fuller
Where: Madrid, Spain
When: From September 1st to October 30th
Curated by Norman Foster and Luis Fernández-Galiano, the exhibition brings the different strands of Bucky's influential career together with original drawings and models and will be the first chance to see the recently completed recreation of the Dymaxion Car.
In Lord Foster´s words: "I was privileged to collaborate with Bucky for the last 12 years of his life and this had a profound influence on my own work and thinking. Inevitably, I also gained an insight into his philosophy and achievements. With Luis Fernández-Galiano, my co-curator for this exhibition, we have tried to show Bucky and the broad range of his work in the context of his time."