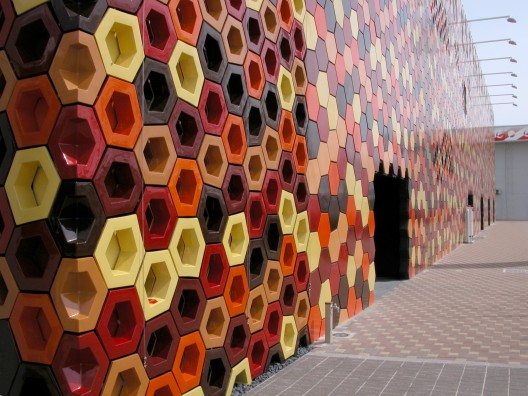 From September 29th to December 8th, the exhibition dedicated to the work of Toni Cumella will be open. His works in ceramic have been utilised by architects such as Enric Miralles, Alejandro Zaera-Polo, or Jean Nouvel. These collaborations made his material became part of the image of Barcelona, being part of the construction of La Sagrada Familia, and the restoration of Casa Batlló and Parc Güell.
Focusing on the 4 main fabrication processes in use at Ceramica Cumella – extruding, casting, pressing and revolving – Shaping Ideas presents the work of Toni Cumella and the application of his ceramics in some of contemporary architecture's most significant projects.
The Processing Environments symposium is organized by the Architectural Association in collaboration with the Guggenheim Museum Bilbao and sponsored by the Bilbao Municipality and the Institut Français in Bilbao. It will take place next 19th June at the Guggenheim Museum Bilbao.
The symposium is directed by Maider Llaguno and Clara Olóriz and some of the invited speakers are Alejandro Zaera-Polo (ex FOA, currently AZPA), Juan Herreros, Iñaki Begisitain, Eva Castro & Alfredo Ramirez (Groundlab), Philippe Rahm, and Efrén García Grinda & Cristina Díaz Moreno.
The admission is free.
More information and the complete program after the break
Barcelona-based architect and scholar Alejandro Zaera-Polo has been selected as the next dean of Princeton University's School of Architecture, where he has served as a visiting lecture since 2008. He is internationally known for his award-winning practice, Alejandro Zaera-Polo Architecture, his extensive academic experience and contributions to international publications, such as El Croquis, Quaderns, A+U, Arch+, Volume and Log.
He will succeed Brooklyn-based architect Stan Allen, who has served as the school's dean since 2002. After the new appointment becomes effective on July 1, 2012, Allen plans to return to full-time teaching and architectural design after a yearlong sabbatical. As reported by Architectural Record, Allen stated, "We were looking for somebody who worked at a very high level as a designer-practitioner, but also approached architecture as an intellectual activity. There aren't a lot of people like that out there."