Scotland have voted against independence.
Arguably there are only two architects in history that have become almost completely synonymous with one particular city – Charles Rennie Mackintosh for Glasgow and Antoní Gaudi for Barcelona. Indeed, a Catalonian architect, Enric Miralles, designed the Scottish Parliament Building in Holyrood, Edinburgh. The fact that both of these cities are part of large enclaves who are seeking, or have sought, independence is perhaps just a coincidence. Architecture, often used as a symbol for the identity of nationhood, will certainly be part of a wider dialogue about the Union of the United Kingdom following yesterday's referendum.
To celebrate the launch of ArchDaily Materials, our new product catalog, we've rounded up 10 awesome projects from around the world that were inspired by one material: concrete. Check out the projects after the break…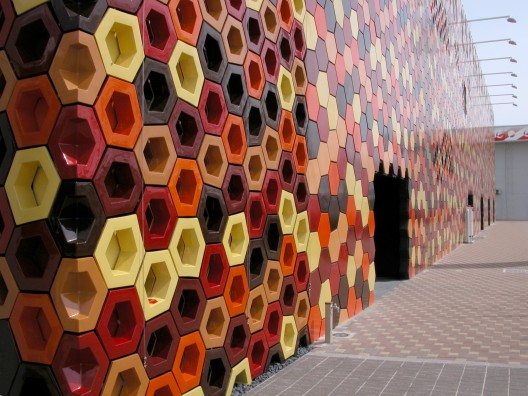 From September 29th to December 8th, the exhibition dedicated to the work of Toni Cumella will be open. His works in ceramic have been utilised by architects such as Enric Miralles, Alejandro Zaera-Polo, or Jean Nouvel. These collaborations made his material became part of the image of Barcelona, being part of the construction of La Sagrada Familia, and the restoration of Casa Batlló and Parc Güell.
Focusing on the 4 main fabrication processes in use at Ceramica Cumella – extruding, casting, pressing and revolving – Shaping Ideas presents the work of Toni Cumella and the application of his ceramics in some of contemporary architecture's most significant projects.
The Enric Miralles Foundation opened up a double exhibition in Barcelona this past week, with the participation of Mr. Rafael Moneo and Mr. Oriol Bohigas, honorable members of the Foundation and Mr. Mohsen Mostafavi currently the the Dean of the Harvard Graduate School of Design. 'Rediscovering Glories' shows the students work of Benedetta Tagliabue about the contemporary urban problematic design of Plaza de les Glories ( Barcelona), at the Department of Architecture and Urban Planning and Design at the Dunlop Chair Harvard, and 'Miralles at Harvard 1993' recreates the exhibition made by Enric Miralles at Harvard on 1993 showing some of his early projects. For more information, please visit here.
Ten years after its completion, the reputation of the Scottish Parliament Building is finally being redefined. Among architects and the academic elite, it has long been heralded as a masterpiece of abstract modernism and perhaps the finest work of Enric Miralles' all-too-short career. For the general public, however, it was initially known mainly in infamy for being overdue, over budget, and for having its commission awarded to a non-Scottish architect. Only now is it beginning to receive the public acceptance it deserves, as the genius of the architecture emerges from the shadow cast by its mired construction process.