Architect: Kris Yao | Artech Architects
Location: Zhejiang, China
Clients: Wuzhen Tourism Development Co., Ltd
Design Team: Taipei: Kuo-Chien Shen, Winnie Wang, Wen-Li Liu, Jake Sun, Andy Chang, Kevin Lin, Shanghai: Wen-Hong Chu, Fei-Chun Ying, Nai-Wen Cheng, Chu-Yi Hsu, Qi-Shen Wu, Jane jiang, Lei Feng
Architect of Record: Shanghai Institute of Architectural Design & Research Co. Ltd
Total Floor Area: 21,750 sqm
Photographs: Courtesy of Artech Architects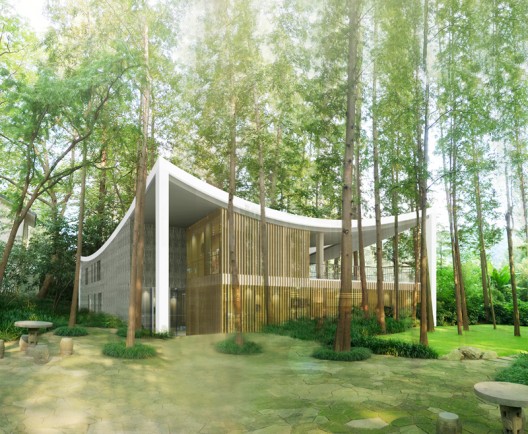 Designed by LYCS Architecture, the Spruce Art Center recently commenced construction in Hangzhou, Zhejiang, China. Flush with mature spruce trees and a pre-existing one story abandoned structure, the design is a mixture of two fundamental challenges in architecture: to evoke new spatial meaning while reconciling an existing structure, and to produce a formal language that can be dynamic and strong, yet carefully caress spruce trees. More images and architects' description after the break.