Michelle Tianhui Chen, a Master's candidate at the Yale School of Architecture, has won Robert A.M. Stern Architects' $10,000 RAMSA Travel Fellowship. With the award, Chen will travel to India where she will study the architectural shift from a diverse fabric of expressive design languages to a politically and ethnically neutral vocabulary.
"In our world of increasingly ubiquitous gleaming towers, clean in form but cleansed of details, looking to centuries-old traditions might be a means toward reestablishing human attachment to our everyday surroundings," says Ms. Chen. Her proposal promises to "culminate in a book of drawings and text that attempts to chart a path to a more balanced architecture—one which does not forsake cultural expression for a shallow conception of political order."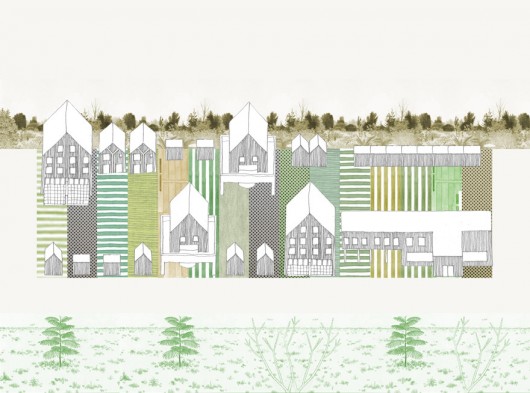 In an interview with Core77 Sam Jacob, formerly of FAT and now principal at Sam Jacob Studio, has "always pursued an idea of design practice as a combination of criticism, research and speculation that all feed directly into the design studio." This approach has allowed his ideas to "cross-fertilize, find connections and directions that make the practice stronger, more agile and able to respond intelligently to the problem at hand." Jacob, who is also a Visiting Professor at Yale and the University of Illinois at Chicago whilst simultaneously director of the Night School at London's Architectural Association, recently saw one of FAT's final projects to completion: the curation of the British Pavilion (alongside Dutch architect and academic Wouter Vanstiphout). In the UK, former partner Charles Holland is bringing a collaborative project with artist Grayson Perry to completion in Essex.
Read more and see some of Jacob's drawings after the break.
After serving as dean at the Yale School of Architecture for nearly two decades, Robert A.M. Stern is reportedly stepping down. According to Yale Daily News, faculty and administrative staff members have indicated that Stern will be retiring when his term as dean concludes in Spring 2016. "[Stern] took [the school] from a place where people were not paying attention to it many years ago — he has brought incredible international attention to the school," Professor Michelle Addington stated in regards to Stern's widespread influence as dean. "He has given me the opportunity to rethink my subject, and that doesn't happen at too many places." More information, here.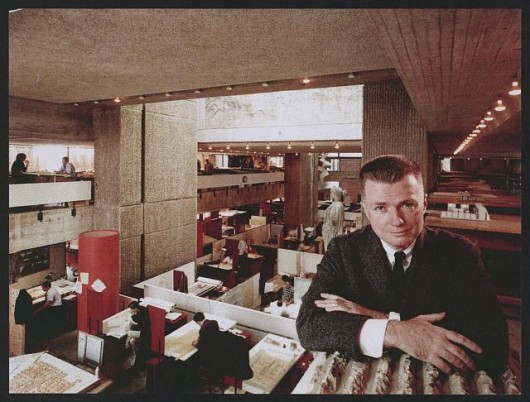 Paul Marvin Rudolph (October 23, 1918 – August 8, 1997) was a leading American architect known for his contributions to modernism during the International School and Postmodernism eras.  He served as the Chair of Yale University's School of Architecture for six years and famously designed the Yale Art and Architecture Building, one of the earliest examples of Brutalist architecture in the United States.
"Ninety-five percent of the world's designers focus all of their efforts on developing products and services for the richest 10% of the world's customers."  - Paul Polak, Design for the 90% [1]         
The vast majority of contemporary architectural practice today is service industry based, where a fee-paying client commissions a firm for a defined scope of services. Master of self-effacing cynicism Philip Johnson wryly accepted this structure, calling architects "high-class whores." The recent surge of interest in designing for traditionally underserved communities, from groups such as Architecture for Humanity, MASS Design, Project H and Public Architecture challenges the traditional firm model. The Prizker Prize jury's recognition of Shigeru Ban's humanitarian designs highlights that high design and a socially conscious practice are not mutually exclusive.
Believing that architecture can alleviate societal ills and improve the quality of life for all people is not a new concept. Two eras, the 1920s and 1960s-70s, brought a social agenda to the forefront of the discourse. Hindsight reveals flaws of each. Modernism's utopian visions for public housing and urban renewal are blamed for the detrimental impact of Post-WWII urban housing projects; participatory design in the 1960s and 70s is criticized for ceding expertise in the name of consensus, ending with projects that were no better than the status quo. Despite this, there are lessons to be learned from those who emphasized the social and humanitarian role of architecture.
In the mutable world of architecture it's easy to get distracted by the trendy new thing, be it the tallest tower or the "blobbiest" form. Robert A. M. Stern (Dean of the Yale School of Architecture and a practicing architect in his own right), on the other hand, remains purposefully old-fashioned (to the point of becoming obsolete). In an exquisitely written article for the New York Magazine, Justin Davidson reports that, despite the mockery of his colleagues, Stern seems unfazed. If his architecture has the power to inspire, he says, then he's done his job. Read the full must-see article here. 
Most architects have to wait years to see their first project realized – but if you're an architecture student at Yale University, you may just have to get on campus.
The Jim Vlock Project, established in 1967, gives first year graduate architecture students the opportunity to design and build a single family home in New Haven, Connecticut. The most recent iteration of the program, which investigated prefab design and construction, will be dedicated today at Yale University.
More info on this year's Jim Vlock house, after the break…
Every year, students at Yale design and build a single-family home in a low-income neighborhood. Called the Vlock Building Project, it's one of the longest-standing and most admired public-interest design-build programs in the US. Unfortunately, it's under threat. A/N reports professor Paul Brouard was assaulted and robbed on-site in Mid-May (he has since recovered). Despite the desires of dept. head Robert A.M. Stern, Yale University demanded the project be abandoned and re-located to an approved neighborhood. Did Yale make the right decision? Let us know what you think after the break.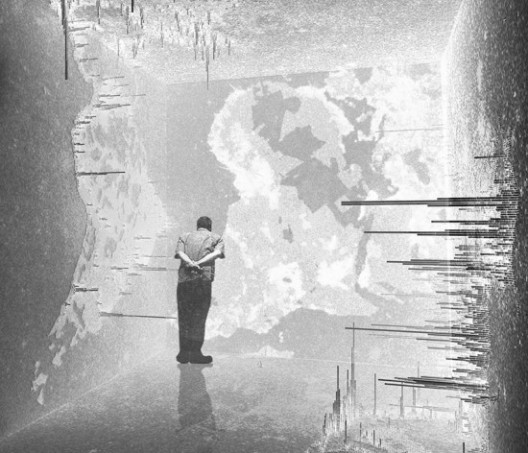 The American Institute of Architects (AIA) College of Fellows has awarded Bimal Mendis and Joyce Hsiang of the Yale School of Architecture and Plan B Architecture & Urbanism, LLC the 2013 Latrobe Prize of $100,000 for their proposal, "The City of 7 Billion." The research will study the impact of population growth and resource consumption on the built and natural environment at the scale of the entire world as a single urban entity. An antidote to the fragmentary analyses of current practices, this project will remove arbitrary boundaries and reframe the entire world as a continuous topography of development: the city of 7 billion.
The grant, named for architect Benjamin Henry Latrobe, is awarded biennially by the AIA College of Fellows for research leading to significant advances in the architecture profession.
More on "The City of 7 Billion" after the break…
Inspired by the 13th International Architecture Exhibition's theme Common Ground, Peter Eisenman has formed a team to revisit, examine and reimagine Giovanni Battista Piranesi's 1762 folio collection of etchings, Campo Marzio dell'antica Roma. Derived from years of fieldwork spent measuring the remains of ancient Roman buildings, these six etchings depict Piranesi's fantastical vision of what ancient Rome might have looked like and represent a landmark in the shift from a traditionalist, antiquarian view of history to the scientific, archaeological view.
Eisenman's team consists of Eisenman Architects, students from Yale University, Jeffrey Kipnis with his colleagues and students of the Ohio State University, and Belgian architecture practice, Dogma. Each group has contributed a response to Piranesi's work through models and drawings that stimulate discourse on contemporary architecture. In particular, they explore architecture's relationship to the ground and the political, social, and philosophical consequences that develop from that relationship.
Described as "precise, specific, yet impossible", Piranesi's images have been a source of speculation, inspiration, research and contention for architects, urban designers and scholars since their publication 250 years ago. Continue after the break to learn more.
The 2012–13 season at the Yale School of Architecture Gallery opened on August 20 with Palladio Virtuel. The exhibition, which is on view until October 27, presents a groundbreaking new analysis of the work of Renaissance architect Andrea Palladio by Peter Eisenman, renowned New York architect and Charles Gwathmey, Professor in Practice at Yale. It represents the culmination of ten years of study of Palladio's villas by Eisenman, adding an important contribution to the sixteenth-century master's already robust legacy. The exhibition proposes a reading of the buildings that undermines the traditional view of Palladio's architecture as founded on ideal forms. For more information, please visit here. More images and information on the exhibition after the break.
In an effort to explore the auditory dimension of architecture, Yale School of Architecture is presenting the J. Irwin Miller Symposium: 'The Sound of Architecture' which will take place October 4-6. Free and open to the public, the symposium will draw on experts from a variety of disciplines in its quest for an understanding of architecture as an auditory environment. The three-day event will begin with remarks by Professor Forster, who will present key examples of relevant historical issues as well as of buildings with characteristic sonic properties. This will be followed by a lecture by architect Brigitte Shim (Shim-Sutcliffe Architects, Toronto), who will describe the architectural calibration of a house designed for a mathematician and amateur musician. Friday will encompass four sessions, which will address the phenomenology of listening, and there will be two sessions on Saturday, one on the soundscapes of cities and the politics of urban noise and another examining the affect of sound on the aesthetic and social character of space. To register and for more information, please visit here.
The Yale 'Assembly One' pavilion is the younger, smaller, more carefree sister to Yale's building project – a 40-year old tradition in which first-year students design and building a house. It is the product of a seminar and design studio in which students focused on alternative ways in which contemporary buildings can come together and the potential architectural effects computational and material techniques can offer. The 'Assembly One' pavilion is designed to act as an information center for New Haven's summer International Festival of Arts and Ideas and therefore was developed with the following characteristics in mind: dynamism, visual transparency and visual density.
Continue after the break for more!
Massimo Scolari: The Representation of Architecture, 1967–2012 is the first U.S. retrospective since 1986 of the eminent Italian architect, artist, and designer. The exhibition, presented by the Yale School of Architecture from February 6 – May 4th, explores the arc of Scolari's career from 1967 to 2012, with some 160 paintings, watercolors, and drawings, most with architectural and urban subjects; a scaled-down iteration of a monumental sculpture created for the 1991 Venice Biennale; and ten architectural models. Together, these illuminate the complex, ongoing interaction in Scolari's work between architecture and its methods and mediums of representation. More information on the exhibition after the break.
As we all know, natural disasters continue to kill hundreds of thousands each year, and the vast growth of cities with unsafe and unreliable buildings and other infrastructure will only increase the cost of human life and negatively impact local economies. To address this, The Campaign for Safe Buildings, along with The Rubin Foundation and the Yale School of Architecture, is hosting a symposium November 4th and 5th to look closely at safe building initiatives around the world and many of the challenges that stand in the way of keeping natural disasters from turning into man-made catastrophes. More information on the event after the break.