Elevators have been around for quite a long time; maybe not those that soar to hundreds of feet in a matter of seconds, but the primitive ancestors of this technology, often man-powered, were developed as early as the 3rd century BC.  These early wheel and belt operated platforms provided the lift that would eventually evolve into the "ascending rooms" that allow supertall skyscrapers (above 300 meters) to dominate skylines in cities across the world. Elevators can be given credit for a lot of progress in architecture and urban planning.  Their invention and development allowed for the building and inhabiting of the structures we see today.
Supertall skyscrapers are becoming more common as cities and architects race to the top of the skyline, inching their way further up into the atmosphere.  These buildings are structural challenges as engineers must develop building technologies that can withstand the forces of high altitudes and tall structures.  But what of the practical matter of moving through these buildings?  What does it mean for vertical conveyance?  How must elevators evolve to accommodate the practical use of these supertall structures?
KPF recently shared with us their latest design for a 530 meter mixed-use tower in Guangzhou's Zhujiang Xincheng CBD – the CTF Guangzhou – which is currently under construction.  Joining an already impressive skyline, the new tower will form an urban triumvirate with its immediate neighbors – the 440 meter International Finance Center and the 600 meter Canton Tower.  
Construction of the Lotte World Tower in Seoul, South Korea designed by high-rise architectural firm KPF is well underway. Won via an international design competition, this new tower will rise up to a pinnacle height of 555 meters. Organized around a mixed-use program including retail, office, hotel and an observation deck at the peak, the tower pulls inspiration from historical Korean arts of ceramics, porcelain, and calligraphy. More details after the break.
Currently under construction, SOM's Busan Lotte Town Tower  in Busan, South Korea stands over its adjacent waterfront as the new gateway to East Asia. Rising 510 meters, this mixed-use tower will add 6.3 million square feet to this bustling port city. A unique setback language defines its massing that is derived from numerous influences including the compact site, complex program, and optimization of views. The tower will incorporate numerous sustainable features and an efficient concrete structural system that maximizes the efficiency of the 107 floors. More details after the break.
Hong Kong is often referred to as one of the densest cities in the world, lined with an impressive array of skyscrapers along its shores. The latest supertall addition by architects KPF reaches an altitude of 484 meters above the Victoria Harbor in Kowloon. Located atop the new Kowloon Station, a transportation hub that feeds a network that ferries over 11 million passenger journeys per day, the International Commerce Centre is an integral part and centerpiece of the Union Square reclamation project.  Internal programming includes office space, 2 hotels, and an observation deck amongst other mixed-use functions. More details after the break.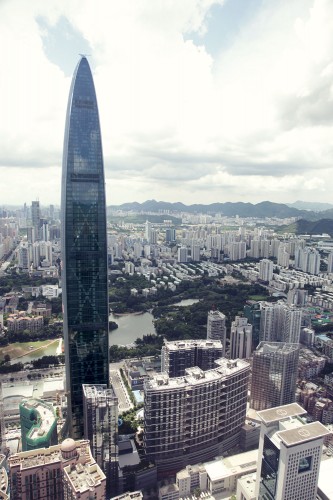 Every January the Council on Tall Buildings and Urban Habitat conducts a review of skyscraper construction and compiles all the data from the previous year. The trend since 2007 has seen record breaking years for buildings taller than 200 meters completed, with 88 skyscrapers completed in 2011. Even as the global economy is slowly recuperating from the 2008 financial crisis, it would appear as though this trend will remain relatively stable. China, leading the pack at 23 completed towers is predicted to remain at the forefront of skyscraper market, followed by Middle Eastern countries in the next decade.  UAE, South Korea, and Panama City – an up and coming cosmopolitan city – rounded out the top four. Of the towers completed in 2011, 17 have made their way into the top 100 tallest buildings – Shenzhen's Kingkey 100, at 442 meters crowning this year's list. More after the break.