Chicago based Saltans Architects_Intl., ltd (SA_I) and Shenzhen based Jaeger and Partner Architects, Ltd. design collaboration was recently selected for the second stage international design competition for the Skolkovo Technopark District D2 Residential Area. Their master plan design envisions the "concept of the city at human scale with a strong relationship with nature". Five distinct Districts comprising this planning strategy are separated and linked by natural landscapes, while each District's master plan is designed specifically for function. More images and architects' description after the break.
The Architectural Department of Moscow City Government (MosComArhitectura) has announced the shortlisted teams competing to design the strategy that will be used to double the size of Moscow. With an uneven distribution of working places throughout the Russian Federation capital, millions of residents are forced to commute each day to the over-populated, historic city center, thus causing serious transportation, ecological and social problems within the region.
The Moscow City Agglomeration Development Concept will see the city annex 150,316 hectares to its south-west in order to overcome its chronic space problems. OMA, Diller Scofidio & Renfro and McAdam Architects, lead by the well-known Russian architects Andrey Chernihov and Alexei Ginsburg,  are a few names that appear among the ten shortlisted teams. Continue reading for more competition details and the entire shortlist.
Architects: Sergey Tchoban, Sergey Kuznetsov
Location: Moscow, Russia
Chief Architects: Sergey Kuznetsov
Chief Project Engineer: Makukhina Lyudmila
Architect Team: Andrey Perlich, Tatiana Varyukhina, Anastasia Kozyreva, Tatiana Lokteva, Evgenia Murinets
Complex's Total Area: 17,596 sqm
Completion: 2011
Photographs: Yuri Palmin, Aborkin Zakhar, Iliya Ivanov
Architects:Peter Kostelov, Alexey Rozenberg, Anton Grechko
Location: Moscow, Russia
Design Team: Peter Kostelov, Alexey Rozenberg, Anton Grechko
Floor Area: 300 sqm
Project Date: 2011
Photographs: Alexey Knyazev
Architects: Sergey Nasedkin
Location: Moscow, Russia
Completion: 2010
Total area:210 sqm
Photographs: Courtesy of Sergey Nasedkin
Skolkovo Innovation Center ('Russian Silicon Valley'), a high-tech hub to be built at Skolkovo near Moscow, Russia, is intended to concentrate international intellectual capital, thereby stimulating the development of break-through projects and technologies. The modern approach to residential buildings often creates a feeling of isolation. A person has his or her own apartment and a little garden, while neighbors are perceived as competitors. The new residential area, including apartment houses and townhouses, designed by Arch Group, is designed for temporary accommodation of the scientific elite shown in the apartment houses while the townhouses feature a multi-layered environment. More images and architects' description after the break.
Architects: UNK PROJECT architects
Location: Moscow, Russia
Project team: Nikolay Milovidov, Nikolay Fedoseev, Oleg Burmistrov
Consultants for Cinema hall: Janson + Tsai Design Associates
Project area: 685 sqm
Project year: 2010
Photographs: Viktor Chernyshov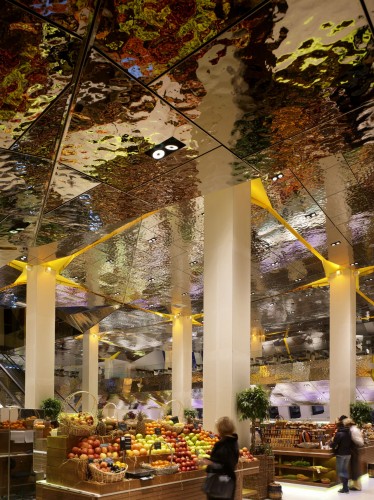 Architects: Lifschutz Davidson Sandilands
Location: Moscow, Russia
Client: RGI International
Photographs: Chris Gascoigne
Architects: PAPER | TOTEMENT
Location: Moscow, Russia
Team: Levon Ayrapetov, Valeria Preobrazhenskaya, Diana Grekova, Egor Legkov
Designing: 2010
Building: 2010- 2011
Total Area: 820 sq.m
Children Section: 530 sq.m
Covered Terrace: 290 sq.m
Photographs: Courtesy of PAPER | TOTEMENT
Before summer 2010, when PAPER | TOTEMENT was invited to design some new constructions, the house territory had been already changed a few times with new additions that were not within the scope of the initial project – a summer kitchen with a sunshade ground and a guest house appeared. It was clear to them that further development of the initial architectural style meant a complete loss of at least some consistency of constructions on the site or it could be overwhelmed by a lot of buildings. Besides, it would continue an architectural idea which was absolutely alien to them. Therefore, they decided that something absolutely different in contrast to all that was around not only on the given site, but also along the territory which one can see at a glance, would allow the house to receive a new status, a new quality and a new scale. More images and architects' description after the break.
At the Second Exhibition Forum on Architecture, Landscape Architecture and Garden Art last week in Moscow, the project Green River Project Brateevo has been awarded with the Russian National Award on Landscape Architecture. The project, designed by OKRA landscape architects, is a joint cooperation between Russia and the Netherlands. Supported by the Dutch Government, the Department for Natural Resource Management and Environmental Protection of Moscow and the Dutch Government Service for Land and Water management (DLG), are working together with the Dutch consultancy OKRA landscape architects, the Russian consultancy Ampir landscape architects and the Research and Design Institute for the Master Plan of Moscow on the development and exchange of ideas for a sustainable cityscape. Objective is to develop a toolkit for sustainable green development as an integral part of urban redevelopment. More images and project description after the break.
Leeser Architecture was recently awarded the second prize in international design competition for the reconstruction and renovation of Moscow's Polytechnic Museum. The 430,000 sq ft Museum was built in three stages from 1887 to 1907 and has since become an architectural and cultural landmark in Moscow. Their design included covering the courtyards of the existing building with an additional 22,000 sq ft of exhibition space identified as 'the Cloud.'  The Cloud, comprised of all glass, floats above the proposed active courtyard spaces, allowing for visitors to experience the feeling of walking on air.  When occupying the Cloud visitors are granted unprecedented views over the city of Moscow establishing the Museum as a cultural destination. More images and architects' description after the break.
Architect: POLYGON (Alexander Leonov, Svetlana Vasileva)
Location: Moscow, Russia
Project Team: Andrey Vasiliev, Mick Rammusen, Vera Leonova, Oleg Panitkov, Alexander Elokhov, Alexander Elchugin, Aleksey Knyazev
Launched by: Zagorodny Proekt, VELUX Group
Construction: NLK "Domostroyenie"
Partners: Saint-Gobain, Danfoss, Schiedel AG, ICOPAL, Gaulhofer, Somfy, Dörken, Tremco Illbruck
Project Area: 229 sqm
Project Year: 2011
Photographs: Alexander Leonov, Torben Eskerod
Architects: Peter Kostelov
Location: Moscow, Russia
Project Year: 2011
Project Area: 348 sqm
Photographs: Alexey Knyazev
The arbor, designed by Kerimov + Prishin Architects, is a living space project meant to accommodate a family of about 15 people. The design's floor plan consists of a semantic differentiation on three zones which they conditionally named "kitchen-furnace", "dining room-drawing room" and "terrace-scene". More images and architects' description after the break.
Over the last 5 years Atrium designed 4 headquarters for "Yandex" (the one of the biggest Russian internet companies). Two of them were constructed, the concept from the third project, which wasn't realized, partly repeated in recently finished 4th one. There are also some other examples of succession as the yellow entrance reception desk, which was taken from the first headquarters. The low partitions with V-plan in open-space zone were used in preceding offices too.
Architect: Atrium
Location: L'va Tolstovo st, Moscow, Russia
Project team: Anton Nadtochiy, Vera Butko, Svetlana Haritonova, Alexander Malygin, Anna Pustovoitova, Julia Ranneva
Contractor: Vitek
Project Area: 12,100 sqm
Project Year: 2009-2010
Photographs: Ilia Ivanov, Yuri Palmin, Anton Nadtochiy