The Dutch city of Rotterdam, often referred to as a hotbed of architectural activity, has been named as the best city in Europe by The Academy of Urbanism at the 2015 Urbanism Awards. Pitted against two other finalists – Aarhus in Denmark and Turin in Italy – the city has been praised for its "predominantly young, open, tolerant community that is embracing innovative architecture and urban design and new business models."
Despite being a very closely fought battle, the Academy said that Rotterdam was a vote winner for its "unique approach to governance. Appointed for six years by central government, the role of mayor sits outside of political structures and with no portfolio, allowing greater engagement with citizens and businesses." Steven Bee, Chairman of the Academy, said that "a long-term perspective, a high level of autonomy, strong leadership by the mayor and municipality, and strong partnerships between public and private sector, are all helping Rotterdam grow positively."
Wim Pijbes, director of Amsterdam's Rijksmuseum, has declared in an open letter to the Dutch newspaper NRC Handelsblad that the Dutch capital is "dirty, filthy, and too full." Complaining primarily about the culture of short-stay accommodation, segways, scooters and canal cruisers in the historic heart of the city, he argues that "the charm and spirited character has long since faded." Amsterdam, an apparent magnet for those who enjoy an "anything-goes atmosphere," faces an uphill battle in order to remold a dwindling reputation.
Initiatives like Project 1012, which seeks to put a cap on (and even shut down) some of the brothels and marijuana 'coffee shops' in the city's historic core, is part of a wide-reaching clean up campaign. For Feargus O'Sullivan however, "if Amsterdam loses its sense of license, its aura of permissiveness, and its immaculate order held in delicate balance, then it will lose some of its delight, its uniqueness – even its Dutchness." Read his article in The Atlantic's Citylab in full here.
The Mauritshuis, a Dutch 17th century city palace in The Hague, will reopen this week following a large scale renovation and extension designed by Hans van Heeswijk with servicing and fire engineering undertaken by Arup. Similar to Amsterdam's Rijksmuseum, which reopened after a ten year restoration and remodelling in 2013, the Mauritshuis Royal Picture Gallery exhibits one of the finest collections of Dutch Golden Age paintings including Johannes Vermeer's Girl With a Pearl Earring. Alongside a large scale renovation, Hans van Heeswijk have also extended the galleries with new exhibition spaces, an auditorium and educational spaces.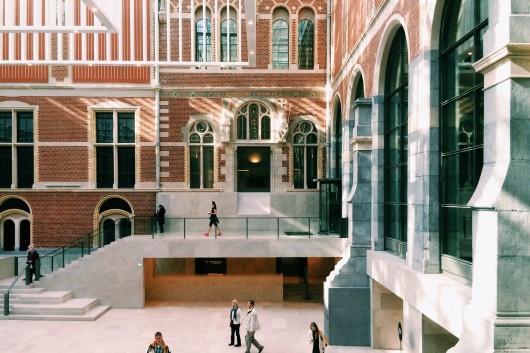 The Rijksmuseum, which reopened last year after a decade of restoration and remodelling, is a museum dedicated to "the Dutchness of Dutchness." Pierre Cuypers, the building's original architect, began designing this neogothic cathedral to Dutch art in 1876; it opened in 1885 and has stood guard over Amsterdam's Museumplein ever since.
Over the centuries, the building suffered a series of poorly executed 'improvements': intricately frescoed walls and ceilings were whitewashed; precious mosaics broken; decorative surfaces plastered over; and false, parasitic ceilings hung from the walls. Speaking in his office overlooking the Rijksmuseum's monumental south west façade, Director of Collections Taco Dibbits noted how the most appalling damage was incurred during the mid-20th century: "everything had been done to hide the original building […but] Cruz y Ortiz [who won the competition to redesign the Rijks in 2003] embraced the existing architecture by going back to the original volumes of the spaces as much as possible." 
For Seville-based Cruz y Ortiz, choosing what to retain and what to restore, what to remodel and what to ignore were, at times, difficult to balance. Cruz y Ortiz found their answer in the mantra: 'Continue with Cuypers'. They threw the original elements of the building into relief but did not act as aesthetes for the 'ruin'. In contrast to David Chipperfield and Julian Harrap's restoration of Berlin's Neues Museum, for instance, Cruz y Ortiz rigorously implemented a clean visual approach that favoured clarity over confusion. What is original, what is restored, and what is new mingle together in a melting pot of solid, understated architectural elements. Sometimes this approach contradicted Cuyper's original intentions; however, more often than not it complements them in a contemporary way.
By now, we have all heard the mantra. In twenty years time, the world's cities will have grown from three to five billion people, forty percent of these urban dwellers will be living at or below the poverty line facing the constant threat of homelessness – scary statistics and even scarier implications. 
ECOnnect, a Holland-based design firm, envisions a solution for these future housing shortages, one that could build a one-million-inhabitant city per week for the next twenty years for $10,000 per family. Peter Stoutjesdijk, architect at ECOnnect, created the concept after widespread devastation in Haiti caused by a massive earthquake left of hundreds of thousands of people homeless depending on tents for temporary relief.
This article originally appeared in uncube magazine as "Saviour or Parasite?"
The post-war city centre of Rotterdam is ruled by commerce. Only five percent of the city's inhabitants live in the centre, which is almost entirely occupied by highstreet fashion chains, fast food restaurants, and offices. After shop closing time, the shutters go down and the streets are deserted. The municipality would like to lure more inhabitants into the centre – but space for new residential buildings is scarce. So in recent years, a 1960s cinema and church had to make way for a huge new housing complex designed by Alsop Architects, and a residential tower by Wiel Arets was speedily attached to Marcel Breuer's department store, De Bijenkorf. It was not until the municipality suggested forcing new housing high-rises into the green courtyards of the Lijnbaanhoven residential complex, designed in 1954 by Hugh Maaskant, that there were protests and the project had to be cancelled. For the time being, that is.
One densification project, however, tried not to destroy or debase the post-war building originally occupying its site. In many respects, the Karel Doorman residential high-rise could even be called the saviour of the old Ter Meulen department store. It might be rather uncommon for a valiant hero to crouch down on the shoulders of the little old lady he intends to rescue – but that's more or less what happened here.
LOLA landscape architects from Rotterdam and Studio KARST from Zurich recently won the international ideas competition for their plans for the future Singel Park in Leiden. The two agencies present "convincing and thoughtful concepts for both the park as a whole, as well as for the role the park can play in Leiden's future." That's the conclusion of the advisory committee headed by Mayor Henri Lenferink. More images and architects' description after the break.
Architects: Eric Vreedenburgh, Archipelontwepers
Location: Leeuwarden, Holland
Team: Coen Bouwmeester, Guido Zeck
Contractor: BSB Staalbouw
Project year: 2007-2010
Photographs: Marcel van der Burg