Architects: Ross Barney Architects
Location: College of Pharmacy, The Ohio State University, 500 West 12th Avenue, Columbus, OH 43210, USA
Design Principal: Carol Ross Barney
Principal In Charge: Eric Martin
Project Architect: Jonathan Graves, Marc Anderson
Design Team: Ryan Giblin, AIA, LEED AP; Huili Feng
Architect Of Record: Champlin Architects
Local Architect: Lupton Rausch
Area: 95750.0 ft2
Year: 2013
Photographs: Brad Feinkopf
Daniel Libeskind is among three semi-finalists competing to design the Ohio Statehouse Holocaust Memorial in Columbus. The privately funded memorial will be built south of the Ohio Statehouse on the grassy 10 acre Capitol Square, just east of the Scioto River.
As stated in the competition brief, "The memorial itself must help everyone who visits and works in the Statehouse understand not just the history of the Holocaust, but also the fact that today we must continue to stand against evil. Artists are asked to create a piece that will serve as a permanent memorial in remembrance of all victims of the Holocaust (1933-1945) and those Ohioans who participated in the liberation of the death camps during World War II. The memorial should provide enlightenment on man's inhumanity to man and inspire people to think and act differently in the face of discrimination, hatred, antiSemitism and genocide."
The three semi-finalists are:
Taking place February 7-10, University of Illinois at Chicago School of Architecture, Ohio State University Knowlton School of Architecture, University of Kentucky College of Design, and University of Michigan Taubman College of Architecture + Urban Planning will be presenting the Possible Mediums Conference. Taking place in Columbus, Ohio, the event is composed of a series of workshops and panel discussions revolving around four "possible mediums" which places a group of designers in productive dialog, unpacking their collective foundations and futures. Challenging the boundaries of architectural convention, the invited workshop leaders employ exploratory processes rooted in mediums external to the discipline (such as film or comics) or developed from atypical applications of more conventional mediums (such as drawings or models). For more information, please visit here.
Architects: JBAD – Jonathan Barnes Architecture and Design
Location: Columbus, Ohio, USA
Completion: 2011
Area: 66,000 sqm
Consultants: SMBH (structural), CDM (MEP), MSI-KKG (landscape),
Lawhon (environmental)
Photographs: Brad Feinknopf
Architect: Meyers + Associates Architecture
Location: Westerville, Ohio, United States
Project Year: 2011
Photographs: Matthew Carbone 
Architects: DesignGroup
Location: Columbus, Ohio, USA
Project Year: 2009
Client: Grange Insurance Audubon Center / Columbus Metro Parks
Project Area: 18,400 sqf
Photographs: Brad Feinknopf
This project involved the addition to a 1960's era international Style house, an anomaly in this typical suburban Columbus neighborhood. The existing house, a long white box that sits atop a steep, heavily wooded slope, consists of a first floor and a walk-out basement. The addition includes two kid's bedrooms and two baths on the first level and an entertainment room on the lower level.
Architect: Jonathan Barnes Architecture and Design
Location: Columbus, Ohio, USA
Project Year: 2007
Photographs: Brad Feinknopf, Feinknopf Photography
This renovation project addressed the issues of sustainability through recycling, the reinvention of two historic, but not historically significant, structures to align with the brand of the owner's business, and the investigation of and references to the work of two artists through this project.
Architect: Jonathan Barnes Architecture and Design
Location: Columbus, Ohio, USA
Project Year: 2008
Photographs: Brad Feinknopf, Feinknopf Photography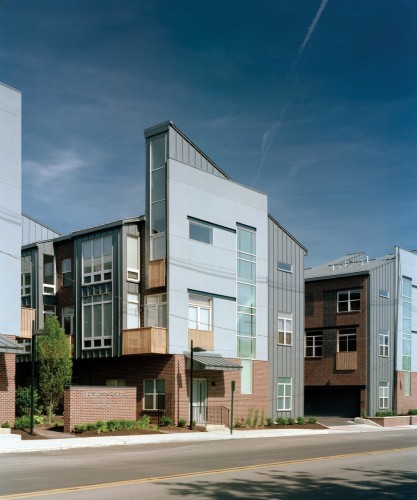 A dilapidated, vacant, 60's era manufacturing building on a one-acre block in an historic urban neighborhood was replaced with 35 townhouses in five buildings. The project responds to its urban context with separate buildings oriented perpendicular to the street, continuing the rhythm of the adjacent houses. This arrangement creates alternating garden courts and auto courts, separating vehicular and pedestrian access and bringing green spaces to the interior of the block.
Architect: Jonathan Barnes Architecture and Design
Location: 1008 S. Front, Columbus, Ohio, USA
Project Year: 2007
Photographs: Brad Feinknopf, Feinknopf Photography
The site of the new school of architecture is at the western edge of The Ohio State University's old campus, close to the river and the football stadium, at the happily congested corner of West Woodruff Avenue and Tuttle Park Place. Bounded by raw concrete parking garages to the south and the staid red brick of the business school to the north, laboratory buildings to the east and the emptiness of the stadium parking lot to the west, edged and crossed by major campus pedestrian thoroughfares, the site is a dynamic zone, capable of sustaining a connective architecture and landscape and an inclusive urban form.
Architect: Mack Scogin Merrill Elam Architects
Location: The Ohio State University, Columbus, Ohio, USA
Project Team: Robert S. Livesey (Director of Austin E. Knowlton School of Architecture), Jill Morelli (University Architect), Scott Conlon (Senior Project Manager), Mack Scogin (Principal), Merrill Elam (Principal), David Yocum (Project Architect), Brian Bell, John Trefry, Penn Ruderman, Barnum Tiller, Cecilia Tham, Jeffrey Collins, Kevin Gotsch, Margaret Fletcher
Associate Architect: WSA Studio
Associate Architect Team: Bob Wandel (Principal in Charge), Cissy Wong (Project Architect), Alan Sulser, Ivan Amy, Lannetta Vader, Yanitza Brongers, Kristen Poldemann
Interior Furnishings: Suzanne Toney, Amy Dupler
Landscape Architect: Michael Van Valkenburgh Associates, Inc.
Landscape Architect Team: Michael Van Valkenburgh (Principal), Matt Urbanski (Principal), Laura Solano, Gullivar Shepard, Brian Bare, Jennifer Pindyck
Project Area: 176,000 sqf
Photographs: Timothy Hursley, Matthew Carbone
This project involves the conversion of a four-story 19th Century commercial building on a tight urban lot to residential and commercial use and the replacement of a non-contributing single story adjacent structure with an infill building for residential use and parking. The conversion consists of 6 residential units (2 per floor) above a 3,000 sqf commercial office space while the new structure accommodates 5 residential units (2 per floor with a full floor penthouse unit) and parking at the first floor. An elevator and egress stairs are shared by both structures.
Architect: Jonathan Barnes Architecture and Design
Location: 225 North Fourth, Columbus, Ohio, USA
Project Area: 3,000 sqf
Project Year: 2006
Photographs: Brad Feinknopf, Feinknopf Photography
This week our Architecture City Guide is headed to the capital and largest city in Ohio. Columbus is home to The Ohio State University, which probably merits a separate architecture guide all itself. Adding the city to the mix, it was very difficult to keep our list to only twelve. Check out our contemporary list and add to it in the comment section below.
The Architecture City Guide: Columbus list and corresponding map after the break.
A current installation at the Wexner Center for the Arts "Six Solos" show, Megan Geckler's "Spread the Ashes of the Colors" has been a resounding hit and we are happy to share it with our readers. A time lapse video of the installation, additional photos, press quotes an the artist statement all after the break.
A main gateway to The Ohio State University campus in Columbus, Ohio, the once 400-car surface parking lot has been transformed into the Student Academic Services building with a connected nine deck parking garage.  The new Student Academic Services building houses the following:  Student Financial Aid, Testing Center, Office of Minority Affairs, Registrar's Office, Bursar's Office and other admission services.
More after the break.
Architect: Acock Associates Architects
Location: Columbus, Ohio, United States
Landscape Architect: MSI
Civil Engineer: Columbus Engineering Consultants, Inc
Structural Engineer: Shelley Metz Baumann Hawk & Desman Associates
MEP Engineer: Heapy Engineering, Inc
FF&E: Interior Space
Client: The Ohio State University
Project Area: Student Academic Services 127,400 sqf / Lane Avenue Parking Garage 449,160 sqf
Photography: Matthew Carbone