Architects: Alberto Kalach
Location: Avenida Constituyentes 41, San Miguel Chapultepec, Miguel Hidalgo, Ciudad de México, D.F., Mexico
Project Architect: Alberto Kalach
Design Team: Alberto Vargas , Gabriel Mancera, Patricia Lazcano, Iván Ramírez, David Martínez
Project Area: 1820.0 m2
Project Year: 2014
Photographs: Yoshihiro Koitani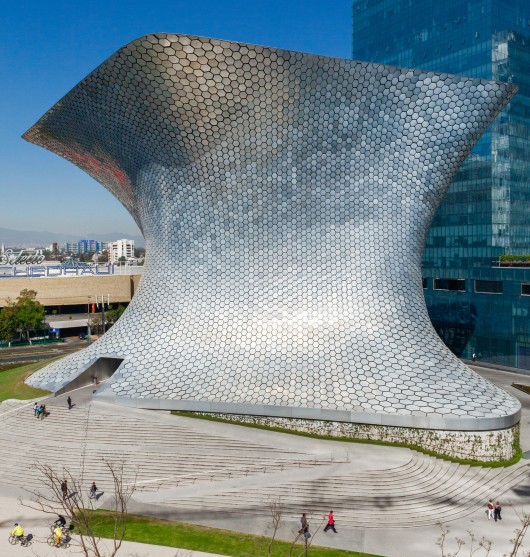 On a recent trip abroad, architect and urban planner José Castillo was struck by a conversation with Mexico's tourism attaché in Asia. Mexican tourism, the attaché remarked, has changed; it was the ancient pyramids and sandy beaches of the country that once drew visitors to it. Today however, architecture and design—and food—prevail.
The issue of food may be of little wonder. Mexican cuisine has indeed become more popular than ever in both the high and low ends of the culinary spectrum, and food in general is not only what one eats for dinner but also a hobby and an obsessive conversation topic. Yet for local design to come to the same level of acclaim and reputation is, at any rate, quite astonishing. It may be, though, that food and architecture are not so far apart. These are both highly creative and productive professions, as well as ones with a rich history, a theory, and many layers of tradition.
Wiel Arets, Dean of the College of Architecture at Illinois Institute of Technology (IIT) and Dirk Denison, Director of the Mies Crown Hall Americas Prize (MCHAP), have announced the inaugural MCHAP shortlist – 36 "Outstanding Projects" selected from the 225 MCHAP nominees.
"The rich diversity of these built works is a testament to the creative energy at work in the Americas today," said Arets. "When viewed alongside the innovative work by the MCHAP.emerge finalists and winner, Poli House by Mauricio Pezo and Sofia von Ellrichshausen which we honored in May, we see the evolution of a distinctly American conversation about creating livable space." See all 36 winners after the break.
Each year the Architectural League presents the work of significant international figures who powerfully influence contemporary architectural practice and shape the future of the built environment. Co-sponsored by The Irwin S. Chanin School of Architecture of The Cooper Union, the program kicks off this year with the Alberto Kalach lecture, which will highlight his current work. Cited as one of the most versatile and prolific architectural voices in Mexico City today, Alberto Kalach co-founded the firm Taller de Arquitectura X (TAX) in 1981. Kalach's concern for the emerging problems of his vast native city has inspired projects at a range of scales, from his minimal $5,000 houses to housing developments and urban master plans. Kalach's most ambitious speculative plan, México Ciudad Futura, is the largest project ever conceived for Mexico City. The lecture is taking place Monday, Octobr 15, at 7:00pm at Cooper Union in New York. For more information about the event, please visit here.
Architects: Alberto Kalach
Location: Mexico City, Mexico
Architect: Alberto Kalach
Design Team: Ignacio del Río, Bolívar Garrido, José Luis Reyes, Héctor Módica, Iván Ramírez, Susana Pantoja, Ana María Martínez, Patricia Galdos
Project Year: 2010
Photographs: Yoshihiro Koitani
Architects: Alberto Kalach
Location: Guadalajara, Jalisco, Mexico
Architects: Alberto Kalach, Juan Palomar, Héctor Módica
Design Team: Taller de Arquitectura X 
Photographs: Yoshihiro Koitani
Architects: Alberto Kalach
Location: Mexico City, Mexico
Architect: Alberto Kalach
Project Team: Héctor Módica
Project Year: 2008
Project Area: 1,300 sqm
Photographs: Pedro Rosenbleuth
Last week, we partnered with Moleskine to celebrate our 500,000 in Facebook! We asked you which architect would you like to see featured in Moleskine's 'Inspiration and Process in Architecture' collection. We received more than 1,500 comments with great proposals for Moleskine to pick up. Here are the winners:
Giancarlo De Carlo Moleskine: Suk Ho Lee
BOLLES+WILSON Moleskine: Dan Selden
Alberto Kalach Moleskine: Kartik Shah
Zaha Hadid Moleskine: Alejandra Cortes
The winners will be contacted at their emails. If you haven't become a registered user yet, you can do so by clicking here. And follow us through Facebook and Twitter for many more features!
Our Facebook Fan Page has finally reached 500,000 fans, making it the largest architecture community in Facebook! To celebrate it, we partnered with Moleskine to host a fantastic giveaway.
Moleskine, the legendary manufacturer of tools for creativity, introduces "Inspiration and Process in Architecture", a collection of cloth-bound monographs, curated and edited by Francesca Serrazanetti and Matteo Schubert, exploring the design process of architects. The first four books of the series feature interviews, writings, drawings and notes from four international architects: Zaha Hadid, Giancarlo De Carlo, BOLLES+WILSON, and Alberto Kalach.
All you have to do is become a registered user (for free!), and answer this question in the comments: Which architect would you like to see featured in this Moleskine collection? Among all the comments by registered users we will giveaway four books (one of each). You have until next Monday 16 to comment! Good luck!
Architects: Alberto Kalach
Location: Mexico DF, Mexico
Competition Team: Alberto Kalach, Gustavo Lipkau, Juan Palomar, Tonatiuh Martínez
Project Team: Alberto Kalach, Emmanuel Ramírez, Ignacio del Río, Tami Tamashiro, José Luis Reyes, Héctor Módica, Bolivar Garrido, Ivan Ramírez, Gabriel Ortiz, Roland Oberhofer, Paola Acevedo, Alejandro Castañeda
Client: CONACULTA
Botanical Garden: José Ma. Buendía, Carlos Murillo, Teobaldo Eguiluz, Jardín Botánico UNAM
Structural Engineering: Martínez Romero – EMRSA
Structural Design: Enrique Arriaga
Interior Design: Adriana León – TAX
Project Area: 38,091 sqm
Project Year: 2004-2007
Photographs: Iñigo Bujedo Aguirre