Idyllically located on the mud flats of the Exbury bank of the Bealieu River, The Egg is a project that young architectural practice, Perring Architecture + Design (PAD)…, are developing in partnership with ArtSway, a contemporary visual arts organization
The winners of the 3rd International Holcim Awards competition for sustainable construction projects and visions from Africa Middle East have been announced at a ceremony in Casablanca. A total of USD 300,000 was presented to ten outstanding projects submitted by architects, planners, engineers and project owners. The winning projects illustrate the broad scope of applying sustainable approaches in construction including school infrastructure, community renewal, urban redevelopment, and energy-efficient design. More information on the awards after the break.
Architects: Ahlbrecht Felix Scheidt Kasprusch
Location: Essen, Germany
Project Year: 2010
Project Area: 6700 sqm
Photographs: Deimel & Wittmar
Architect: Shimizu + Coggeshall Architects
Location: Santa Monica, California, United States
Project Team: Joshua Coggeshall, Janice Shimizu, Sean Harris, Ryan Klinger, Danny Mascari
Project Area: 2785 sf
Project Year: 2010
Photographs: Joshua White
The New Taipei City Museum of Art conceptual design proposal by Yi-Hsiang Chao Architects and Infinite Studio… was initiated from a basic question: How does a museum allow the public to experience a seamless fusion between life and art? A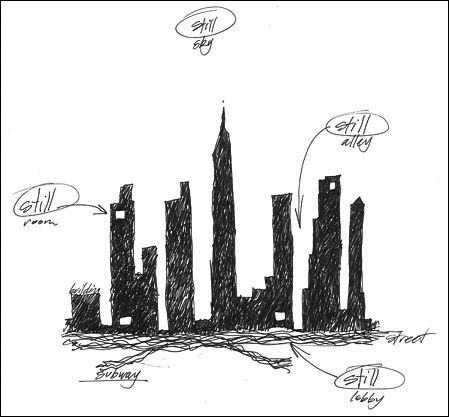 The second iteration of stillspotting nyc–a two-year multidisciplinary project that takes the Guggenheim's programming into the streets of New York City–features Estonian composer Arvo Pärt and U.S. and Norway–based architecture firm Snøhetta in collaboration on urban soundscapes around Lower Manhattan. To a Great City, the Manhattan edition of stillspotting nyc, will be open to the public for two extended weekends on September 15–18 and 22–25, 2011. The installations explore the relationship between space and sound.
The architects have selected, and sometimes altered, urban spaces embodying the concept of a central tone, extending the perception of sound in the realm of space. Visitors will experience the confluence of music and architecture at five locations that quietly celebrate the city, ten years after September 11th. Around the periphery of Ground Zero, "participants may encounter a green labyrinth created by The Battery Conservancy, reflect in an underground chamber at Governors Island National Monument, and enter otherwise inaccessible spaces in landmark skyscrapers." Participants can visit spaces multiple times at their leisure to understand how their perception changes based on circumstances such as time, stress, appetite, and sleep.
Exhibition: stillspotting nyc: manhattan (To a Great City by Arvo Pärt and Snøhetta)
Venue: Five locations, starting at Castle Clinton National Monument in Battery Park, across from 17 Battery Place, New York, NY
Dates: September 15–18 and 22–25, 2011
Read the press release here: http://www.guggenheim.org/new-york/press-room/releases/4219-stillspottingmanhattan
This week, with the help of our readers, our Architecture City Guide is headed to Tokyo. Similar to Berlin, Tokyo's architecture is overwhelming modern due its destruction during the 20th Century. We put together a list of 12 modern/contemporary buildings that we feel provides a good starting point. It is far from complete. There are dozens of other great buildings that are not our list, and we are looking to add to the list in the near future. Please add your favorites in the comment section below so we can add them on the second go around. Again thank you to all our readers who sent in their suggestions and photographs. The city guides would not be possible without your help.
To check out other cities visit our world map or our Architecture City Guide page.
The Architecture City Guide: Tokyo list and corresponding map after the break.
Architect Jennifer Bonner's installation at the Woodbury Hollywood Gallery.
"Bonner filled the gallery with water in order to provoke a discussion of crisis, flood, drought, and watershed geographies. This piece is not only timely, but critical. The question of flooded environments is not an abstraction but a reality. In an arid climate such as Los Angeles, the wet, hot, and humid installation heightens awareness of other environments and potential future scenarios." -Mimi Zieger
Architect: Studio Ma, Inc.
Design Team: Christiana Moss, Dan Hoffman, Christopher Alt, Robert Des Rosiers, Brad Pfahler
Location: Phoenix, Arizona
Contractor: Wespac Construction
Project Year: 2008
Project Area: 19,200SqFt
Project Cost: $3.5M
Client: 12th & Missouri, LLC
Civil Engineer: Erie & Associates
Structural Engineer: Rudow + Berry
Mechanical Engineer: Associated Mechanical Engineers
Electrical Engineer: Woodward Engineering
Landscape Architect: Levinson Studio
Soil Consultant: Speedie & Associates
Lighting Consultant: Roger Smith Lighting Design
Photography: Bill Timmerman Photography
Gowanus Lowline Competition: Connections will be exhibiting winning entries from the Open Ideas Competition on Thursday, September 15th, 6:00 – 9:00 pm at the SET Gallery in Brooklyn, NY. Check out the winners here: Gowanus Lowline Competition Winners. The competition was framed with the goal of inspiring projects that questions and confronted urban development in postindustrial sites. The open-ended program asked for a "pedestrian-oriented architecture" that engaged the canal and the watershed, long neglected as an industrial and manufacturing zone. This competition is a first of a series that focuses on the connections in and around the canal. As it is right now, the Gowanus Canal is just out of reach, and with its levels of contamination – which the EPA is begining to address – it may be for the best.
Architects: Sou Fujimoto Architects
Location: Oita, Japan
Project Team: Yumiko Nogiri
Structural Consultant: Jun Sato Structural Engineers
Design Year: 2006-2007
Construction Year: 2007-2008
Site Area: 236,57 sqm
Constructed Area: 150,57 sqm
Photographer: Iwan Baan
Architect: John DeSalvo Design (JDD)
Location: Michigan City, Indiana, USA
Interior Designer: John DeSalvo Design, Chicago, IL.
General Contractor: Patrick Poland, HP Construction Westville, IN
Landscape Architect: Dune Landscape, Portage IN.
Project Area: 1,400 sqf
Project Year: 2010
Photographs: David Robert Elliot
The EPA estimates that in 2009, the United States produced approximately 486 billion pounds of solid waste, most of which could have been recycled. And where did all that solid waste go? Right into our landfills, not too far from where we live and work. The same year, 34% of municipal solid waste was recycled (compared with only 10% in 1980) but the problem remains that, according to Chemical & Engineering News, most product-design methods used today are short-sighted. Most of these products were not designed with an end-of-life solution in mind, therefore most cannot be recycled or reused.
Read on to find out what this means for design after the break.
U.S. Supreme Court Justice Stephen Breyer, as well as widely acclaimed Pritzker Architecture Prize Laureate, Zaha Hadid of the United Kingdom, will join the jury that selects Pritzker Architecture Prize Laureates, it was announced today by Thomas J. Pritzker, Chairman of The Hyatt Foundation which sponsors the prize.
In addition to his distinguished career in the law, Justice Breyer has a long history of interest in art and architecture, having authored the foreword to a book titled, "Celebrating The Courthouse: A Guide For Architects, Their Clients, And The Public" in 2006. Further, in 2009, the Foundation for Art and Preservation in Embassies honored him with the first Leonore and Walter H. Annenberg Award for Diplomacy through the Arts at a ceremony where the chairman of the foundation, Jo Carole Lauder, said, "His passion for ensuring that federal buildings — where our country's democratic principles are upheld — represent modern day thinking and culture is truly admirable. Since the birth of our nation, America's ever changing democracy has been captured through art and architecture and, thanks to Justice Breyer, this legacy will continue."
Hadid, who received the Pritzker Prize in 2004, has since become one of the world's busiest architects with projects in numerous countries, including the United States, China, Germany, Spain and Italy. The distinguished architecture critic Ada Louise Huxtable, who at the time was a Pritzker juror, said: "Zaha Hadid is one of the most gifted practitioners of the art of architecture today."
More after the break.