This first-prize competition winning proposal by nps tchoban voss and Hager Partner gives new life to the municipal outdoor pool facility in Nauen, Germany. Commissioned for future construction, the recreation center brings a multi-functional layout to the complex, activating the space year round and providing the public with a recreational hub.
Read on after the break for more on the proposal.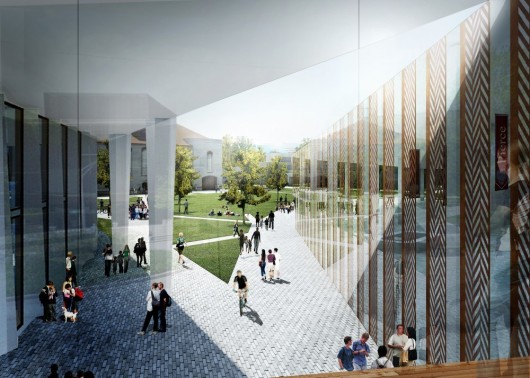 Beloit College has chosen Studio Gang Architects to convert a century old power-plant into a campus recreation and activity center. The project was born out of an ongoing partnership with Alliant Energy Wisconsin, the local utility company that currently holds the space, who has been in talks within the college for over a year.
"The Studio Gang team is very excited to partner with Beloit College," stated Jeanne Gang. "Together we can transform this historic structure into a new hub for wellness, green power, and great architecture. By reflecting Beloit's core values in the design, values shared by our team, we will create a model that will bring many benefits to the college, city, and region. This is a project that has the potential to inspire other communities around the globe."
Until recently, student health and counseling services have predominantly been offered independently of athletics and recreation. But as institutions contemplate a more unified approach to health and wellness, the boundaries of these traditionally separated campus services are becoming blurred. Many believe that unifying these various programs and services under one roof is in the best interest of their students' long-term health, as well as a potential budgetary and operational boon.
This recent shift in mindset has supported the emergence of a new breed of recreation centers that is only anticipated to multiply. "We're seeing more and more universities come to us with a new set of challenges and program needs, as opposed to simply saying 'we need this type of building," says Brad Lukanic, Cannon Design's executive director of education.
More on this new breed of Wellness Center, after the break…