Philip Johnson's "iconic" New York State Pavilion has been listed as a "National Treasure" by the National Trust for Historic Preservation. This designation, which was announced today at the 1964-65 World's Fair's 50th anniversary celebration in Queens, declares the pavilion a "historically, culturally and architecturally important site" and will help raise awareness and funding for its preservation. It is now one of just 44 national sites bearing this recognition.
"In the last 50 years, Flushing Meadows Corona Park has grown from the site of the World's Fair to the home of the World's Park," said Queens Parks Commissioner Dorothy Lewandowski. "As we celebrate this anniversary, it is just as important that we look to the next 50 years and plan for the Park's future. I would like to thank the National Trust for Historic Preservation for honoring the New York State Pavilion as a 'National Treasure'. This designation will highlight the importance of the Pavilion as a national icon, and help us to continue the conversation about how it can best serve Queens' residents."
Architects: Marble Fairbanks
Location: Union Turnpike, Glen Oaks, NY, USA
Area: 18,000 sqft
Year: 2013
Photographs: Eduard Hueber
The Emerging New York Architects (ENYA) committee of the AIA New York Chapter has announced the winners of its 2014 biennial design ideas competition, QueensWay Connection: Elevating the Public Realm. In an effort to imagine the ways in which The Trust for Public Land and Friends of the Queensway could transform an abandoned railway in Central Queens into a vibrant urban greenway, entrants were challenged to design a vertical gateway for the elevated viaduct portion of a 3.5 mile stretch along the rail. 
Of the 120 submitted proposals from 28 countries, the jury selected the following winners to represent the diverse array of ideas generated:
Operation Resilient Long Island (ORLI) has just announced the winners of its 3C: Comprehensive Coastal Communities ideas competition. Entrants were asked to design solutions that were not just resilient but also contextually sensitive and pragmatic to the devastating aftermath of Super-storm Sandy as well as all future natural disasters. Over 60 submissions were received from 20 different countries and 32 finalists were engaged in a public education strategy through a public voting campaign. A jury panel of eight leading professionals in the fields of architecture, urban planning and disaster mitigation met in mid-September to review the top finalists and selected 3 winners.
The 2013 winners of the 3C Competition are:
WXY Architecture + Urban Design and dlandstudio architecture & landscape have been commissioned to lead a feasibility study and planning for The QueensWay, a 3.5-mile section of abandoned railway tracks in Queens, New York, that will be converted into a High Line-inspired park and recreational pathways. As we reported earlier this year, the elevated railway line has been inactive since 1962 and, if transformed into a public parkway, has the capablitiy of serving more than 250,000 residents that live alongside it.
Launching August 22 at 6:30pm at the Center for Architecture, the QueensWay Connection: Elevating the Public Realm Competition supports Friends of the Queensway and The Trust for Public Land in their efforts to transform an abandoned rail right-of-way into a greenway serving diverse neighborhoods in central and southern Queens. Presented by The Emerging New York Architects (ENYA) committee of the AIA New York Chapter, this sixth biennial competition seeks to supplement the ongoing feasibility study for the railway's transformation by proposing ways the future park can be activated in addition to recreation and leisure. With emphasis on the park's access points the competition brief provides an opportunity to speculate about programming and design to extend street activity onto the railway. Submissions are due in January. For more information, please visit here.
The New York office of The Trust for Public Land recently issued an RFP for a feasibility study, framework plan, and conceptual design for the QueensWay–a potentially transformative 3.5-mile project which will enhance quality of life in central and southern Queens, New York by reclaiming the abandoned Rockaway Rail Line, a largely elevated rail corridor. The project, which includes a pedestrian and bicycle pathway connecting the communities of Rego Park, Forest Hills, Richmond Hill, and Ozone Park, will provide a new public green space, celebrating the cultural diversity of Queens with art, sculpture, and food from around the world.

There is a mandatory Pre-Submittal Meeting March 28, and the proposal submittal deadline is April 23. For more information, please visit here.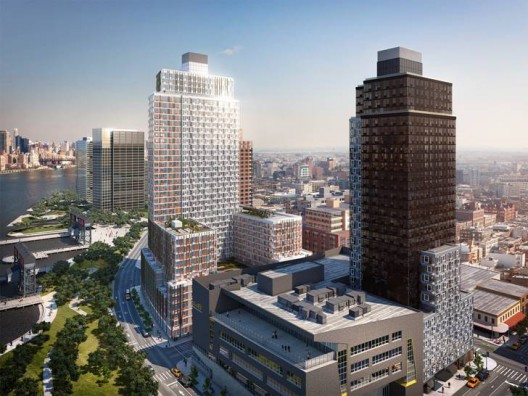 Despite NYC's recent bout with nature, Mayor Bloomberg is undeterred from developing housing along NYC's long stretch of waterfront, taking into account that proper measures are taken for storm and flooding mitigation.  The latest in large scale developments comes to Hunter's Point South in the neighborhood of Long Island City in Queens.  The first of such a scale since the 1970s development of Co-Op City in the Bronx, plans will include two phases of design and construction. The first phase, designed by SHoP Architects with Ismael Leyva Architects will bring two residential towers with 925 permanently affordable apartments, 17,000 square feet of retail space, infrastructural installations, a five-acre waterfront park, and a 1,100-seat school.
Join us after the break for more on this large scale development in Long Island City.
Originally constructed for the 1939 World's Fair, the resilient structure of New York's Queens Museum of Art has been undergoing its fourth and most ambitious renovation since April 2011. This $68 million renovation, designed by Grimshaw Architects, will double the institution's size, expanding the museum to a total of 105,000 square feet upon its completion in October 2013.
When plans for the High Line were first revealed it made quite an impression on the design community. The converted elevated rail line, long abandoned by New York City, was threatened by demolition until a group of activists fought for its revival and helped transform it into one of the most renowned public spaces in Manhattan. Now Queens, a borough with its own abandoned infrastructure is on its way to redeveloping the land for its own version of the High Line, to be known as the Queensway Cultural Gateway.
In late December, the Trust for Public Land announced that New York Governor Andrew Cuomo has awarded a $467,000 grant to the organization to begin a feasibility study on the 3.5 mile Long Island rail line. Early proposals reveal a new pedestrian and bike path, public green space and a cultural gateway that will celebrate Queens' diversity in art, sculpture and food, serving the 250,000 residents that live in the neighborhoods along the route, which include Rego Park, Forest Hills, Richmond Hill, Ozone Park and Forest Park.
Join us after the break for more.
The Architectural League and Socrates Sculpture Park is currently inviting architects to submit proposals for the 2013 Folly Competition, a design/build studio residency, and chance to build an installation at Socrates Sculpture Park, a unique urban waterfront park in Queens, NY. Socrates and the League welcome proposals from all emerging architects and designers for large-scale projects and installations that explore contemporary interpretations of the architectural folly. The deadline for submissions is January 7. For more information, please visit here.
The New York Economic Development Corporation and Mayor Bloomberg of NYC announced the completion of the final plan for Willets Point - a peninsula on the Flushing River in Northern Queens, New York. The development of Willets Point is part of the urban renewal project associated with Citi Field – the Mets' new stadium. Nicknamed the Iron Triangle, the project will include housing for mixed incomes, retail and entertainment amenities, a hotel, a convention center, office space, parks and open space, and a new public school, all of which falls under the umbrella of LEED-certified buildings and infrastructure. As with every redevelopment plan, there are positives and negatives to restructuring the community.
Read on for more after the break.
This bakery is a brand new project for the family behind the renowned Omonia brand famous for its Greek pastries. It sells pastries and breads prepared on premises in the see-through kitchen.
Architect: bluarch
Location: Queens, New York City, New York, USA
Project Area: 1,200 sqf
Photographs: Courtesy of bluarch
Afsarmanesh Architects has recently won the suckerPUNCH Long Island Cinema Competition with their unique design process and approach of the theoretical. Further images and a brief breakdown of their design process can be viewed after the break. Additionally, you find a brief interview of the architects at their winning entry domain on suckerPUNCH.
The symposium marks the release of the 11 Architects + 12 Conversations issue of PRAXIS: a journal of writing and building. The moderated discussion will invite audience participation in an open dialogue that explores shared and contested territory among this emerging generation of practices.
The symposium, "Conversations: Continued", brings together 10 Young Architectural Practices: MOS, NArchitects, WORKac, PATTERNS, Aranda/Lasch, Productora, FAR, Ciro Najle, The Living, and Howeler +Yoon with two critics, Timothy Hyde and Lucia Allais. The event continues the more formal discussion begun in PRAXIS 11, 11 Architects/12 Conversations, by bringing the firms together in a shared conversation, broadening the issues at stake, and sharing the material with a wider architectural and public audience.
The symposium will take place next Friday, June 25, from 12:30 till 6 pm at P.S.1 Contemporary Art Center in Queens. For further information and schedule, go to http://www.praxisjournal.net/home.htm.