When one hears the term masonry architecture, digital fabrication and automated construction processes are probably not the first ideas to come to mind. By its very nature, the architecture produced with stone masonry is often heavy, massive, and incorporates less natural light than alternative methods. However, with their research proposal for "Smart Masonry," Zaarchitects are proposing to change masonry buildings as we know them and open opportunities for digital fabrication techniques in stone and other previously antiquated materials. Read on after the break to get a glimpse of what these new masonry buildings could look like and learn more about the process behind their construction.
In an age when 1:1 3D printed buildings are becoming ever more commonplace from the Netherlands to China, it's important to pause and assess the existing built fabric of our cities, towns and villages. If we want to maintain and preserve them whilst protecting the inherent craft imbued in their construction, the importance of nurturing and promoting these skills should be recognised.
In the UK, the Heritage Skills Hub (HSH) push to see "traditional building skills, conservation, restoration and responsible retrofit" included within all mainstream built environment courses. In a recent conversation with Cathie Clarke, CEO of the HSH, we discussed the obstacles faced by an organisation dedicated to conserving and teaching skills like stonemasonry, roof thatching, glass making, traditional brick construction to a new generation.
A unique biotechnology start-up company have developed a method of growing bricks from nothing more than bacteria and naturally abundant materials. Having recently won first place in the Cradle to Cradle Product Innovation Challenge, bioMason has developed a method of growing materials by employing microorganisms. Arguing that the four traditional building materials – concrete, glass, steel and wood – both contain a significant level of embodied energy and heavily rely on limited natural resources, their answer is in high strength natural biological cements (such as coral) that can be used "without negative impacts to the surrounding environment."
Yemen is a country rich with history. Its cities are full of architectural monuments that are constructed with a craft that often goes overlooked. These cities merge seamlessly with the surrounding landscape, contextually complementing each other.
Al Hajjara is one such village that warrants a closer look. Built on the precipice of a mountain, the architecture clings to the sides of the cliffs. Multi-story buildings rise up out of the ground and step their way to the top. It is quite amazing given the fact that these buildings were constructed hundreds of years ago, and are still standing.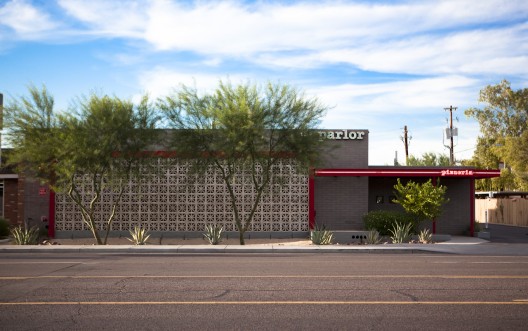 Architect: Pathangay Architects
Designers: Aric Mei, and Jennifer Mei
Project Architect: Joe Deleree
Location: Phoenix, Arizona
Project Year: 2009
Project Size: 4,300 SqFt
Structural Engineer: Schneider and Associates
Shell Construction: Shony Construction
Interior Design: Aric Mei, Blake Britton, Charlie Carney
Artists: Aric Mei, Blake Britton
Photography: Suad Mahmuljin – Perspectiv Studios, Aric Mei, Taube Photography 
The studio of Debartolo Architects is a unique architectural design firm in that they are passionately committed to architectural excellence parallel with their commitment to serving clients and creating relevant and functionally-tuned environments for people. Founded in 1996 as a collaboration of the father-son team, the firm is built on the rich history of Jack Debartolo Jr. FAIA's 22-year partnership with Anderson DeBartolo Pan, Inc. Through creativity, innovation and careful listening, their team has become one of the leading studios in creating highly-custom, well-tuned built-environments that respond to their client, context, culture and community.
For the STAAB Residence designed by Chen + Suchart Studio the context for this site consists of larger homes on one-acre lots. Aesthetically, the neighboring houses' architectural language is more often than not, associated with speculative developer trends and styles, rather than an integrated understanding of the site, the views, and the potential. As a result, the project required a strategy which would edit out the immediate context of this neighborhood while focusing on distant views of the McDowell Mountains to the north and the valley to the south and southwest. The project also sought to create a protected courtyard space for the backyard and pool area as an immediate focus for the lower level of the house in contrast to the second level taking advantage of the more distant views.
Architect: Jon Anderson Architecture
Location: Albuquerque, New Mexico
Project Manager: Jarrod Arellano
Project Year: 2008
Building Area: 4,590 SqFt
References: Blueher Abodes
Photography: Kirk Gittings Photography
Architect: Constantine George Pappas AIA Architecture/ Planning
Location: Rochester, Michigan, United States
General Contractor: Frank Rewold and Sons, Inc.
Project Area: 21,000 gross sq ft
Project Year: 2010
Photographs: David Rose
Architects: Studio101 Architects
Location: Geelong, Victoria, Australia
Project area: 256 sqm
Project year: 2009
Photographs: Trevor Mein
Architects: Chen + Suchart Studio LLC
Location: Phoenix, Arizona, USA
Project Architects: Szu-Ping Patricia Chen Suchart and Thamarit Suchart
Structural Engineering: AED Structural Engineers, Inc. – Christopher J. Sosnowski, P.E.
Construction Company: Creative Concrete and Masonry, LLC
Project Area: 361.40 sqm
Project Year: 2007-2009
Photographs: Bill Timmerman
Architect: Kashef Mahboob Chowdhury
Location: Chittagong, Bangladesh
Client: Faisal M. Khan
Project Area: 1,048 sqm
Project Year: 2007
Photographs: Aga Khan Award for Architecture / BKS Inan
Architects: Mecanoo
Location: Doetinchem, The Netherlands
Client: Cultural Centre Theatre Amphion SA, Doetinchem
Structural engineer: ABT bv, Delft
Project management and building cost consultant: BBN Consultants, Houten
Building physics advisor, acoustics and fire safety: LBP SIGHT, Nieuwegein
Technical adviser, Theatre: Theateradvies bv, Amsterdam
Mechanical, electrical engineers: Royal Haskoning, Rotterdam
Contractor: Aan de Stegge Bouw & Werktuigbouw, Goor
Building costs including installations: € 23,130,000
Design Year: 2006-2008
Construction Year: 2008-2010
Photographs: Christian Richters
Architects: Bonnard Woeffray Architectes
Location: Monthey, Switzerland
Collaborator: Nuno Ferreira
Client: Commune de Monthey
Project Year: 2007-2008
Project Area: 1,200 sqm
Photographs: Hannes Henz