Developed by Hannah Ahlblad, a recent graduate of Wellesley College cross-registered at MIT's School of Architecture + Planning, this article explores the potential of merging bamboo and concrete, harnessing the strengths of both materials to create a sustainable, durable and affordable material for use in developing countries. Hannah's project was created in conclusion to the semester-long emergent materials elective taught by Professor John E. Fernández, Director of MIT's Building Technology Program.
In the rapidly developing economies of East Asia and Latin America, urban architecture often seeks to combine the local heritage with the prestige of Western contemporary form and practices. The materials used in urban areas of these growing cities follow the steel, glass, and concrete technology used elsewhere. Usually, emerging materials research looks at the structural properties and applications of materials under scientific development. Less consideration has been given to ancient building materials and their interaction with today's engineering.
In a cultural capital like Berlin, where 'pop-up' stores appear in abandoned warehouses, local brands emerge from stores over-run with squatters, and nightclubs rave in power plants,  it is only appropriate that an art gallery would find its home in a nearly indestructible concrete vessel. Such is the case with the "Berlin Bunker" in the heart of the fashionable "Mitte" district.
Monolithic and symmetrical, decorated only by thin strips of vertical windows on its four identical facades, this former Nazi air-raid shelter stands as a relic of Germany's past.  Yet a closer look beyond its sharp-edged cornice reveals something unexpected: luscious green gardens and a luxurious penthouse, completed in 2007. This is the home of Christian Boros, the art collector whose private collection is stored and exhibited in the depths of the fortified bunker below.
Material Minds, presented by ArchDaily Materials, is our new series of short interviews with architects, designers, scientists, and others who use architectural materials in innovative ways. Enjoy!
Arthur Andersson of Andersson-Wise Architects wants to build ruins. He wants things to be timeless – to look good now and 2000 years from now. He wants buildings to fit within a place and time. To do that he has a various set of philosophies, processes and some great influences. Read our full in-depth interview with Mr. Andersson, another revolutionary "Material Mind," after the break.
Developing countries have the highest demand for steel-reinforced concrete, but often do not have the means to produce the steel to meet that demand.  Rather than put themselves at the mercy of a global market dominated by developed countries, Singapore's Future Cities Laboratory suggests an alternative to this manufactured rarity: bamboo.  Abundant, sustainable, and extremely resilient, bamboo has potential in the future to become an ideal replacement in places where steel cannot easily be produced.
The following six "miracle" materials could be headed straight into your home, office, car and more. Dina Spector at Business Insider recently rounded up the six most promising materials. As of now, their potential applications have just scratched the surface, but the possibilities are endless. Presented by AD Materials.
Scientists are constantly on the look out for lighter, stronger, and more energy-efficient materials. Here's a glance at some materials that will change the way we build things in the future.
Have you ever wondered where your information goes when you save it to "The Cloud"? The answer is within giant data centers. According to reports, Facebook and Google's data centers resemble something from Science Fiction, while some could come straight from a Bond flick. In a new short film named Internet Machine, Filmmaker and Visual artist Timo Arnall takes us where few have been granted access, showing the world what "The Cloud" really is – a massive architectural space with extreme energy demands. To experience the power surging and hear the deafening hum of a data center, check out the trailer above.
Tammo Prinz's competition entry for a new residential tower in Lima, Peru, proposes the use of platonian bodies to generate dramatic interior and exterior spaces.
The concrete dodekaeder structure drives the form of the design whilst smaller cubic shapes are strategically placed within this to generate spaces for everyday living. The relationship between these two spatial qualities, of interior and exterior, reveals a series of unique spaces that can be used as an extension of the interior, or as a balcony-like outdoors area.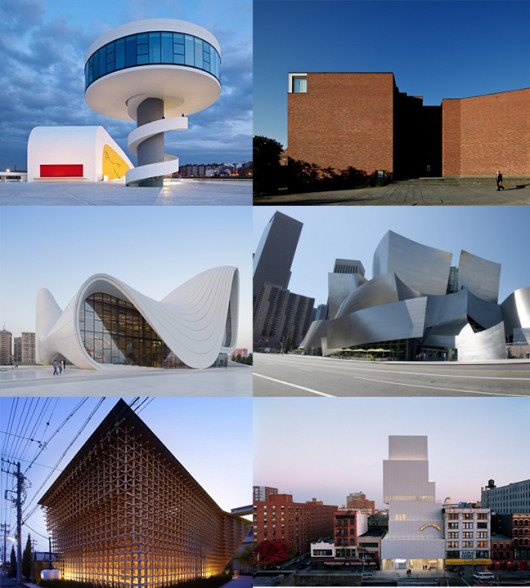 In case you missed it, we're re-publishing this popular post for your material pleasure. Enjoy!

To celebrate the recent launch of our US product catalog, ArchDaily Materials, we've coupled six iconic architects with what we deem to be their favourite or most frequently used material. From Oscar Neimeyer's sinuous use of concrete to Kengo Kuma's innovative use of wood, which materials define some of the world's best known architects?
Raimund Abraham's last project, a "stunning" design for a building atop an unused NATO missile base in Hombroich, has been realized four years after the architect's death. At the time of his passing, Abraham was working on this project as part of a unique outdoor art complex close to Düsseldorf, Germany. A competition has now been announced to determine the future for the space which has become an "an integral part of Hombroich's cultural sphere."
Bunker 599, one of 700 secret bunkers that were used to weaponize artificial hydrology in during the 19th century (see: New Dutch Waterline), recently underwent a radical transformation. RAAAF [Rietveld Architecture-Art-Affordances], in collaboration with Atelier de Lyon, sliced through the seemingly indestructible bunker to link visitors to an existing network of footpaths, create a publicly accessible attraction to those revisiting the NDW, and form a dramatic connection with the flooded plains that were altered more than 200 years ago.
The video above takes you through the process of altering the concrete monolith, ending with film of the stunning result that has been attracting thousands of daily visitors since its completion. To learn more about the project, follow this link.
To celebrate the launch of ArchDaily Materials, our new product catalog, we've rounded up 10 awesome projects from around the world that were inspired by one material: concrete. Check out the projects after the break…
Dream of one day making your own home? Well, here's a fun mini alternative in the meantime. The "DIY Concrete House Ring" is a high quality silver and concrete ring that lets users experience the process of 'making'. The ring itself is made from a DIY compact kit, and comes in two familiar architectural silhouettes – gable roof or saltbox roof – and in either light or dark concrete. The project was developed by Linda Bennett, author of "10 Things They Don't Teach You in Architecture School" and "Searching for a Job in Architecture? 10 Things You Need to Know…" via her blog, archi-ninja. Check out the project's debut on kickstarter (which offers fantastic perks for backers) for more information. 
The New York Times has published "A Short History of the Highrise" – an interactive documentary that explores the 2,500-year global history of vertical living and issues of social equality in an increasingly urbanized world. Organized in four short films – "Mud," "Concrete," "Glass," and "Home" – viewers are given the option to "dig deeper" into each subject and explore additional archival material while viewing the film. Check out the film here.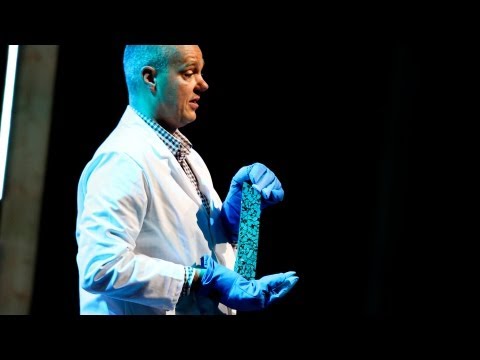 Imagine a pervious asphalt that not only significantly reduces noise pollution, but saves millions in maintenance and repairs by its ability to self-heal. Well, this type of super-asphalt is not far from being distributed world-wide as experimental micromechanic pioneer Erik Schlangen of Delft Technical University has been studying the material's potential on a test track in The Netherland's for the past few years.
Basically, with the introduction of small steel wool fibers, Self Healing Asphalt is capable of repairing micro-cracks and significantly extending the service life of roadways by self-healing through induction heating. Similarly, Schlangen is leading the research on Self Healing Concrete, where by infusing concrete with a harmless limestone-producing bacteria that feeds off of calcium lactate – a component of milk – the material has the potential to self-heal micro-cracks in the presence of rainwater.
Designed for the artwork of artist Rei Naito, the Teshima Art Museum is a seamless, earthen form of white concrete in which responds to the rolling landscape of an island located in the Inland Sea of Japan. Architect Ryue Nishizawa created the museum to be an open gallery, exposed to the elements, that is shaped by a 25cm thick concrete shell in which spans up to 60 meters.
Video courtesy of JA+U. More images after the break…