This year at the Venice Biennale, not all of the exhibitions are visible. Ozel Office of Los Angeles have "hacked" the Venice Biennale with the help of some major architecture firms: Asymptote Architecture, Greg Lynn Form, Neil M. Denari Architects, Murmur, and Oosterhuis Lenard. Together, these firms have created a rogue digital addition to the Biennale only accessible through a virtual portal revealing a world of levitating models, movable objects, and much more, activated by physical components of the Koolhaas-curated central pavilion.
Find out how you can hack the Biennale after the break.
Architects: Greg Lynn
Location: Los Angeles, California, United States
Design Team: Jackilin Bloom, Brittney Hart, Chris Kabatsi, Brian Ha, Danny Bazil, Andreas Krainer
Architect Of Record: Lookinglass Architecture & Design
Structural Engineer: KPFF Consulting Engineers
Mechanical Engineer: Storms & Lowe
Electrical Engineer: Storms & Lowe
Cost Estimator: Oliver Garrett Construction
Year: 2010
Photographs: Richard Powers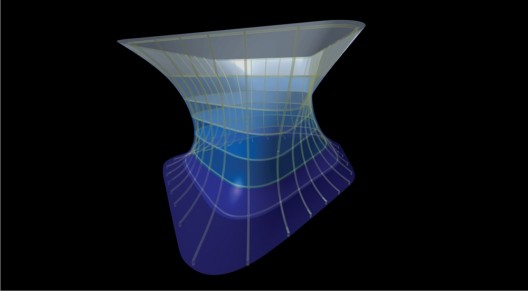 Update: The AIA has expressed their support for Gehry Technologies' strategic alliance (reported last night on ArchDaily).  "We applaud this enterprise by Gehry Technologies and the Board who are comprised of many AIA members because it is estimated that as much as 30% to as much as 50% of all time, money, materials and resources that go into a construction project do not add value to the final product," said AIA President, Clark Manus, FAIA. "The AIA has long been advocating for tools such as Business Information Modeling and methodologies like Integrated Project Delivery that can help reduce the inefficiencies in construction projects. We are anxious to see the progress though this effort that will be beneficial for both the industry and clients."
Today Frank Gehry, co-founder and chairman of Gehry Technologies (GT), announced plans to further his vision to 'transform the building industry and the practice of design'.  In an effort to redirect the profession back to solving both clients' and communities' problems Gehry has gathered together some of the world's most prominent designers: David Childs, Massimo Colomban, Zaha Hadid, Greg Lynn, Laurie Olin, Wolf D. Prix, David Rockwell, Moshe Safdie, Matthias Schuler, Patrik Schumacher, Ben van Berkel, and Richard Saul Wurman to serve on Gehry Technologies' board of advisors.
"I am dedicated to giving architects better control of the process so they can deliver the fruits of their imagination, which is what our clients expect. I have gathered a group of my friends together who believe in this mission as much as I do and who can help me find the solutions that will ultimately lead to better buildings throughout the world," stated Gehry.