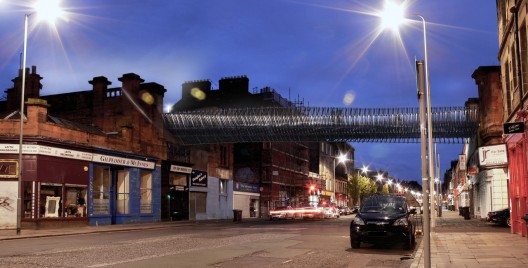 The 'Green Bridge' design by biomorphis in Leith Walk, one of the key thoroughfares in Edinburgh, Scotland, aims at bringing a lightweight structure with low embodied energy. Construction materials based on plant products represent the way forward in terms of diminishing our dependence on hydrocarbons. Leith Walk, which unfortunately acts as a major divider, needs a bridge which would link the East cycle paths to the West of the city. It would redirect the ever-growing flows of bikes and pedestrians and also become a landmark for the community. More images and architects' description after the break.
Architects: Gareth Hoskins Architects
Location: Edinburgh, Scotland
Structural Engineer: David Narro Associates
Services Engineer: Max Fordham
Project Year: 2011
Project Area: 30,000 sqm
Photographs: Andrew Lee
Emmett McNamara, a student of the Edinburgh College Of Art, has shared his House of Tapes with us.   The project is an exercise in re-use as emphasis was placed on developing a new function for an abundant waste material.  McNamara gathered over 7,000 tapes from charity shops, friends, and tape dealers in the local vicinity to construct the structure.
More about the project after the break.
Edinburgh-based Falconer + Jones shared with us their project Lugton Brae House, co-designed with Andrew Brown. It's a small family home, to be constructed in the garden to the rear of the existing house (owned by the clients).
You can see more images and architect's description after the break.
Edinburgh-based Groves-Raines Architects shared with us a recently completed project of a small composting shed in a private garden, which was awarded an American Institute of Architects Excellence in Design Award. The structure is an organic extension of the garden and the woven edging to the paths from which it springs. Its origins are derived from basket weave or hazel hurdles using woven rebar and Corten Steel.
More images after the break.