Zaha Hadid has now officially signed a deal to design the Iraq Parliament building in Baghdad, despite only coming third in the original design competition. BD Online reports that Hadid attended a signing ceremony held at the Iraqi Embassy in London last month, finally bringing a close to the controversial process.
The original competition run by the Royal Institute of British Architects at the request of the Iraqi Government was won by Assemblage, however shortly after the win it became apparent that the Iraqi Council of Representatives had other ideas, as they remained in discussion with Hadid's Practice. Under the rules of the competition, the client is under no obligation to follow through with the winning design.
More on the controversy after the break
Assemblage has succeeded against a prestigious shortlist – which included Zaha Hadid Architects, Capita Symonds, Fevre Gaucher and ADPI – in an international competition for the new Iraqi parliament complex in Baghdad. The $1Bn USD project challenged contestants to design a new, large scale complex amidst the remnants of a partially built super mosque planned by Saddam Hussein (photos of the existing site here).
The London-based practice will be awarded $250,000 USD and asked to produce a master plan for the surrounding city, as well as additional government buildings, a new hotel and public parks. The anonymous jury plans to exhibit the submitted projects, along with the judging committee's decision. However, a date has yet to be announced.
Continue after the break for more images and the architects' description.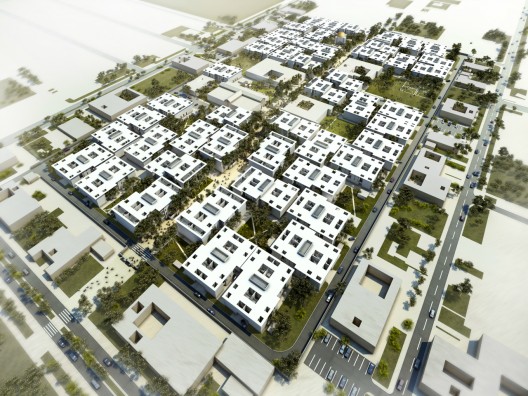 The London-based firm Assemblage has won the United Nations HABITAT international architecture competition for the design of new housing in Iraq. The competition is part of a larger program by UN-HABITAT and the Iraq government to construct new housing across the country. After succeeding teams from the Netherlands, France and other Arab states, Assemblage plans to refine their proposal and prepare their design for construction sometime within this year. Continue reading for more details on the project.