The Community Rowing Boathouse was designed by Anmahian Winton Architects to reinvigorate a neglected stretch of the Charles River in Boston, USA. The boathouse's innovative and sustainable systems earned it the Harleston Parker Medal in its first year of eligibility. To complement the project's focus on sustainability, PARKLEX PRODEMA's NATURCLAD-W wood cladding series was chosen for the facade solution.
Design Concept
Anmahian Winton Architects laid out the project in two primary buildings. The smaller of the two is a glass pavilion used for storing boats and equipment. The exterior of the main building is clad with NATURCLAD - W panels made of phenolic resin and wood veneer. The panels act as louvers to bring in natural light and ventilation, thus improving the structure's overall use of passive systems to reduce energy consumption.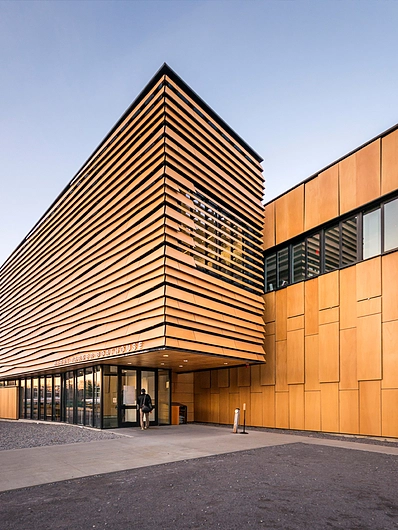 Naturclad-W Wood Cladding
PARKLEX PRODEMA is committed to maintaining a high standard in sustainable production and overall materials. Naturclad-W wood cladding is PEFC certified and manufactured with raw forest material through a responsible environmental cycle.
In the Community Rowing Boathouse, the NATURCLAD - W facade is functional but also evokes the aesthetics of the surrounding area. PARKLEX PRODEMA's natural wood in the tone 'Pale' resembles the look of traditional New England barns and bridges, while the building's surfaces transform according to the movements of the sun and of the user around the boathouse. Fittingly, these movements reflect those of a rower traveling down the neighboring Charles River.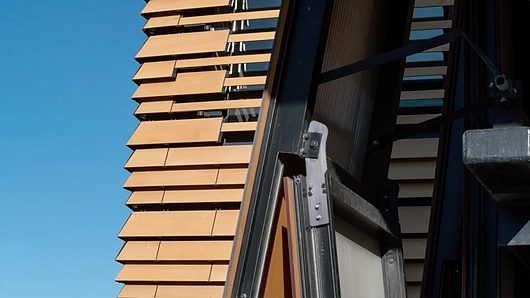 Project Details
| | |
| --- | --- |
| Location | Boston, Massachusetts, US |
| Architect | Anmahian Winton Architects |
| Year | 2016 |
| Area | 4.900 m2 |
| FacadeMaterials | Architectural panels, Bespoke façades, Louver systems, Special machining |
| Project Type | Cultural, social, sports |
| Wood Tone | Pale |
| Products Used | PARKLEX PRODEMA NATURCLAD - W wood cladding |