Nestled in the foothills of the beautiful Elbe Sandstone Mountains, close to the historic city of Dresden, Germany, Design Hotel Laurichhof brings fantasy to life. Renowned interior designer Annette Katrin Seidel, her architect husband, Uwe Seidel, and their architectural student son, Franz Philipp, are responsible for the vibrant and eclectic design.
This unique interior design is further testament to Neolith's reputation as a surfacing material of choice for hospitality purposes, seamlessly delivering an unrivaled performance that is required by hospitality operators.
The suites have been specifically designed to tell distinct stories, each with a unique style and character all its own. The attention to detail in creating these different rooms even extends to the bed linen used, ensuring no two rooms are the same.
Neolith's superior surfaces were an integral part of the strategy to deliver the project's awesome visual impact. The designers chose the materials because it is easy to work with, ultra-resistant and sustainably manufactured. Furthermore, Neolith's wide variety of colors, patterns, and finishes offered essential versatility to meet the exacting design brief.
The Blueberry Suite
The first suite, known as the 'Blueberry' suite, thanks to the deep regal purple shade which envelopes the rooms used Neolith Nero Marquina for the bathroom floor. This monochromatic, marmoreal model creates an inviting ornateness and perfectly complementing the vividly purple vanity and shelving units. The jet black, white-veined slabs are further highlighted by LED strip lighting under the vanity units which illuminates the stunning design of this impressive model.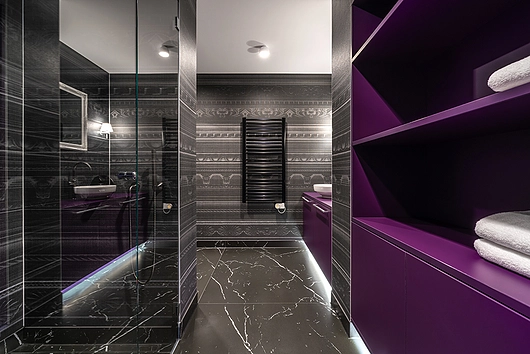 Evergrins Suite
Neolith was specified in the 'Evergrins' suite, which is inspired by the beauty of the natural world. Vibrant pops of luminous green dominate the design of this suite. The most unusual aspect is the application of Astroturf across all the room's walls and ceilings.
Neolith Beton was selected for the bathroom's flooring, as well as the tops of the floating vanity units. This neutral, yet elegant bathroom provides a perfect contrast to the vibrant colors that flood the rest of the suite.
In the suite's central hub, Beton has been used on the floors delivering an unobtrusive subtlety that complements the splashes of vibrant electric green throughout. Pops of orange occasionally interject, via inbuilt shelving and soft furnishing and upholstery.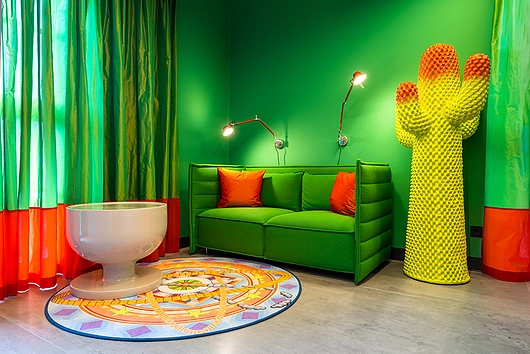 Mogli Suite
The tropical theme of these rooms is inspired by Rudyard Kipling's classic, The Jungle Book.
Possessing a more muted, earthy tone than many of the other suites, it eschews overstatement to evoke the density of the rainforest. Neolith La Boheme has been used in the kitchen area floors and across the bathroom floors and walls, delivering a fresh, ligneous look. The use of this particular model, from Neolith's Timber Collection, nods to the company's dedication and commitment to sustainable practices.