The Diagonal Tower is made up of 124 apartments spanning over 26 floors at a height of 100 meters. The construction of the Diagonal tower was an immense task due to the huge size of the project, the complexity of execution, and the deadlines that called for the facade installation to happen in parallel with the construction of the final 6 floors. The result: an avant-garde building featuring incredible views.
The design of the Diagonal Tower extended an existing unfinished concrete structure with a complete re-design of its enclosure using facade panels from ULMA. The solutions found by Moliner Office Architects cause appealing randomness in certain areas of openings and structural elements.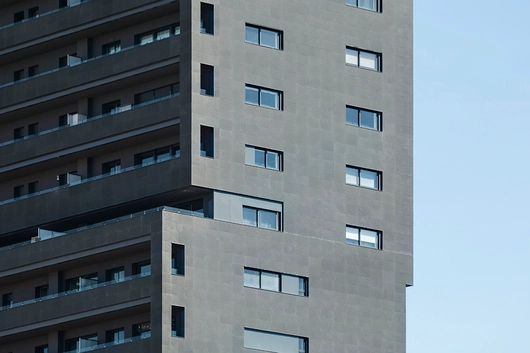 Ventilated Facade
A ventilated facade is a building cladding system that leaves a ventilated chamber between the coating and the insulation of a wall. It is considered the most efficient system for resolving the building's insulation, eliminating the unwanted thermal bridges as well as the condensation problems and so achieving an excellent thermal-hydrometric behavior of the building.
Energy Efficiency
The Diagonal Tower project was designed to provide sustainable housing. The Stoneo panels where chosen for the ventilated facade from ULMA; reducing the bioclimatic needs of the building by avoiding thermal bridges using a ventilated chamber that functions as an insulating and protective air chamber. Condensation problems are also avoided which helps the thermal-hygrometric behavior of the building. This leads to several advantages:
Financial savings
A significant amount of energy consumption is avoided by the reduced need for air conditioning in hot months and the retention of heat in the winter
Comfort levels
Thermal comfort levels remain at 21º throughout the year which provides a great advantage to unheated homes.
Environmental credentials
The responsible consumption of energy resources is facilitated by the reduction of emissions while respecting the environment
Finishes
The Diagonal tower was finished in an earthy texture from ULMA's VANGUARD range in color: Porphyry
Project Data
| | |
| --- | --- |
| City | Barcelona |
| Country | Spain |
| Architect | Jordi Moliner, Moliner Office Architects |
| Project type | New Construction |