With our annual Building of the Year Awards, over 30,000 readers narrowed down over 3,000 projects, selecting just 14 as the best examples of architecture that ArchDaily has published in the past year. The results have been celebrated and widely shared, of course, usually in the form of images of each project. But what is often forgotten in this flurry of image sharing is that every one of these 14 projects has a backstory of significance which adds to our understanding of their architectural quality.
Some of these projects are intelligent responses to pressing social issues, others are twists on a well-established typology. Others still are simply supreme examples of architectural dexterity. In order that we don't forget the tremendous amount of effort that goes into creating each of these architectural masterpieces, continue reading after the break for the 14 stories that defined this year's Building of the Year Awards.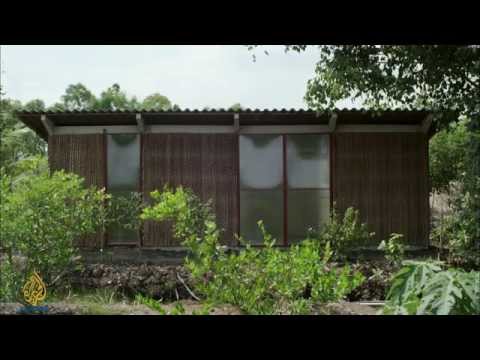 "Green architecture helps people live harmoniously with nature and elevates human life by embracing the powers of the sun, wind and water into living space. If the current way of thinking does not change, sooner or later citizens will actually live in concrete jungles," Vo Trong Nghia says in this week's episode of Al Jazeera's Rebel Architecture series. An award-winning Vietnamese architect, Nghia is known for his sustainable and green designs as well as his work with bamboo. In this 25-minute episode, we follow Nghia on his mission to transform Vietnam's attitude towards architecture and green spaces through his "Vertical Farming City," and catch a glimpse of his project to implement low-cost housing solutions for Vietnam's poorest communities in Mekong Delta.
Watch the full episode above and read on after the break for a full episode synopsis and a preview of upcoming episodes…
On August 18 Al Jazeera will launch "Rebel Architecture," a new series featuring architects who use design as a form of resistance and activism. By designing for the majority rather than the elite, the architects in "Rebel Architecture" are tackling the world's urban, environmental and social problems. Through six, half-hour documentaries the series will highlight architects working in Vietnam, Nigeria, Spain, Pakistan, the Occupied West Bank and Brazil.
"In contemporary architecture, people are always concerned with 'what a beautiful building'; or 'what a pretty project' – architecture should be about something more," said Spanish architect Santi Cirugeda, who will be featured in the series' first episode. Cirugeda works in Seville reclaiming abandoned urban spaces for the public, despite the fact that self-building is illegal in Spain.
Vo Trong Nghia has unveiled designs for the Vietnamese pavilion at the 2015 Milan Expo. Inspired by the lotus, the pavilion features a number of bamboo clad, umbrella-like structures supporting trees above a pool of water, in a composition reminiscent of their Kontum Indochine Cafe.
"The Lotus is Vietnam's national flower, a symbol of purity, commitment and optimism for the future," say the architects. "Growing from the muddy ponds it rises above the surface to bloom with remarkable beauty. The flower is proof that patience can turn difficulties into advantages."
Vietnamese Practice Vo Trong Nghia Architects has taken home the top honor at the Architects Regional Council Asia (ARCASIA) 2014 awards. The Dailai Bamboo Complex, consisting of the 2009 Bamboo Wing and the 2012 Dailai Conference Hall, was selected out of 276 entries to win Building of the Year Award, one of the most prestigious prizes in Asian architecture.
The award adds to the recent success for Vo Trong Nghia, who recently won the top prize in the AR House Awards for their House for Trees.
More on the Dailai Bamboo Complex after the break
By popular vote on the architectural website Ashui.com, Vo Trong Nghia has been announced as Vietnam's Architect of the Year 2012. The Quang Binh native was awarded over two other nominees after a four day public vote.
A graduate of Japan's Nagoya Institute of Technology class of 2002, Vo Trong Nghia leads an award-wining, self-titled practice known for its intricate bamboo and sustainable structures.
View a selection of his work after the break.
Architect: Vo Trong Nghia
Location: Hanoi, Vietnam
Architects in charge: Vo Trong Nghia, Masaaki Iwamoto, Takashi Niwa, Kosuke Nishijima
Completion: April 2012
Photographs: Nguyen Quang Phuc, Vo Trong Nghia
Architects: Vo Trong Nghia
Location: Binh Duong Province, Vietnam
Completion: 2006
Project team: Minoru Sakata, Hisanori Ohara, Nguyen Hoa Hiep
Photographs: Dinh Thu Thuy, Hiroyuki Oki
Architects: Vo Trong Nghia
Location: Phu Tho district, Thu Dau Mot Town, Binh Duong, Vietnam
Project Completion: 2008
Construction Area: 250 sqm
Photographer: Phan Quang
Architects: Vo Trong Nghia
Location: Flamingo Dai Lai Resort, Vinh Phuc province, Vietnam
Completion Year: 2010
Construction Area: 1,600 sqm
Photo credit (construction): Vo TrongNghia Co., Ltd.
Photographs: Hiroyuki Oki
Architects: Vo Trong Nghia, Daisuke Sanuki, Shunri Nishizawa (Vo Trong Nghia Co., ltd.)
Location: Saigon, Vietnam
Photographers: Hiroyuki Oki
Architects: Vo Trong Nghia, Shunri Nishizawa, Daisuke Sanuki (Vo Trong Nghia Co., ltd.)
Location: Binh Dương City, Vietnam
Area: 5,300 sqm
Photographs: Hiroyuki Oki